Initial news was that journalists covering a #police raid on a ladies bar got attacked by bar goons. Later, another journalist was found murdered in the morning. #Media seems to have mostly skipped over the story in spite of very recent outrage over attacks on journalists.
With the assistance of Dharmesh Thakkar, I have tried to piece together the events around the attacks to understand what really went down.
[tweetthis remove_twitter_handles="true"]White House dance bar, attacks on journalists Santosh Mishra and Shashi Sharma and Raghavendra Dube's #murder[/tweetthis]
Facts of the case as we understood from various sources including the three videos in the list below:
According to Shashi Sharma: Around 12:15am, Shashi Sharma got a phone call from Santosh Mishra of #Mumbai Headlines saying that there was a police raid at the White House Ladies Bar and fourteen girls had been rescued including some minors. Santosh said that the situation could be covered up and asked him to come to cover it along with him. He informed some other colleagues. Anil Nautiyal came with them, while another person Ramesh said he would follow later.
According to an unofficial police source, Anil Nautiyal was present in the bar when the police arrived and he called Shashi Sharma, who called Santosh Mishra.

Shashi Sharma, journalist at Khushboo Times assaulted by staffers of White house dance bar

Also as per Shashi Sharma: When they approached the bar, the raid was in progress. As the police entered, Ganesh Kamath, the owner of the bar exited. He threw a glass with some drink in it at Santosh Mishra and his staff started attacking him. A constable was present when this happened.

According to Shashi Sharma, Santosh Mishra tried to escape towards Kashimira chased by five or six people. When he tried to intervene, two came at him. He ran away but had gone barely half a kilometer before he was trapped from both sides by 10-12 people and thrashed. There were no police where he was beaten.
Anil Nautiyal escaped safely.
After that, he went to the police and got a memo for medical care (?) He also got a boke to use from one of them, which he took to a friend's home in order to obtain a spare phone to put his SIM into to call for help, as his phone was broken in the assault. Two of his friends then took him to the Indira Gandhi Civic Hospital in Mira Road.

Bharat Mishra, local journalist from Mira Road

In the meanwhile, other journalists had gathered at the #police station and were demanding the arrest of the bar owner. The police claim that they were instigated by Bharat Mishra, another local journalist with cases of extortion, blackmailing and assault on a Railway TC against him, who wanted the bar owner arrested for his own agendas related to extortion. (The off the records, "open secret" accusation is that journalists pressurize businesses to place advertisements in their publications)

There was also a crowd of bar owners and staffers at the police station as per various news reports.
After this, Raghavendra Dube of Khushbu times was summoned by the Deputy Superintendent of Rural Police, Subhash Bauche, according to his family and the two journalists. The police claim that Bharat Mishra called Raghavendra Dube to the police station to add pressure on the police to make arrests. The journalists and Raghavendra Dube's family claim that he was summoned to the police station by the police. Another off the record statement by police says that he was summoned because Santosh Mishra and Shashi Sharma were untraceable, which is questioned by Shashi Sharma in the video, saying that he got the memo for medical care and a bike from the police and was admitted to hospital and that the police knew where he was. However it is true that Santosh Mishra was missing, though the police apparently made no efforts to save him or find him.

Santosh Mishra, senior journalist and editor, Mumbai Headlines was assaulted, held captive and threatened with murder by the staff of White House.

Santosh Mishra, in an interview to DNA describes his ordeal. "I was dragged to the first floor of the bar. The staffers took turns to thrash me with belts, sticks, and rained blows," His ordeal was to last several hours while Raghavendra Dube was summoned and later murdered. His captors who were in constant touch with the bar owner on phone, clearly knew about the murder as he was threatened "Dube ko parcel kar diya hai upar, aur ab teri baari hai (we have dispatched Dube up, it's your turn now)," Another said "Ab tujhe coma mai jaana hai ya direct upar (are you ready to go into a coma or directly die)." He had no idea what was going on outside the bar till then.

After these threats, Santosh Mishra was taken in a car by three men who were planning to kill and dump him on the highway, but they got a call from the bar owner who told them not to harm him (probably in response to the rising pressure from local journalists over his disappearance). After this call, his attackers apologized to him and let him off at Kashimira claiming mistaken identity. He was admitted to Bhaktivedanta hospital and later moved to JJ Hospital.
At some point around this time, Raghavendra Dube's body was found near S K Stone on the Mira-Bhayander road lying in a pool of blood with severe injury marks.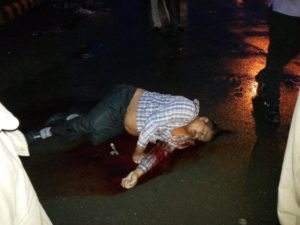 Some facts seem indisputable:
An illegal dance bar was operating and the police had not just not arrested the owner who was present at the premises when they raided, but actually were angry about demands for arresting him.
At least one journalist was assaulted in the presence of the police, and yet there appears to be no effort to assist or rescue him on the behalf of the police when he was attacked.
The police seem to have walked away from their supposed raid, not just without arresting anyone, but while violence was in progress.
The owner of the bar still does not appear to be arrested in spite of the shocking statements by Santosh Mishra about him being detained and tortured on the first floor of the premises and his attackers not only being in constant touch with Ganesh Kamath, but also threatening him with a fate similar to Raghavendra Dube and then letting him go after a call from him as pressure rose from journalists to arrest him.
Whatever the motives of the journalists to demand the arrest of the bar owner, their pressure for his arrest possibly saved Santosh Mishra's life by threatening the clear impunity the owner of the bar appeared to enjoy, as seen from both his not being arrested as well as the complete lawlessness in his own actions and those of his men during and after a police raid where they were caught red handed running an illegal ladies bar.
There are several serious questions that remain unanswered.
The police have no specific explanation for why they "raided" the bar without resistance, but journalists covering it got assaulted and how it is possible that journalists assaulted while covering a raid went unnoticed and unassisted by the police. It is unclear what sort of a raid leaves the premises in control of those operating the business to the point where a person can be held captive and tortured without the "raiding" police being aware of it.
It is unclear what, if any efforts were made by the police to find the missing journalist whom they had witnessed being assaulted, till he was released by the staff of White House.
It is clear that the White House ladies/dance bar was operating illegally and with the #knowledge of the police who apparently had not arrested the owner in spite of "raiding" the premises and rescuing girls and witnessing him kicking off the #attack on one of the journalists and in fact appear to blame the reporters for wanting him arrested because he refused them advertising revenue. Has Ganesh Kamath been arrested even now? What is the action that resulted from this supposed raid (if it was not to collect hafta, as accused by local journalists)?
What happened of the fourteen girls supposedly rescued, including minors? Where are they now? And a few other questions with regard to women police being present while they were taken into custody, etc.
With journalists already raising a ruckus at the police station demanding the arrest of the bar owner, it is unclear why Raghavendra Dube specifically had to be called, when he had not been anywhere near the raid and subsequent attack.
There are repeated references to "bar owners" being at the police station after the raid, and one of those allegedly arrested for the attacks, Mahesh Shetty has another (beer) bar called Love Bird in Mira Road. Why would owners of other bars be at the police station over a raid on one bar, that too, in the middle of the night?
Why would the owner of a bar not only go out of his way to go to the police station after a raid on another bar, but be involved in committing murder of a journalist not even involved in the raid? Another article in the DNA implies that it was a #crime of opportunity. That Mahesh Shetty wanted to kill him because he often alerted police to the presence of illegal dance bars in the area. Is Mahesh Shetty's bar a dance bar as well or was this a humanitarian mission on behalf of downtrodden dance bar owners?
UPDATE: Another piece in the DNA provides more details that Dube left the police station in the company of two waiters from the hotel who were waylaid by Mahesh Shetty's men armed with choppers who killed Dube. The two men escaped with the determination to bring the culprits to book. (Strangely, they seem to have taken their own time about it. Also, Dube being friends and getting into a rickshaw with the staff of a hotel who had attacked his colleagues, after apparently arguing for the arrest of the owner in the police station seems very… gullible?)
Also, how would Mahesh Shetty know or be present when Raghavendra Dube left the police station if it wasn't his bar raided? How did Ganesh Kamath's staff, who were holding Santosh Mishra captive know about Raghavendra Dube's murder, if Mahesh Shetty did it to get away with the crime while pointing the finger of blame at White House? Is Mahesh Shetty in the habit of confessing his crimes to those he is trying to frame?
How did Mahesh Shetty get Raghavendra Dube to come to the police station, if indeed it is him who conspired to kill Dube?
How is it that an aggressive Bharat Mishra and other journalists at the police station demanding the arrest of the bar owners were not attacked, but Raghavendra Dube who was not even present there till specifically called was murdered immediately on leaving the police station?
There is clearly more concealed than revealed in this case, and questions must be raised about the strange reluctance of the police to see a man who owns an illegal bar and who assaulted a journalist in their presence arrested, the mysterious raid with no apparent harm to anyone and more.
[tweetthis twitter_handles="@vidyut @news_houndz @_AamJanata"]Who killed Rahavendra Dube?[/tweetthis]
But who will bell the cat? Media seems to have moved on to the next scandal.
(Visited 898 times, 1 visits today)