Contrary to the belief that the ever increasing attacks on doctors in India are isolated, much has to do with the deteriorating situation of law & order, crumbling public health infrastructure and evangelization of vigilantes.
According to the Indian Medical Association, 75% of doctors in India have faced violence. Although we don't have any data for Maharashtra, from my experience, I could say almost every resident doctor in a Government hospital has either been abused or manhandled. The attacks are so frequent and intense, that BMC hospitals in Mumbai had hired a private security firm, Eagle Security a year ago. This security is apart from the police units stationed 24×7. And still doctors are facing some of the worst attacks. Previous UPA Gov't passed Maharashtra Medicare Services Persons and Medicare Service Institution (Prevention of Violence and Damage or Loss to Property) in 2010. This law has been poorly implemented as the data speaks for itself. Even after constant assaults, not a single person was convicted in the last 2 years. Even though the imprisonment extends upto 3 years and the offence is non-bailable, the alleged attackers are bailed out within a day as it happened in Sion hospital after a Polio inflicted doctor was attacked 5 days ago.
The Cause
India spends only 1.4% of GDP on healthcare compared to 8.3% in US and 7.6% in UK. Even many African countries spend more on healthcare than India. As per World Health Statistics 2015, India's per capita government expenditure on health in 2012 was a meagre $60, while the US spent $4,153. Central, State Governments and Municipal Corporations have evaded investing in healthcare for decades which has compounded the worsening of the situation. To make matters worse, Fadnavis led Government has actually reduced the health budget allocation for 2017-18 by ₹569 crores. The health budget of 2016-17 was in turn ₹1,308 crore less than in 2015-16. Maharashtra will also spend ₹900 crores less on nutrition schemes. Many ministers and spokesperson have repeatedly assured about increment in health budget, bu the reality is quite different. Public hospitals are constantly hit by shortage of medicines and staff. Patients being told to buy even IV and inhalational drugs in the casualty is a common sight, which obviously angers them. Resident doctors are at the front end of an inefficient, unjust and poorly funded public healthcare system.
IMA survey says 70% of attacks are due to relatives accompanying patients. Dozens of relatives, of which half are drunk accompany a patient in the casualty late at night. Even after constant complaints to the administration, this issue is never sorted out. Be it Dhule or Sion incident, every major assault was carried out by scores of relatives. On paper, only 1 relative is issued a visitor pass to be with the patient. As every other rule, this one lies in the dustbin too. One can't expect a doctor to work properly who is under the constant threat of an assault. One can't expect a surgeon to have a steady hand when he is perspiring due to fear.
Dilapidated infrastructure and horrible planning is the cornerstone of every Government project which is 10 times amplified in a public hospital. The X-ray room is situated almost 500 metres away from the casualty. There is always a shortage of wheelchairs and trolleys due to which, again, the junior doctors have to face the brunt, as they are the only ones present there. MRI, USG, CT scan appointments have a waiting period of months. Apart from the well-equipped trauma ward, every other ward has an issue. The resident doctors and interns do the job of class 4 employees due to lack of staff for tracing medical reports, carrying blood from blood bank, shifting patients to other ward. Many a times, I have personally trolleyed the patient to USG and X-ray. There is no clear distribution of duties among staff. Public frustration of this chaos is unleashed on doctors as we are the only ones they could identify.
Normally, only 2 or 3 resident doctors are present in the casualty at night. They are bound to provide only emergency care and diagnostics. Full treatment can only be issued after consulting with senior doctors. This process takes time which agitates patients. There is no counsellor to talk to patient. As the resident doctor has to take history, write notes, examine and provide emergency care; the not so important talking part takes the back seat. A faulty system like this, promotes more attacks on doctors. Not to mention, a resident doctor in a public hospital is overburdened. He/she normally works 14-18 hours a day with at least one 36 hours continuous shift once a week. In towns, such 36 hours shift is almost on every alternate day. Even a basic function like sleep becomes a privilege.
To avoid long queues in OPD, many patients come directly to casualty for instant treatment. Doctors can easily differentiate patients requiring an emergency or an elective care. Indian patients don't accept oral drugs as they always expect IV drugs in a casualty. This delays the treatment of those who require urgent care. Most of them sit at home and visit the doctor only when the disease takes a severe turn. Diabetes Mellitus and Hypertension can be easily managed by drugs, but due to non-compliance, patients come with severe complications requiring surgeries. OPDs managed by 6-8 doctors have 300-400 patients on a daily basis. Sion hospital itself caters to 20 lakh OPD patients annually. Despite all this, the Government isn't interested in increasing the number of hospitals. Only 1 out of every 20 MBBS graduate gets a PG seat.
There is no fear of law among mobs assaulting healthcare professionals. Relatives of the arrested Dhule assaulters tried attacking a nursing staff outside the campus. A doctor in Sion hospital threatened of the same consequence of Dhule doctor if the patient doesn't get well. A rural hospital ransacked in Sangli for an alleged delay in post-mortem. A casualty officer in Bhabha hospital, Bandra slapped. All within the past 24 hours, during the ongoing strike!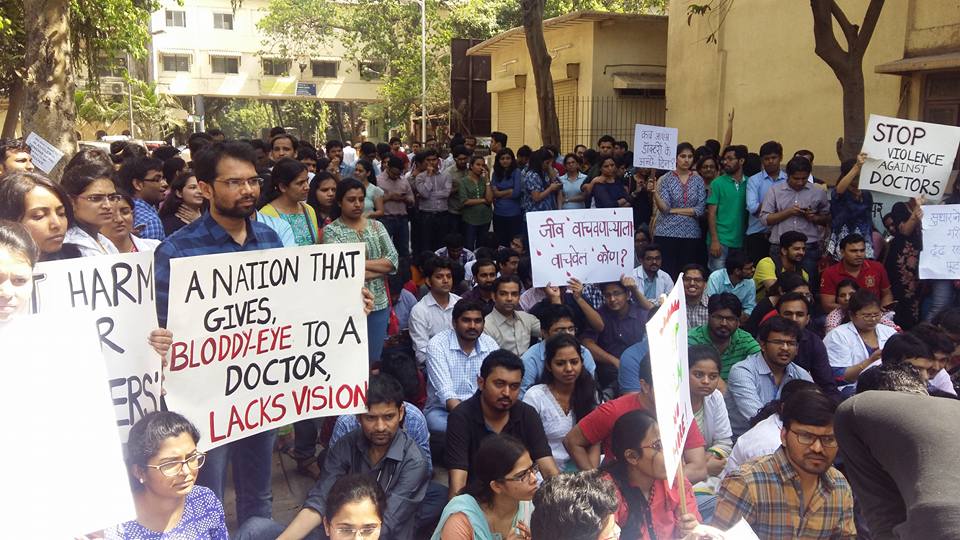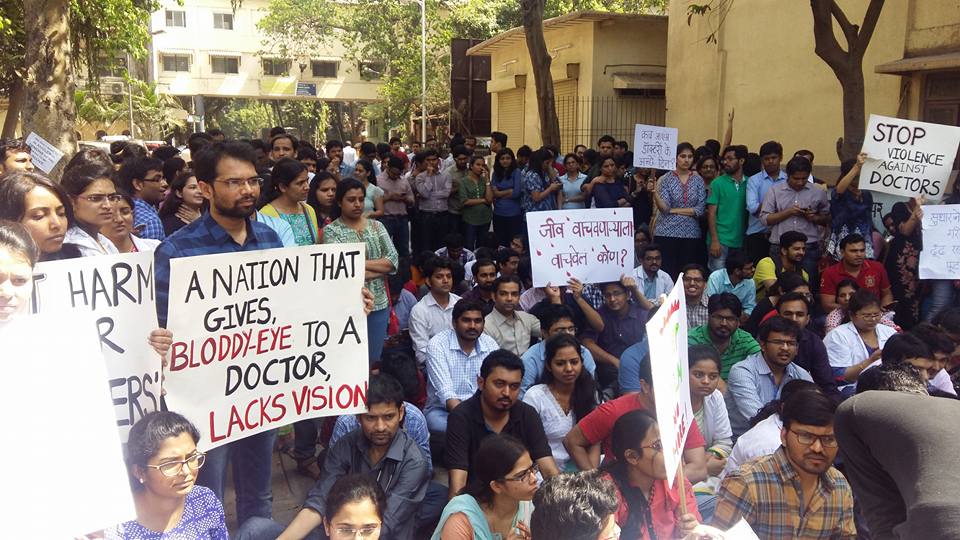 The Demand
Residents doctors are fed up with constant fake assurances and lack of proper implementation of current laws. Gov't keeps on repeating the same promises with a different date. The main demand revolves around providing improved security and limiting entry of relatives.
Appointment of more security and police personnel immediately
2 pass system per patient
To start the installation work of effective alarm system in every casualty
To revoke all charges and action taken against resident doctors
Strengthening of 2010 law, no bail for accused for at least 3 months
Filing of FIR by the institution itself
To release funds to implement the law and appoint a brand ambassador to spread awareness for the safety and security of doctors
To enact a strict law to prevent trespassing in hospital
Formation of a vigilance team within 15 days
Formation of a legal cell withing 15 days
An Ortho resident doctor in Dhule was attacked on 12th March while the statewide strike started on 20th March. The violence was so brutal, that he had an orbital fracture and is feared to lose vision in his left eye permanently. The state Government remained dead silent for a week. In fact, doctors and interns in GMC, Dhule were threatened of dire consequences if they go on a leave. Fearing political pressure, the leave was called off in Dhule. On 18th March, after a helpless junior doctor was attacked in Sion hospital, 4,000 resident doctors decided enough is enough. Even after multiple meetings with Medical Education Minister, Girish Mahajan and Chief Minister, Devendra Fadnavis, there is no visible improvement in the security as of now.
To make matters worse, CJ Manjula Chellur of Bombay High court said, "If doctors are so afraid that you will be assaulted then resign and sit at home. It is a shame on the profession if doctors go on strike like factory men. They are unfit to be doctors then." This statement seeks of victim blaming, elitism and promotes violence against doctors. It's a moral equivalent of saying, if women are afraid of rape then they should sit at home. Judiciary, Media and the Government are busy blaming doctors for everything that is wrong with our healthcare system.
The Present Status
As of now, the resident doctors of KEM, Sion, JJ, Solapur and Latur Government hospitals have got eviction notices and suspension of their degrees. According to resident doctors, water supply in PG hostel of KEM and Sion hospital was cut-off. MARD (Maharashtra Association of Resident Doctors) has colluded with Girish Mahajan in breaking the unity of doctors by giving out fake statement of mass leave being called off. An utterly despicable tactic which is the hallmark of the current political discourse in the country. Media has played a disgusting role by siding with the Establishment and parroting their lies. No one is questioning the Gov't for their repeated fake assurances and rehashing their old promises with a different date. No primetime discussions on the dwindling health budget. Even when doctors join their duty again, this faulty health system will still persist.
Individual doctors of public hospitals and not MARD are involved in this protest. Although there is no official confirmation yet, MARD chapter in Mumbai has been dissolved. On 23rd March, more than 40,000 doctors of IMA & IDA joined in an indefinite strike by shutting down all OPD and elective services pan-Maharashtra. Dentists, interns, teaching staff, senior doctors, paramedical staff, nursing unions, class 4 employees in public hospitals are supporting this resistance. Medical Teachers Association has threatened mass resignations if security isn't improved within 48 hours. Over 10,000 doctors in 40 major hospitals except AIIMS, have gone on a mass casual leave in Delhi. Barring pseudo-scientific doctors union, everyone else is echoing #IssBaarAarYaPaar. As I write this article, a new union consisting of resident doctors, private practitioners, IMA members, lecturers, professors, SMOs, DNB doctors, ex-MARD members is being formed.
The emergency services in both private and public hospitals are still working due to senior doctors, nursing staff and interns. The healthcare system is affected, but we have tried our best to reduce the impact. IMA and resident doctors will evaluate about the leave after they get a written court order. Judiciary, netas, celebrities all get private security. All we ask for is improving safety in public hospitals.
The resistance continues.
(Visited 506 times, 1 visits today)