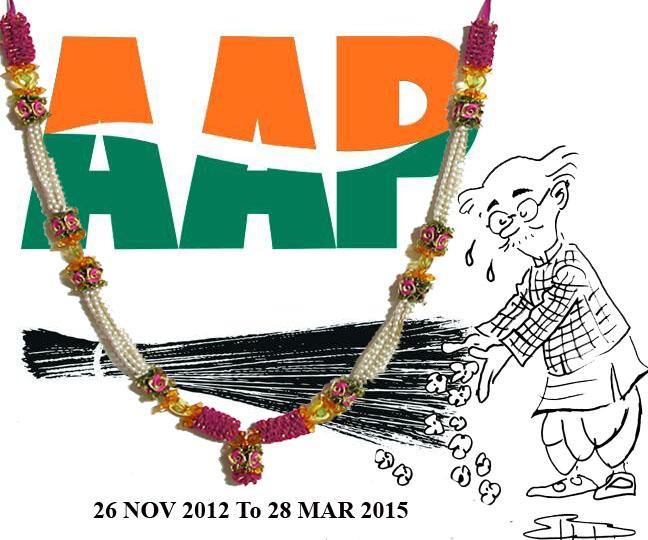 Nothing says insecure as various party handles tweeting to publicly remind leaders that they could face action if they make public statements. Aam Aadmi Party successfully made the transition from Aam Aadmi party to Arvind ke Aadmiyon ki Party in terms of control over party, yet the victory sounds precarious. Volunteers and leaders continue to speak against party. They don't have the power to reverse the change, but they are making the choice to not reconcile with it. It will be a while before the noise dies down. Even after the noise dies down, the dissent will be a ticking bomb waiting to flare at inconvenient times.
The perpetrators got away with the breach of trust, but they probably did not plan on having to live with the consequences of it.
In the US, when racist George Zimmerman got away with shooting dead black Trayvon Martin in cold blood, there was widespread anger against him. He escaped punishment, but he was widely reviled. Alexander Frazer wrote a letter that went viral:
Dear George Zimmerman,

For the rest of your life you are now going to feel what its like to be a black man in America.

You will feel people stare at you. Judging you for what you think are unfair reasons. You will lose out on getting jobs for something you feel is outside of your control. You will believe yourself to be an upstanding citizen and wonder why people choose to not see that.

People will cross the street when they see you coming. They will call you hurtful names. It will drive you so insane some days that you'll want to scream at the top of your lungs. But you will have to wake up the next day, put on firm look and push through life.

I bet you never thought that by shooting a black male you'd end up inheriting all of his struggles.
Enjoy your "freedom."

Sincerely,
A black male who could've been Trayvon Martin
Aam Aadmi Party's insecurity today reminds of that letter. They may have won, but they can no longer trust their leaders and supporters with the confidence they did last month. The party high command will be forced to shrink into itself and maintain higher secrecy to prevent exposes by volunteers. They will not be able to trust volunteers to not stab them in the back.
Here are some of my tweets from this morning to Ashutosh who reminded party leaders again to not speak without being cleared by them.
MLAs had been advised earlier not to speak to media without prior nod fm party except issues of their own constituency.Violation is noted.

— ashutosh (@ashutosh83B) March 29, 2015
.@ashutosh83B ghanta swaraj. Rule of silence. People must just believe official versions and "swaha" their blood, sweat, tears, time, money.

— Wildcard Vidyut (@Vidyut) March 31, 2015
(Note: "ghanta" was a technique popularized by AAP's social media in ridiculing political opponents. #GhantaAccheDin for example)
.@ashutosh83B what you haven't yet realized is that there are so many pissed, you're going to spend next decade wary about who will speak.

— Wildcard Vidyut (@Vidyut) March 31, 2015
.@ashutosh83B Anarchist Aadmi Party TERRIFIED of dissent. THRILLED that you guys can never again trust volunteers like you did last month.

— Wildcard Vidyut (@Vidyut) March 31, 2015
.@ashutosh83B If you cannot be trusted, why should you EVER have the emotional security of being able to trust widely without fear? GOOD.

— Wildcard Vidyut (@Vidyut) March 31, 2015
.@ashutosh83B Remember old Hindi films? Poor guy becomes rich, drops ethics, loses peaceful sleep at night, no longer knows who friends are?

— Wildcard Vidyut (@Vidyut) March 31, 2015
Vidyut has a keen interest in mass psychology and using it as a lens to understand contemporary politics, social inequality and other dynamics of power within the country. She is also into Linux and internet applications and servers and has sees technology as an important area India lacks security in.