#IndiaUnites for Dalit, Bahujan and Adivasis #JaiSamvidhan
January 31
@
9:00 am
–
5:00 pm
Reservations were a proactive effort to prevent the marginalization of Dalits, Bahujan Samaj and Adivasis due to social exclusion. The Constitution (103rd Amendment) Act, 2019, grants 10% reservation in government jobs and institutes of higher education to general category candidates from economically weaker sections. This Act, however, violates the spirit of reservations which are meant to counter historical oppression besides also falling foul of the 50% upper limit upheld by the Supreme Court.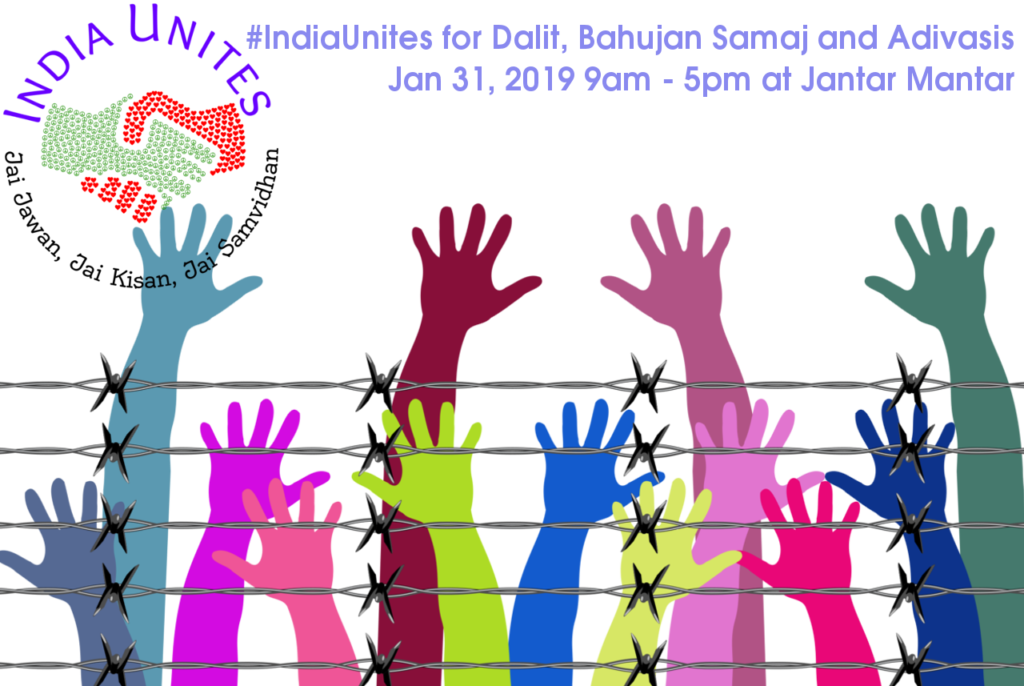 It is no doubt timed as a pre-election "jumla", but it is also the latest of deeply wounding measures taken by the central government, considering how they have attempted to eliminate or restrict reservations for Dalits, Adivasis, and Bahujans otherwise.
Over 5,000 university faculty positions reserved for SC/ST candidates are currently vacant, while the government dilly dallies over restoring the reservation formula with the Reservation in Direct Recruitment in Central Educational Institutions Bill yet to be presented in Parliament. In an election year, the government is clearly more focused on the forward castes.
Reservations are a protective measure against exclusion. The economically backward from upper castes do not suffer premediated exclusion due to their identity. The economically backward have different challenges and would need economic assistance, regardless of caste – which this reservation, created purely for optics does not provide.
The government owes a responsibility to all its citizens, including Dalits, Bahujan Samaj and Adivasis. It has the responsibility of upholding the constitution, not ammend it with minimal debate and in ways already rejected by the Supreme Court of India.
Dr. Nitin Raut
Chairman of SC Dept, AICC
Nitin Raut, Ph.D is a former Dy. Home Minister from 2007-2009 and Cabinet Minister until 2014 in Maharashtra. He has held Legislative Council positions on Committees related to SC/ST Welfare, Reservation Act and Employment Guarantee. He heads the Scheduled Caste Department of All India Congress Committee.
Sanjay Singh
Member of Parliament, Rajya Sabha
Sanjay Singh is a national spokesperson and current Rajya Sabha Member of Parliament from the Aam Aadmi Party. He has been a senior leader of the party since its inception in November 2012, and is a member of the party's foremost decision-making body, the Political Affairs Committee.
S R Darapuri
National spokesperson of AIPF
IPS officer S R Darapuri was the Inspector General of Police, Lucknow when he retired. He now works on social causes, including dalit rights and is the National Spokesman for All India People's Front.
Rajendra Gautam
Cabinet Minister for Social Welfare, SC & ST, Delhi
Rajendra Pal Gautam is an Indian politician and the Minister for Water, Tourist, Culture, Arts & Languages and Gurudwara Elections in the Government of Delhi. He is a member of the Aam Aadmi Party and represents Seemapuri.
P L Punia
Member of Parliament, Rajya Sabha
P. L. Punia, is an Indian politician and Member of the Rajya Sabha from Uttar Pradesh since 2014. He was member of the Lok Sabha from 2009 to 2014 and represented Barabanki. He is a Dalit leader of the Indian National Congress party.
Prof. Ratan Lal
teacher, activist, writer
Ratan Lal, Ph.D is a teacher, activist, writer, and Associate Professor, Department of History, Hindu College, University of Delhi. He sees himself as the "Child of the Ambedkarite Revolution"
Santokh Singh Chaudhary
Member of Parliament, Lok Sabha
Dr. Saroj Giri
Department of Political Science – DU
Amit Kumar
President of BAPSA, JNU
Karam Singh (Karma), SC ST Wing, AAP
Prof. Surinder Singh, School of Social Sciences, JNU
Comrade Nathu Prasad, Trade Union Leader, Dalit Activist
Dr. J K Gautam, Social Activist
Dr. Chandra Pal Singh, retired IAS officer

Nand Kishor, Social Activist
Vinod Sangat, Social Activist
Shiv Ram Singh, SC Dept, AICC
Ram Meher Chavi, Vice President, SC Dept, AICC
Dr S P Singh, Secretary, SC Dept, AICC
Dr. Sn Gautam, National Vice President, LJD
Google Calendar
iCal Export