#IndiaUnites for #ArmedForces
January 30
@
9:00 am
–
5:00 pm
We have often heard of how citizens take for granted the soldiers defending our borders, but who is holding the government accountable for doing the same? The current government has not shied from using the Armed Forces for reaping electoral gains, while doing nothing about the promises made, especially to ex-servicemen, in the run up to the 2014 elections. The long-pending full implementation of One Rank One Pension (OROP), which requires the payment of the same pension amount to soldiers who have served for the same period and retired at the same rank irrespective of the date of their retirement, was offered as another "jumla". In reality, the government has amended the previously approved definition of OROP, thereby killing its very soul. As a result, ex-servicemen have been agitating for the complete implementation of for over 1300 days nonstop, yet the government seems least bothered to act upon their claims.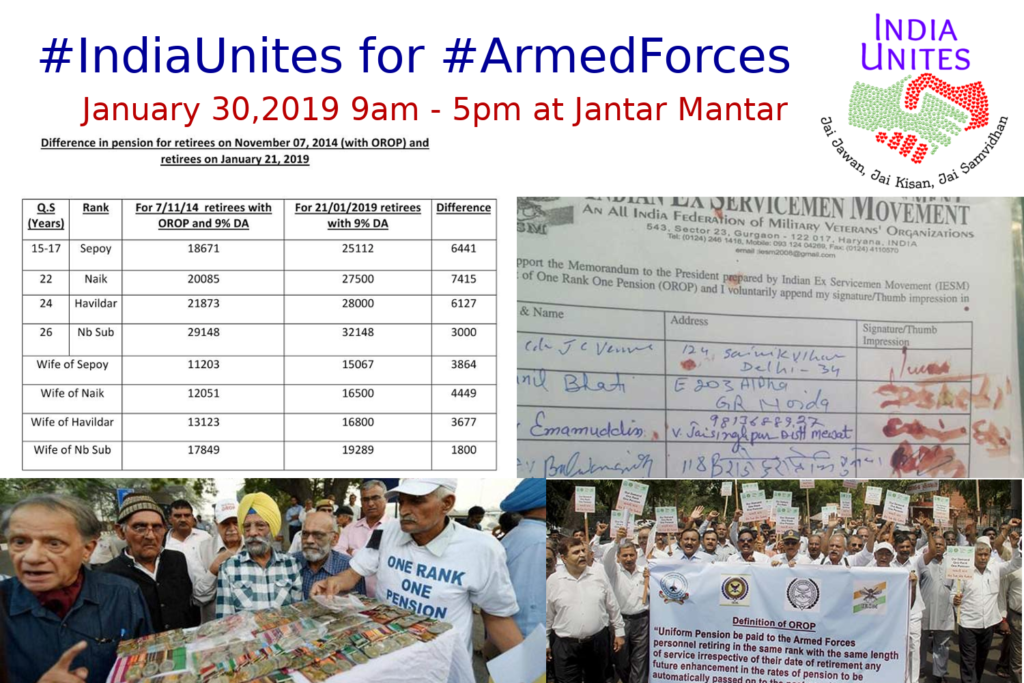 Worse, there has been a continued degradation of the Armed Forces through offensive comments from even Cabinet rank ministers, disparaging the character of personnel. Servicemen are deployed for tasks like laying out yoga mats and constructing bridges in civilian areas. Meanwhile construction of hospitals for veterans is still pending, beds are lacking even in empanelled hospitals, and funds for Ex-servicemen's Comprehensive Health Scheme (ECHS) are apparently unavailable. Decisions handed down by Armed Forces Tribunals in favor of defence personnel have been challenged in various courts.
The government of the day, through the Ministry of Defence, is a constant litigation against armed forces personnel. Demands by the forces to constitute a Veterans Commission, similar to the Women's or Minorities Commission, have fallen on deaf ears. When, for lack of a recourse, armed forces personnel take to the streets to protest, they are subject to police violence, which again reflects on the fakeness of the respect shown to armed forces personnel by the government. Given the all important function of the army is safeguarding a country's borders, is it not a rightful demand that the soldier be taken care of once retired? Yet there is no assurance of a second career for ex-servicemen and very few have anything resembling a stable career until the age of 60, which is the standard retirement age for civilians.

These and other unaddressed grievances have forced the ex-servicemen all over India to agitate unitedly in order to get the government's attention. With the media also being ordered not to carry stories about their agitation, they have joined hands with farmers' and youth organisations in the hope that a joint agitation will prove more successful. On January 30, 2019, ex-servicemen will take the lead in this joint agitation, which will continue till February 7. #IndiaUnites, for our ex-servicemen, at Jantar Mantar. Join us there!
Speakers
Retd. Maj. Gen. Satbir Singh
Chairman of the Indian Ex-Servicemen Movement
The struggle for OROP has gone on for over 1300 days now.
Harish Rawat
Former Chief Minister of Uttarakhand
Uttarakhand contributes a sizeable percentage of its population for the Armed Forces
Hannan Mollah
Gen. Secretary, All India Kisan Sabha
Jignesh Mevani
MLA, Gujarat
Gp Capt VK Gandhi
Mrs Mala Sharma
Mrs Sudesh Goyat
Sub Multani
Hony Lt K Pandey
Col Harbakhsh singh
MAJ Gen Lal Ji
Hony Capt JS Rathee
Sub MAJ Devi Dayal


Hav Vilas Dawane
Hav Khaira
Hony Capt Jarnail singh
Mrs Sidhu
Hav Dinanath
Sgt AS Chawla
Wg CD-R Bhalla
Lt JAIN
Hav Vijay
Hav Chouhan
Google Calendar
iCal Export