With much advertisement of the Gujarat model, all eyes were on the Modi government, particularly since BJP expects higher standards of those it criticizes than itself. The reality is stunning, but not in a nice way.
Nitin Gadkari with dubious financial dealings with Ideal Road Builders including a no interest loan to his company, Purti Group – amount of loan was greater than company's turnover – from them in a period when Gadkari handled the ministry in Maharashtra and massive lucrative contracts went to them gets to build the country's roads. Nitin Gadkari was assessed by the Income Tax department as having evaded 7 crores in taxes by means of benami investments and over a dozen firms operating from bogus addresses. Gadkari also threatened Income Tax officers. Gadkari is said to have six DIN numbers – something BJP had raised a huge hue and cry over Priyanka Vadra and Karti Chidambaram. Cabinet Minister for the Prime Minister who made grand declarations about corruption in his election campaign. This is apart from the much covered up case of the dead girl Yogita Thakre found in his car.
Rao Inderjit Singh – whom the BJP itself accused of involvement in a Defence land scam when he was in Congress is Minister of State and handling (hold your breath) defence in Modi's government as well.
Smriti Irani, Minister for Human Resources Development, which includes education faked her own educational qualifications in an election affidavit.
Gopinath Munde apparently got a degree in 1976 from a college that started in 1978.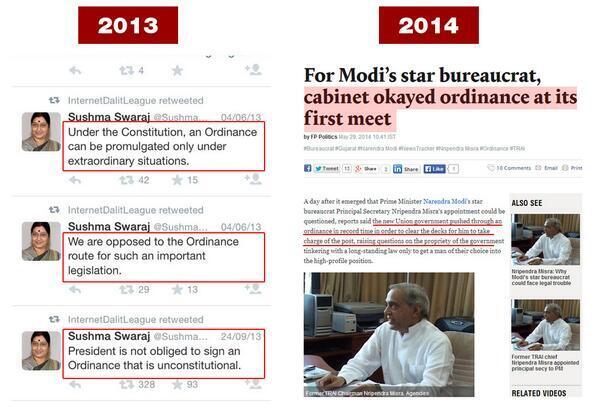 After criticizing ordinances passed by UPA2 government for less than urgent reasons, the Modi government has so far passed two ordinances. One weakening TRAI act to be able to appoint Nripendra Misra as Principal Secretary (which the act barred) and the second on the controversial Polavaram project. Neither of them requiring immediate action that can't wait for a Parliamentary session.
Varun Gandhi's mother is in charge of child development.
After endless accusations of Congress misusing the CBI to frame Modi, Satya Pal Singh, who defended Mumbai's encounter cops was head of SIT for Ishrat Jahan fake encounter case is now in Modi's cabinet.
Ajit Doval, ex-head of IB (which has consistently served to dilute cases of state sanctioned human rights abuse in Gujarat), with dubious links to the gangster Chota Rajan is now National Security Advisor. A National Security Advisor with links to gangsters is whose idea of development?
After condemning multiple DINs by Priyanka Vadra and Karti Chidambaram as proofs of corruption, Two ministers in Modi's cabinet (Coal Minister, Piyush Goyal and  Transport Minister, Nitin Gadkari) so far have been shown to hold multiple DINs.
30% of Modi's ministers have criminal cases against them in a Lok Sabha with 21% ministers with criminal cases against them, which is already disproportionately high compared with India's general population. Development of India or criminals? Or perhaps that IS the Gujarat Model? After all, 57/182 MLAs in Gujarat too face criminal charges – 31%. That may be the magic ratio of development.
In the much advertized OBC-chaiwalla's government, 2/3rd of the cabinet is Brahmin, Thakur, Rajput.
For those who claim Modi will controll RSS, of 23 ministers who swore in on the cabinet,a mind boggling 17 are affiliated with the RSS or affiliate organizations. That is over 80% in case anyone is interested. Or in other words, Modi's cabinet has 6 non-Hindutva ministers. That will really finish the RSS, I think.
As usual, the accusations BJP levels at others turn out to be true about themselves and virtues it takes pains to advertize turn out fake.
Is this a government or a joke?
(Visited 52 times, 1 visits today)