This post comes on request that I stop criticizing and make useful suggestions. So here it is. I don't think it will help though, which is why I didn't do it to begin with.
First and most important thing to understand is that this devastation of AAP is a result of a series of deliberate choices powered by intent. Till intent changes, in my view, this cannot be recovered from.
A bird's eye view of the conflict within AAP
The basic issue is a difference of opinion. Where you have people you have views and they may coexist with some views and not with others. A piece in Swarajya titled "Yadav and Bhushan shouldn't be complaining" outlines a difference of opinion that has been present in AAP all through and sees it essentially as a socialist versus libertarian thinking issue though it does not put it in so many words. For purposes of this piece, I'm calling the two sides pragmatic and intellectual. This was further confirmed with a phone conversations with leaders trying to convince me that the disastrous decision of the 4th was a necessary step and good for AAP. I am not that gullible, but the recurrence of specific names and the tag "socialist" was very insightful. It was equally evident that those who held these views, did not adequately appreciate the "socialist" side of the story.
The perception was that "these people" did not work, prefered to be impractical rather than find solutions, intellectualized too much, criticized AAP, and wanted to replace Kejriwal as the National Convenor. Apparently working for AAP is suddenly only campaigning on the ground and Yogendra Yadav's formidable studio presence is called twiddling thumbs.
What no one apparently recognizes is that it is precisely these socialists that had allowed AAP to look friendly to social rights movements around the country in the run up to the Lok Sabha Elections. It is these views that have attracted idealists to the party fold for the "pragmatic" people to harness with their rough and ready effectiveness. While it is true that the "pragmatic" side of AAP has worked very hard for the Delhi Election win, they have failed to appreciate what this intellectual side brought them. It brought with it a rigor of looking at issues in terms of process. Of articulating complex ideas in a coherent manner. Of bringing dignity to the reputation the "pragmatic" side was rapidly gaining for reckless accusations. Yogendra Yadav in particular was spectacular at presenting the often chaotic AAP view in a refined manner on the fly. It brought AAP legitimacy as people who also have sound thinking - beyond mere good intentions.
This is not to say that there was no arrogance or behavior perceived as hostile. Intellectuals are often superior about their quality of understanding of issues (and I am not doubting that quality at all) and can tend to be dismissive of views they do not see as adequately refined. For example, ground up Swaraj is exactly that. Without it, there is no democracy. It must be done and while not done, we are false to our claims - to the point of not deserving a victory based on them? It is simply a trait - and an asset to a party like AAP, till someone goes and makes a big problem by pitting against it it, because the logic is likely to be unassailable - as we still see playing out in their calm statements to media. On the other hand, it is nice when intellectuals are adult enough to know that they can be difficult and to compensate.
For a while, AAP thrived from the diversity. The communication skills of the likes of Khetan did brilliantly with actions like the Delhi Dialogue, the exuberance of volunteers worked for the flash mobs or whatever, while Yadav and others created a formidable credibility by coherently articulating emotional zeal on a day to day basis. There was a lot of work done, and people fit well into their roles and did it. And it is because all did their best that AAP did its best. To own credit and treat those you dislike as deadweight will destroy unity.
The trouble with the differences in AAP
While the pragmatic side of the leadership was on a clear goal of doing whatever it took to get a victory in Delhi as an issue of the party's survival itself, the"socialists" were insistent on clear process. This was a divergence of method. Sticklers for the method could not tolerate cutting corners while those who had set their sights on the win were uncaring of the compromises they may have to take to make it happen - they may have believed it as a temporary deal with the devil, so to say, in order to achieve a larger goal.
This issue appears to be more with Prashant Bhushan than Yogendra Yadav. He is believed to have threatened press conferences leading to some difficult ego management in a party stressed about getting the win to happen.
While it takes two hands to clap, the clarity of ideas allowed Yogendra Yadav and Prashant Bhushan to uphold their side of the issue in a relatively dignified manner. If they were in a rivalry, it was specific and refined and on a relatively narrow band and completely invisible outside the party. Even their interviews after being removed only add dignity to AAP's values, while those opposed to them are increasingly sounding demented.
Methods of rivalry
Whether it is genuine good innocence and intentions or whether it is skill and cunning, whatever the rivalry the intellectuals had with the pragmatics, they managed to keep it low key. Press conferences may have been threatened, but they never happened. Yogendra Yadav was on Prime Time TV daily and never spoke or acted in a manner that showed AAP in a bad light. If either of them wanted to harm the party - with the access, visibility and stature they had, they would succeed without doubt. So whatever their ill intent that was raising the hackles of others, it did not harm the party, but strengthened it.
On the other hand, those acting against them have acted in poor spirit. Manish Sisodia's letter and Yogendra Yadav's reply to it is when this first spilled into the public domain. It is impossible to determine who leaked them and futile to make accusations without basis. If you read the letters, it is evident that Manish Sisodia made a personal attack on Yogendra Yadav alone for a dispute between two people. The letter was hostile, superior and showed Sisodia in  poor light. It being leaked added to the damage, but even known to very few people, it would still show Sisodia acting to create hostility within the organization.
Words we have are a sort of wardrobe. You wear silk to a date, jeans on a picnic and you need to know when and how to dress. Sisodia had not bothered. Either he was unable to, or he did not think Yogendra Yadav merited civility, quite forgeting that in the process he was also addressing a senior member of the party he professes to be committed to. Yogendra Yadav's reply only drove the point home by not responding to provocation and instead taking a thoughtful and introspective tone way more appropriate to the situation AAP was in after the Lok Sabha defeat than what Sisodia was using. He completely refused to be drawn into the personal mud slinging - which in turn allowed the letters to look like open communication between leaders worthy of respect rather than a catfight, which is what Sisodia had started.
If AAP volunteers found Prashant Bhushan or Yogendra Yadav difficult as it is now being implied, they showed greater maturity than the leadership by never letting it spill on the party's image. If they didn't, well that would just make it yet another unsubstantiated allegation in a fast growing pile. The letter by Admiral Ramdas leaked, but the tone of both was clearly enriching for the party and neither raised any serious alarm that would harm the image of AAP.
The really unforgivable thing happened on the first of March. There was abrupt dismissal of social media admins. Thus the first casualty of this war on Prashant Bhushan and Yogendra Yadav were actually bystander loyal role holders of Aam Aadmi Party who have no complaints against them and a lot of selfless service to their credit. The pragmatics just turned them into nobodys without explanation or gratitude. There is still no explanation provided for why their permissions were revoked without warning as though dismissing unimportant people.
Then came the organized slander campaign against Prashant Bhushan and Yogendra Yadav that was based on a series of allegations with zero evidence. Perhaps without the attack on loyal and completely innocent workers handling social media, there would be some basis to inclination to take unsubstantiated accusations against Prashant Bhushan and Yogendra Yadav as unavoidably urgent or necessary. But the completely unfair and disrespectful treatment of the admins to effect the hijack, combined with the unethical, inappropriate and immensely damaging use of the official handle to slander founders of the party cooked the goose of the pragmatics well before the meeting.
You cannot expect those who invest blood sweat and tears into creating anything to feel charitable about those destroying it. And that is exactly what is playing out. AAP volunteers are organizing against leaders they were devoted to with a ruthlessness that is as breathtaking as it is admirable. They are fighting for their beautiful creation to survive.
Another ethical (and legal) boundary that had been crossed with a "sting" operation of the journalist who published the story fell flat. Other journalists present with her had not filed stories with the damning data and one also denied that it was provided by Yogendra Yadav. On the other hand, many volunteers pointed out that the phone call itself appeared to be rehearsed. The sting that was used to base the only allegation against Yogendra Yadav not just fell flat, it exposed AAP for using illegal methods to monitor leaders and media. The venom that was now openly flooding against Yogendra Yadav and Prashant Bhushan has been revolting to even stray onlookers, let alone those who gave money and time to AAP and were now watching in dismay.
The opaque National Executive meeting that provided a result AAP volunteers explicitly didn't want still did not warn the arrogant people trying to manipulate reality to their will. But by now the volunteers were beyond hope and pleas. They were furious. They organized rapidly, demanding answers. Anjali Damania's accusations against Yogendra Yadav wanting to contest Haryana were countered with links to news reports of her announcing that AAP would contest in Maharashtra after Kejriwal refused. Campaigns demanding answers were organized. Other volunteers monitored the volunteer mood about the decision and more.
The leaders caught on the wrong foot had already had to retract slanderous tweets, but had no response to questions about procedure as well as questions raised by Prashant Bhushan about party democracy. They chose to keep repeating slander as though that was why volunteers were angry and the thing escalated to the point of people speaking the inside story exposing the leaders and how hey were acting against the interest of AAP.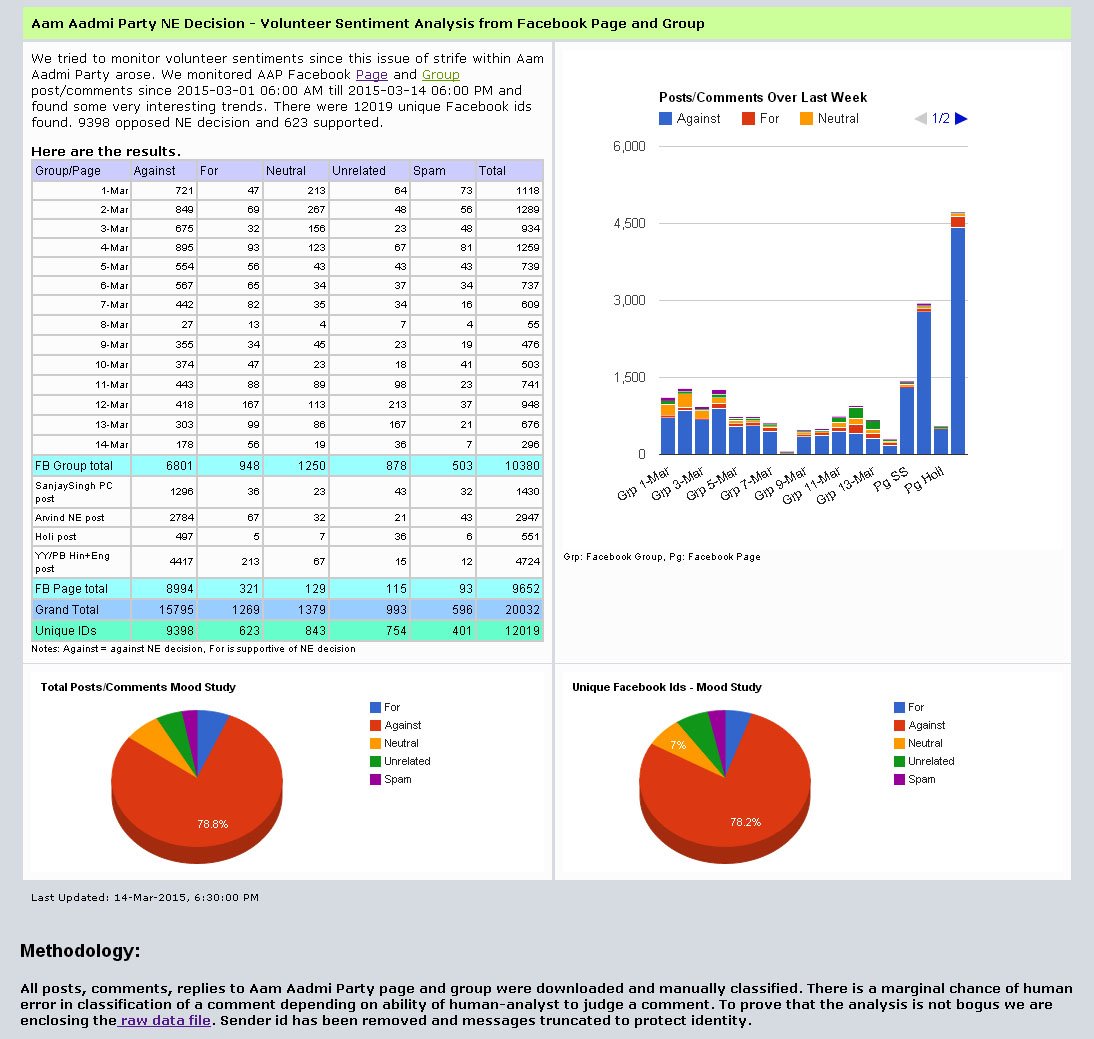 When those still unwilling to open their eyes and smell the roses alleged that BJP was manipulating the results with bogus voting, volunteers started yet another survey of registered donors - since AAP has not released a list of volunteers, donation data is the only way they have of identifying genuine supporters.
Attacking Prashant Bhushan for Shanti Bhushan's actions was not appreciated, a planted story showing Shalini Gupta acting against party interest boomeranged when NRI volunteers denied getting it and then those who had got it releasing the Original email trail regarding accusations against Shalini Gupta which was not at all as offensive as the selected excerpts planted.Volunteers trying to hold AAP together being called fake was an outright slap in their faces. These were people who had spent time online, on the ground, working media, donating, making calls..... treated like the enemy.
The Delhi AAP handle was used to issue a press release with more slander against Prashant Bhushan and Yogendra Yadav and volunteers exploded. That Press Release has hundreds of critical comments verging from polite and disappointed to furious. If anyone liked that release, it is tough to notice in the river of rage in the comments.
It is a difficult place to recover from, even if possible. The arrogance is so profound and the damage it has done so vast that it is difficult to say that AAP can continue united - or even that it should, given the lack of ability to coexist.
What could be a way forward?
A good organizational development consultant could help resolve conflicts and coach basic skills for engaging respectfully with diversity. This cannot be recommended enough if AAP wants to recover. The consultant should NOT be an AAP volunteer/member but a real, independent one who is not stuck lower in the hierarchy from those s/he facilitates.
Dissolving the PAC and forming it afresh can bring some sense of justice. It is also democratically inappropriate to legitimize what is left standing and reinstating Prashant Bhushan and Yogendra Yadav will cause resumption of hostility triggers among those who kicked them out.
Lifting of all gags and guaranteeing that stating opinions will not bring retaliation. This is the leading fear among the dissenting volunteers.
Investigating and removing from authority EVERYONE who demonstrably acted against party interest - including people who hijacked the rights of others as well as Prashant Bhushan and Yogendra Yadav - though volunteers have pretty much shredded the allegations by now.
Norms must be created by means of which no people can have the authority to act against their equals unilaterally - that implies some being more equal than others. This means that conflict between leaders must be resolved through the Lokpal or by appealing to Kejriwal or referendum with volunteers, and not some leaders acting against those they want to target. Whether they take a vote or read tea leaves is immaterial. Disputes must not be solved by targeting one side - this is what has brought AAP to this point.
Prosecuting various illegal and unethical actions - illegal phone recording, planting stories in media, putting up communal posters... with the Lokpal and legal cases.
APOLOGIZING to dissenting volunteers - democracy really wasn't a terrible thing to ask for given AAP's ad campaigns.
Instituting organizational structures as promised, including methods to take feedback from volunteers. Is it not ironic that the party that claims Swaraj not just had no mechanism for volunteers to register dissent, but when they self organized and formed their own platform, they got disowned! Also things like putting up lists of volunteers, minutes of meetings, accounts and more. I imagine much healing can happen if volunteers are apologized to and invited to help bring AAP on track by creating these things.
=========================================
There. I have written the post. But I think volunteers underestimate the AHANKAR of those controlling the party right now. Apologies are not going to happen. Accountability and punishment for slander is not going to happen. I have no idea how this post will help you, but I have promised support out of respect, so here it is.