RNA Corp Pvt Ltd defaults, Bank of India takes possession of secured assets under Sarfaesi
RNA Corp Pvt Ltd, a prominent Mumbai based developer, has defaulted in its commitments to Bank of India. After Mantri Developers, RNA Corp is major developer who has failed to pay its dues.
Bank of India has issued a possession notice dated February 15, 2016 under the Securitisation & Reconstruction of Financial assets and Enforcement of Security Interest Act 2002 to RNA Corp Pvt Ltd and guarantor Chamber Construction Pvt Ltd on taking possession of  various assets given security. Assets include Flat/units admeasuring 8820 sq ft Kandivali, Mumbai, parcels of land admeasuring 46300 sq metres in Vasai, Thane and Flat at Sai Mansion,Cumballa Hill Road, Mumbai.
Total dues of Bank of India are about Rs 58.18 crore.
Total dues of State Bank of India are about Rs 62.00 crore.
RNA also enjoys loans from Axis Bank, Punjab National Bank, Reliance Capital Ltd, Reliance Home Finance Ltd and State Bank of India.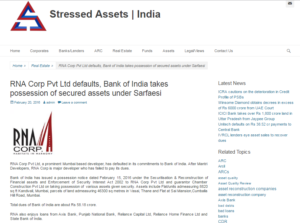 (Visited 152 times, 1 visits today)