Funeral of Reuben Fernandez is at St. Blaise Church, Amboli on 1st November 2011 at 4:00pm
As the hurt, anger and grief flows down the page of the group honoring Keenan Santos (and now Reuben Fernandes), it isn't too difficult to see what is getting people so raw and frustrated.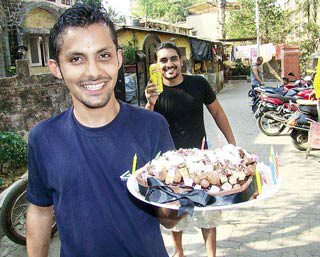 A post by Clifford D'souza voices the collective thoughts and numb resolve.
Stand up for what is right and do the right thing
Keenan passed away while his friends and family prayed for his existence. Reuben passed away while the entire country prayed for him. A local MLA visits Keenan & Reuben's family offering condolences and then goes to Valmiki Nagar assuring the killers that they have all the backing in the world for some justice that they never ever deserve. The 4 main accused have been arrested and they claim that they will be out within months, unharmed. The other 13 men are still at large and claim they had nothing to do with it. Eye-witnesses just stood there watching a so-called 'Tamasha' happening. And we friends and folks are just cribbing about what can be done when the people who were close to us or who have become very close to our hearts can never be brought back into this world.
Where is the "Maharashtra Navanirman Sena'. Isn't Amboli a part of the so called 'Aamchi Mumbai'. Why are political parties interfering in this matter. Even if they interfere, why would those jackasses support both sides at the same time? Why would a MLA of the locality fight for the killers by arranging lawyers for them and assuring them that everything will be fine and they will not be behind bars for long?
What I ask as I type this is, 'Is there a GOD?' Is there something called as justice? Can we bank on our so called leaders in this pathetic political system? Has this incident with Keenan & Reuben justified the meaning of 'Jungle Raj'?
Keenan and Reuben, I didn't know them. We have a few mutual friends but the incident they were involved in touched my heart. It made me think, I can be a Keenan Santos tomorrow too when I stand up for a friend of mine in a similar situation. What do I do then? Have my friends mourn or help things get better now so that a future Keenan Santos massacre can be avoided? There are many questions, a lot of time, but very few answers to give.
We have thousands of members in this group and we should leverage this number to our advantage. Use the power of Social Media to have as many eyeballs attracted to his awareness as possible. Come together, form an organization/movement and put it forward to the Mumbai Police/Government. After this incident and the ongoings I doubt we can trust the Government or Police in this. We have our churches, temples, mosques and other religious institutions. There should be something we can do to make sure the policies in such cases are more stringent and unchanged.
This city is far from being called as 'Safe'. Yes, people unite in terms of support and prayers, but this happens only after some attack or the other. These have to be stopped and you my friends can be the best carriers of this message. Go out, spread the word, do what is right, leverage all contacts you have got, come up with ideas & suggestions and I'm sure I'm not the only one listening to these ideas. One man could never change the world, it all happens in the movies. A group of people who believe in what they are doing can certainly affect the way the world thinks for sure.
It's painful and disheartening to say this after all that happened and I hope it happens after such a brutal incident, but –
'Rest In Peace Keenan and Reuben. You are our heroes for what you have done and I'm sure we'll be able to crack the code and help make this world a better place to live in'.
(Visited 399 times, 1 visits today)