An AIMIM worker has updated that MLA Waris Pathan and the MIM workers team took murdered Yakub Abdul Hasan's family to the offices of Toyota and met the General Manager to submit a memorandum with several demands. Specifically stating that Yakub being murdered while on duty and by employees of the company, in a conspiracy and cover up, the company should compensate his family who have lost a bread winner. The AIMIM political activists also raised slogans with their demands and condemning the crime. They demanded that all the participants to conspire in his murder be arrested (currently only one Santosh Arekar has been arrested, while it is obvious that one person could not have overpowered him to commit the act).
ACP Sankhe to the scene and a bandobast of about a hundred policemen arrived on the scene and ACP Madhukar Sankhe personally assured MLA Waris Pathan that all the accused would be arrested and an inquiry would be conducted again. Copies of the memorandum were also submitted to the Kala Chowki Police station and Police Commissioner Ahmed Javed with a demand for a proper investigation to be carried out and culprits to be brought to book.
The text of the memorandum which is on the official letterhead of MLA Waris Pathan, is as follows:
Ref No: BAWP/10/15/229
Date: 13th October 2015

To,
The General manager,
Shinrai Toyota
Sewree, Mumbai

Subject :- Murder Of Yakub Abdul Hassan Shaikh

Dear Sir,

It has been brought to our notice that Mr. Yakub Abdul Hasan Shaikh, one of your employees was murdered by his colleagues in your premises while he was on duty. This is very unfortunate.

Even after such a serious and unfortunate incidence in your premises, it has been noted that you have not taken the matter seriously and no enquiries have been initiated from your side nor have you taken any action against the main culprits for reasons best known to you.

The family of the diseased has approached us for justice and we demand strong action against the main culprits. Since you have CCTV installed in the premises, you definitely would be in the position to find the people involved in the heinous crime and also how actually it was committed. It si very obvious from the nature of the crime that no person can commit this type of act single handedly, but so far only one person has been arrested and a case has been filed against him but why is the company shielding other culprits? Why are others not being charged or arrested? These are certain questions which remain unanswered. The answer to these questions are very important for the family and for all humanity. As only after complete enquiry and action would the family be satisfied and they would feel that justice has been given to them.

Hence, we demand that a complete enquiry should be initiated by you to find the actual cause of the crime, nail all the culprits involved and take strong action against them besides being removed from service, you must file a strong police complaint against them, so that other employees would never think of indulging uin such acts.

Since the deceased was the only earning member of the family and now with his sudden demise the family is left with nothing but poverty, hence we demand full compensation for the family as the deceased was on duty when he was brutally murdered by his colleagues in the company premises.

Hope you will do the needful and oblige.

Thanking you,

Yours faithfully,

Adv. Waris Pathan
C.C.
1. Commissioner of Police Mumbai
2. Sr. Police Inspector, Kalachowky Police Station
All extremely reasonable and necessary demands, which I hope the police carry out with full responsibility and are endorsed by other politicians and citizens alike for a safe Mumbai.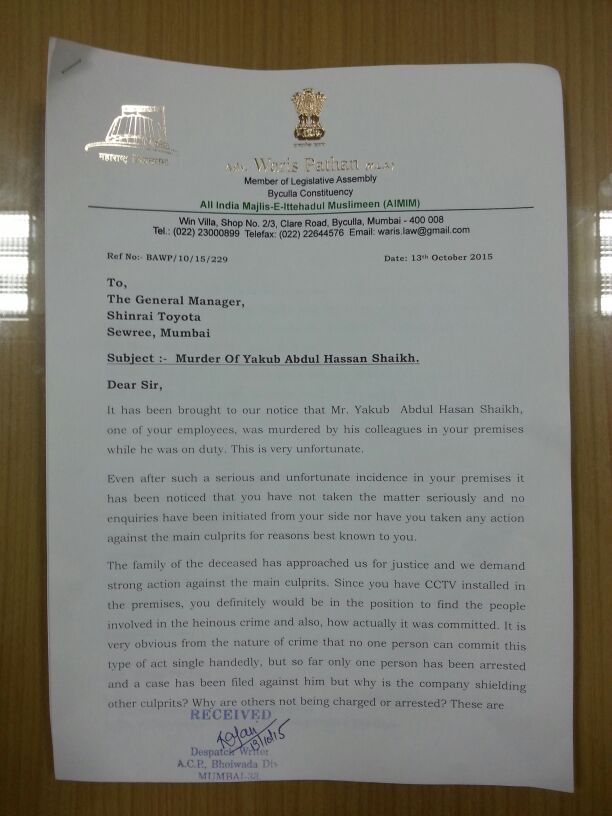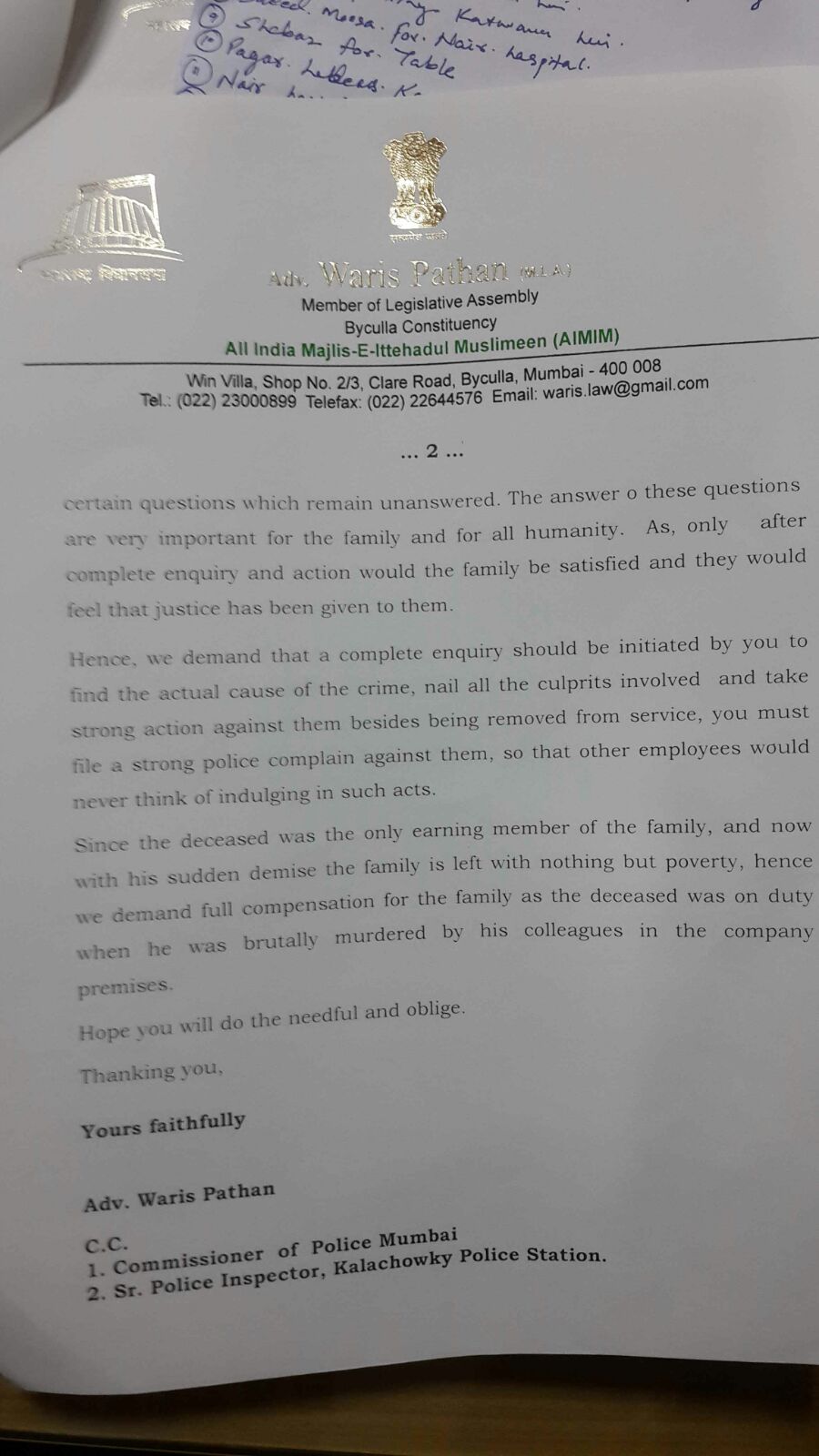 (Visited 4 times, 1 visits today)