Note: The updates are neither in ascending nor descending in order to put related ones together, so time sensitive ones have time mentioned in brackets.
Chief Minister of Odisha, Naveen Patnaik has declared that relief will be provided for 7 days to families in severely affected areas n 14 days relief 4 people in very severely affected villages.
Cargo ship MV Bingo, last sighted east of Sagar in West Bengal is missing. Feared sunk. Search now on for 20 crew members. Update: Missing crew has been located. No casualties.
"Chief Minister has reviewed the Phailin cyclone, not much damage in Andhra Pradesh, 1 casualty, horticulture belts damaged." ~ Anam Ramanarayana Reddy, AP FM
Electricity has been cut off in Ganjam, Gajapati, Khurda, Nayagarh, Puri, Cuttack, Kendrapara, Jagatsingh, Jajpur, Bhadrak, Balasore and Mayurbhanj. (7:30am)
"Electricity will be restored in BBSR, Cuttack, Puri by evening of today." ~ Energy secretary Pradip Jena
13 electricity towers damaged all over Odisha, including 9 in Ganjam district, where it will take 4-7 days (1:40pm)
Power has been restored in Rasulgarh, Jagmara, Aerodrome area in Bhubaneswar & in Cuttack Badambadi.
Massive destruction to kutch houses in Odisha, specially in Ganjam and Kheonjhar districts. Thousands left homeless.
Alert lifted for Andhra Pradesh (11am)
Surjeet Singh, Deputy Inspector General, NDRF said that efforts to clear roads jammed by fallen trees is on. They are also clearing the debris off damaged properties and check for any trapped people.
Morning after Cyclone Phailin dawns. Some damage to buildings and uprooted trees and electricity poles, but no loss of life reported so far other than those before cyclone hit land yesterday. (7:30am)
"No casualties reported so far due to cyclone Phailin." (8:00am) ~ National Disaster Response Force Chief Krishna Chowdhary. Also "More than 50 teams working in Odisha and Andhra Pradesh." (10:15am)
IAF to start air dropping of relief materials in affected areas after 11am. (as of 7:45am) Flights preparing to resume with some delays expected.
Drinking water being supplied door to door in Bhubaneswar.
"We are taking stock as to how fast we can restore tracks and restore passenger and goods traffic." ~ Anil Saxena,Spokesperson Railways
About 7000 passengers are stranded in Puri and top priority is to restore Puri-Howrah line, and help them reach Howrah. Update: Train services restored between Howrah and Puri. (4:30pm)
"3 Lakh Hectares agricultural damage. 80,53,000 people affected. 14,515 villages under cyclone impact." ~ Special relief Commissioner
Impact of Cyclone Phailin on Srikakulam
One person reported dead.
"Restoration of electricity, drinking water within 2 days in Srikakulam" ~ T Radha, Commissioner. Disaster Management
Impact of Cyclone Phailin on Ganjam district
Three deaths in Ganjam (NDTV) due to tree falling. Unclear if these are the same as yesterday or new ones being reported. Also, the numbers vary between 2 (The Hindu) and 5 (PTI) depending on publication. ZeeNews reported 7, which seems to be confirmed by Jay Panda's tweet.
Extensive damage to crops is being reported (NDTV).
Extensive damage to electrical grid, including damage to 9 electrical towers means it will take 4-7 days to restore electricity in Ganjam.
Impact of Cyclone Phailin on Berhampur district
Berhampur University Building collapsed last night soon after Cyclone hit. (Multiple sources)
Debris, trees down, electric infrastructure, some flooding have been reported. (NDTV)
Clearing felled trees has started already in some places. (local tweet)
Section of NH5 flooded (ANI)
https://twitter.com/ScorpiusMaximus/status/389315738332176384
Impact of Cyclone Phailin on Vizag
Wall collapsed at No.11 Jetty at Vizag harbour (also yesterday). (Local news)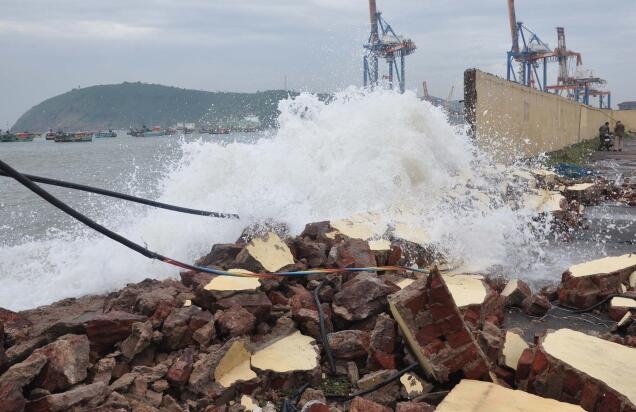 Impact of Cyclone Phailin in Puri
Fishermen missing in Cyclone Phailin
18 fishermen reported stranded off Paradip coast – current status is unclear. Update: They have been found and rescued.
Cargo vessel MV Bingo from West Bengal is out of communications at sea. Last seen on the east of Sagar. Presumed sunk. Search on for missing crew members. Update: Missing crew has been located. No casualties.
This and other updates on Cyclone Phailin would not have been possible without the cooperation of a dedicated group of volunteers making information more accessible. Special thanks to @tw_bhav for doing a lot of the heavy lifting of sifting through information, @scorpiusmaximus for regular updates and detailed information as some familiar with the region and countless others.
(Visited 242 times, 1 visits today)