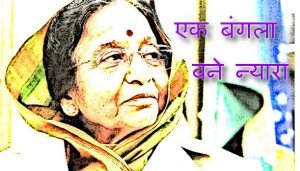 I have been informed that the journalists who did the expose on our President's post retirement accommodation are now getting non-specific threats to tread carefully, etc. It is sad that when something really dangerous is taken up by truth seekers, media as a whole fails to stand by them, rendering them vulnerable to extra-curricular harm. It is no coincidence that RTI activists are in a lot of danger in our country.
I am making a post to say that I know these threats are happening and am assured that the journalists/RTI activists in question are seeking protection and will be making known any information related to the threats as it becomes clear and necessary for their safety.
They are continuing to dig through the information in pursuit of the scam. My respect to them and support in whatever way I can.
As for those saying that the information may be false, it has been acquired through RTIs. And even if it is not a scam, that is for the courts to decide. At this stage, it is important that this not be silenced.
These are the three articles published by them so far, and I will update as they publish more.
http://moneylife.in/article/pratibha-patils-house-stands-on-a1-defence-land-meant-only-for-military-use-military-spending-its-resources-for-her/24960.html
http://moneylife.in/article/president-pratibha-patil-grabs-261000-sq-ft-of-land-meant-for-soldiers-and-officers/24929.html
http://moneylife.in/article/pratibha-patils-pune-bungalow-denying-the-undeniable/24958.html
I will be updating this post with the salient points in a little while.
I would request you to support them in taking this up the way we did with the Keenan and Reuben murders. Keeping info flowing through social media and blogs till National media wakes up.
Your support is much appreciated.
Vidyut
(Visited 68 times, 1 visits today)