Kailash Vijayvargia is the BJP cabinet minister for industries and employment in Madhya Pradesh. While the BJP online propaganda machine makes sure you know that Delhi is the "rape capital of India", fewer people know that BJP ruled Madhya Pradesh is the worst state on this front. Not surprising, if you have ministers like this in the Cabinet.
The BJP MLA Kailash Vijayvargia Controversy
In the wake of the Delhi Gangrape, this is what wiseguy MLA Kailash Vijayvargiya, BJP Industries Minister in Madhya Pradesh  had to say:
http://www.youtube.com/watch?v=-tZgfnoP9m8
"Ek hi shabd hai – Maryada. Maryada ka ulanghan hota hai, toh Sita-haran ho jata hai. Laxman-rekha har vyakti ki khichi gayi hai. Us Laxman-rekha ko koi bhi par karega, toh Rawan samne baitha hai, woh Sita-haran karke le jayega. (One has to abide by certain moral limits. If you cross this limit you will be punished, just like Sita was abducted by Ravana)," Kailash Vijayvargiya said.

~ MLA Kailash Vijayvargiya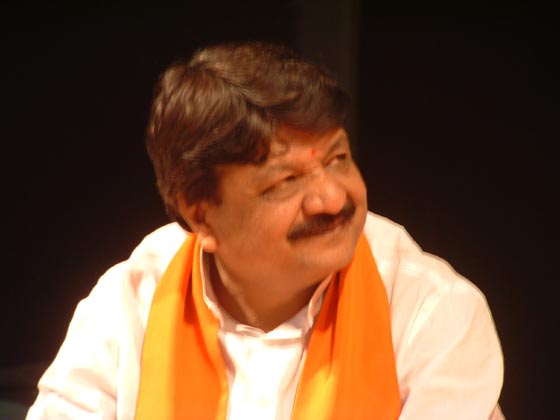 Under severe criticism, Vijay Vagaria retracted his comment *if* he had hurt people's feelings after BJP National Spokesperson Ravi Shankar Prasad promptly distanced BJP from the joker ""The Party disassociates itself from the comment and request him to take it back".
Then he defended it:
 "I gave a speech for one hour, you will understand my point if you listen to the complete speech. But one part of it was picked and presented as if I am against women…I myself am hurt,"
There is something about ministers who are attracted to cricket that makes them insensitive to people, I think, because Kailash Vijayvagaria had apparently contested the elections for Madhya Pradesh Cricket Association for two consecutive years in 2011 and 2012 and lost both times. 
This is not just obscene and absurd to say, such attitudes in leaders of the state will ensure that Madhya Pradesh continues under its burden of victimized women. TMC and Congress both fired people acting against women's dignity in recent days, so let us hope BJP takes a few hard stands too.
(Visited 211 times, 1 visits today)