Monday, 9 March, 2015, Mumbai: Imagine you are enjoying dinner with your family at Golden Chariot restaurant, on the second floor of Goregaon's famous mall, The Hub. Suddenly, you see smoke. No, not the delicious smoke from a sizzler, but the black, rubbery-smelling smoke from a short-circuit. An uncontrolled blaze has broken out in the building. People are shouting, "Fire! Fire!" and stampeding in panic. But you are calm. You guide your family to the nearest door that says, "FIRE EXIT". But you are shocked to find that this door only leads to toilets and an enclosed room where drinks and junk are being stored! It does not lead to a staircase! You angrily start yelling at the Golden Chariot employees, asking where is the nearest genuine fire exit door that leads to a staircase. But nobody replies; people are running helter-skelter, the dimly-lit restaurant is filling up with thick smoke, and the temperature is rising.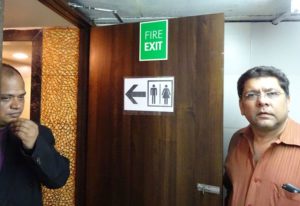 Photo 1: Activist Sulaiman Bhimani (right) shows a false Fire exit no. 1 in Golden Chariot restaurant. The fire exit has been illegally enclosed and converted into a storage area.
Then you see another large door in the same hall marked "FIRE EXIT". You push the door desperately, but the door does not open. It is locked! Your wife and children are depending on you, and you are wasting precious minutes by leading them into dead ends!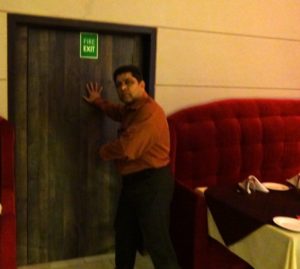 Photo 2: Sulaiman Bhimani pushes Fire exit no. 2 in Golden Chariot, to show that the door is kept locked and will not open.
Finally, you all manage to run out of Golden Chariot restaurant, and reach the fire-exit staircase. You see other people going down the staircase, and you feel reassured that only two floors down, there is a door to exit the burning building.
But when you reach the ground floor, you are in for another shock: the door for going out of the building is chain-locked from outside! You can peep outside and shout, but the opening is too narrow to get out of!

Photo 3: On ground floor, one fire exit is chained from outside.

Photo 4: A close-up showing the chain-locked door.
The crowd that is trapped with you is pushing, shoving and turning into a panicky stampeding mob. You all try running to another door, and this one is locked from within!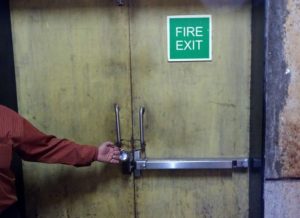 Photo 5: Another ground-floor fire-exit, locked from inside. Imagine being trapped by this door while trying to escape a fire!
Many of the ways out of Hub Mall seem to be barred! By now, the boxes of goods and inflammable junk that are stored in the fire-exit by Big Bazaar in the basement have caught fire, and the stairwell is starting to feel like the chimney of a furnace! Thoughts of the 59 people who died in the Uphaar Cinema tragedy behind closed fire-exits flashes through your mind…
Is your family safe when it visits The Hub? On the contrary, it has been converted into an accident-waiting-to-happen. Next time you visit to Goregaon's Hub Mall, please take the trouble to walk around the fire-escape doors and walk up and down the stairwells. See for yourself how many fireexit doors are closed, and how many fire-exit passages have been encroached by greedy hoteliers and storekeepers.
Motivated by whistleblower Shaikh Fakhruddin "Fakhru" Junaid, who owns a shop on the second floor, RTI activists Sulaiman Bhimani and Krishnaraj Rao took such a walk on Saturday, and they took photographs of the hazards. Are the authorities aware of these hazards? Absolutely! Fakhru has been complaining to Mumbai Fire Brigade for the last two years, and the Chief Fire Officer's office has written to the Municipal Corporation noting the grave violations. The office of the Chief Fire Officer (CFO) reported various violations to MCGM on 14th November 2014.
CFO's letter: http://tinyurl.com/CFO-Golden-Chariot
Fakhru's letters to MCGM: http://tinyurl.com/Complaint-Golden-Chariot
Highlights of the CFO's observations:
"In the north side landing on the second floor, the staircase landing was partially obstructed by keeping refrigerator and other things by the Golden Chariot restaurant and an unauthorized construction of the steel frame plywood sheet enclosure box for A.C. Unit and a steel ladder for access to the loft in encroached area of common passage by the Golden Chariot restaurant.
"The common toilet block along with its approach passage and way to emergency exit of north side staircase was blocked for public use by illegally encroaching and utilizing it for restaurant activity by Golden Chariot Restaurant."
"The amalgamation of two shop no. 23 and 24 along with its front common passage was done and merged it in the dining area by Golden Chariot restaurant without taking NOC and sanctioning the plan from the Fire Brigade Department."
"In view of the above circumstances, I have to inform you that the MOH and Fire Brigade Department have already rejected the application for the trade licence of M/s Golden Chariot Hospitality Services Pvt. Ltd…"
Ok, so let's get this straight: Golden Chariot doesn't even have a licence to manufacture and serve food, but even then, it is not only serving food, but also alcohol. And it holds live performances!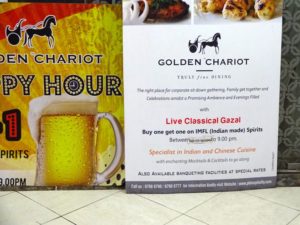 Photo 6: No licence to even serve food… but here they are, serving drinks and holding live performances!
However, the police sees fit to give this dangerous unlicensed restaurant a license to attract the public by holding live performances! See this police performance license: http://tinyurl.com/Performance-Golden-Chariot
Bear in mind, private house parties have been raided by cops, and named and shamed in the media for serving liquor and organizing an unlicensed performance for a single evening! So, the question arises whether the excise department and the police department is hand-in-glove with the restaurant owners? How come they have not cracked down on such blatant and continuing violations of various laws and public safety norms?
One must keep wondering… because yeh hai Mumbai, meri jaan!
Big Bazaar – a bomb in the basement
The story however does not end with Golden Chariot. Big Bazaar, which is situated in the basement of Goregaon's Hub Mall, is another dangerous violator. Not only is it carrying on business illegally in the basement (a major MRTP violation), but further compounding the hazards, Big Bazaar has blocked numerous fire escapes with shopping carts, cartons of inflammable goods, and huge piles of garbage. See these photos taken on Saturday.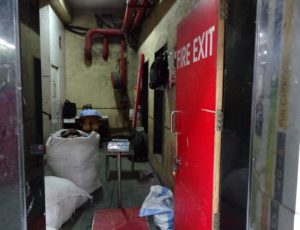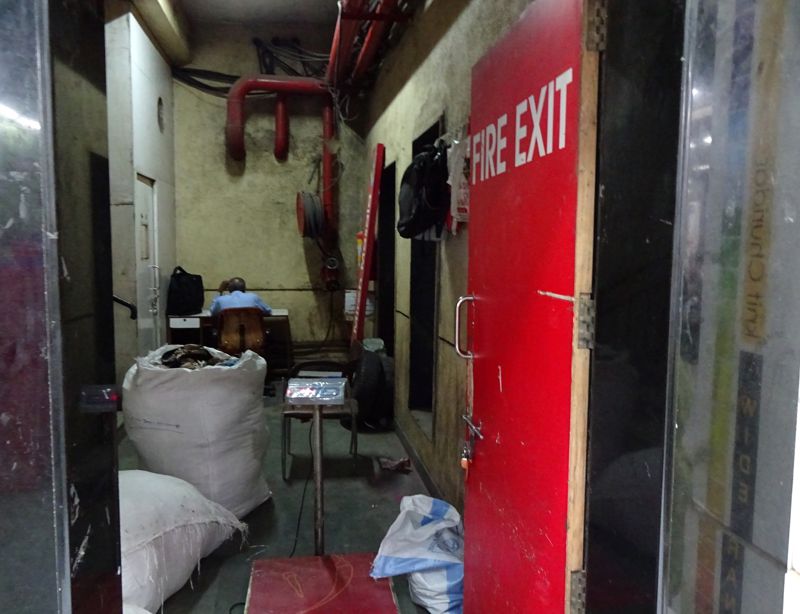 Photo 7: This Big Bazaar fire exit is filled with goods, weighing machines, etc.

Photo 8: In this fire exit, Big Bazaar carries on backroom operations.
Photo 9: This stairwell is used to store flammable junk, and backroom operations.
See many more high-res photos of Fire Safety Hazards of Hub Mall, Big Bazaar and Golden Chariot: http://tinyurl.com/Photos-Hub-Mall-Golden-Chariot
Journalists interested in knowing more may contact:
Fakruddin: 08879-414793
Jyoti Ladwal: 098-20-607950
Akash Dhupar: 099-20-752746
Human Rights & RTI Activist Sulaiman Bhimani 093-23-642081
ISSUED IN PUBLIC INTEREST BY
Krishnaraj Rao
9821588114
9821588114
(Visited 494 times, 1 visits today)