Hyderabad based AIMIM led by MP and leader Assaduddin Owaisi after the recent success in Maharashtra elections had announced a rally in Pune Maharashtra to demand implementation of 5% Reservations from the Maharashtra Government which had been struck down by the courts.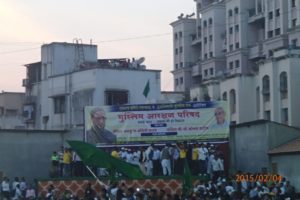 The rally was already marred by controversy when Pune police denied Mr. Assaduddin Owaisi permission to hold rally at the much larger Golibar Maidan Pune as requested by the AIMIM leader.  Mr. Owaisi had cried foul and alleged police bias in regard to denying of the permission to hold the rally at the desired venue.
After the venue was rejected AIMIM leader settled for a much smaller ground in Kauser baug a Muslim dominated area of Kondhwa Pune. The rally was scheduled for 5.pm. All the roads leading to the venue were blocked and traffic diverted for law and order and crowd control. Just before the rally started there was a demonstration by right wing Hindu Shiv Sena activists at some distance from the rally venue adding to woes of the already worsened traffic condition.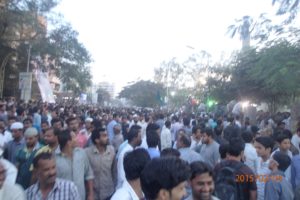 Unlike most political partiesMr. Asaduddin Owaisi rally started on time exactly. The venue was already packed with a large number of Muslims most of whom were youngsters and more people continued to stream towards the ground. Mr. Asaduddin Owaisi is no doubt one of the better orators not only among the Muslim community but among all the political leaders in India. He surely knows the pulse of the community and it was evident from the huge roar and applause he got from the crowd that consisted mainly of young Muslim men.
The Hyderabad based MP spoke about hate speech charges leveled against him and his younger brother MLA Akbaruddin Owaisi but did not use any words that amounted to be called provocative in his speech. He mentioned issues like Muslim backwardness and recommendations of Sachar Committee report and requested Maharashtra government of Fadnavis to implement 5 % reservation for Muslims that was brought in by the previous government. He refuted the charges against him and his party of being communal and went to tell the crowd that he was the first one in parliament to address Pakistan based JUD leader Hafiz Saeed as an old man in the parliament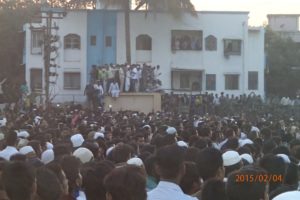 The crowd which according to my estimate should be anything between fifteen to twenty thousand people cheered the leader at his jibes against the opposition parties and the largest roar came when Mr. Assaduddin Owaisi declared that there would be another rally in Pune in future that would be addressed by his younger brother the firebrand Akbaruddin Owaisi
All India Majlis-e-Ittehadul Muslimeen clearly appears to have caught the fancy and imagination of the younger generation of Muslims and one should not be surprised if AIMIM a fairly new party in Maharashtra starts winning local council seats in Muslim dominated pockets in the state.
The rise of parties like BJP and AIMIM means marginalization of parties like congress and NCP from the political scenario and only future will tell whether Indian political scene has taken a road towards right or will go back to its secular politics
(Visited 325 times, 1 visits today)