I completed 58 years of being alive, on this earth, as a citizen of this country, on the 14th of February, 2019. Normally the day for quiet celebration, this Thursday afternoon was disrupted by news of the attack on the CRPF convoy in Pulwama. As the anchors confirmed whether the death toll was 30 or 40 or more, a feeling of deep and permanent gloom began settling on me. Intermittently checking the news on TV and through social media, I was very disturbed to receive, by 10.10 pm, a WhatsApp picture posted by one of my neighbours on our housing society group.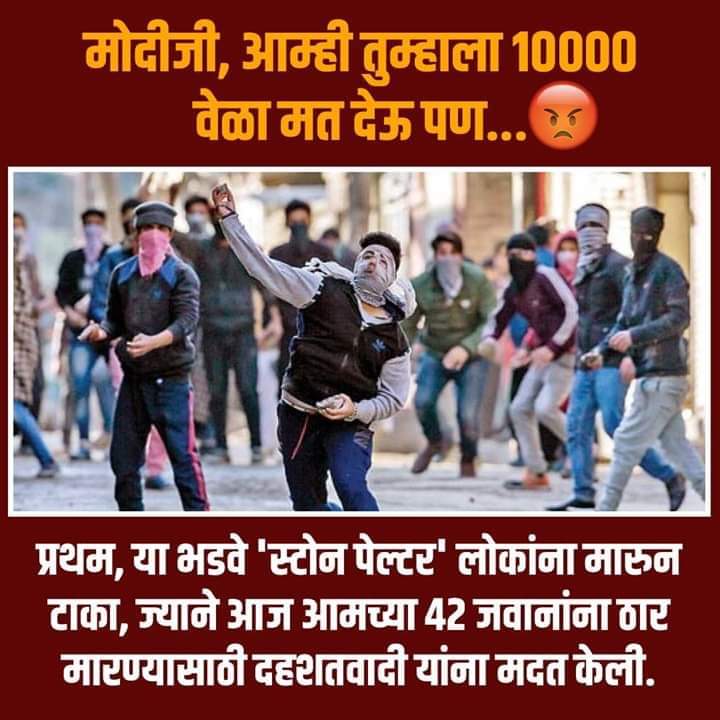 The picture's caption, in Marathi, reads: Modiji, we will vote for you 10000 times, but first, please kill these stone pelting pimps who have today helped a terrorist to kill 42 of our jawans.
I was shocked out of my gloom to a completely different horror. Many questions came flooding into my brain. The Pulwama attack had taken place at approximately 3.30 pm. The time that I received this WhatsApp picture in a semi-rural town of Western Maharashtra was 10.10 pm. In that time, the sender had been able to articulate a message, assemble the appropriate pic, Photoshop the same (with the inflated figure of 42 and an angry emoji) and send it to heaven knows how many groups like our colony's.
Somehow, this seemed at complete variance with the actions of a grief-stricken citizen. For a start, what bothered me was the opening reference to votes for the PM – a promise of 10000 times, no less. Was this because in the immediate aftermath of the Pulwama attack, on the 15th of February, the PM was asking for the people of Jhansi to bless him for another term? Have we begun to associate the office of our Prime Minister and the face and figure of Narendra Modi only with election speeches and rallies? This impression was reinforced on the 16th of February, when the PM was in Maharashtra's Yavatmal promising to avenge every tear that was shed for those killed in the Pulwama attack.
While he was delivering this powerful message to the voters of Yavatmal who have lost a couple of their sons in the Pulwama attack, the PM was unable to attend an all-party meeting of parliamentarians who came together to draft a resolution condemning the attack. The opportunity to show some political consensus and deliver the lawmakers' message to the nation therefore fell on the less seen and photographed Home Minister, Rajnath Singh.
How had such a tragic piece of news been disseminated and converted into a vote-reinforcing WhatsApp in a mere six and a half hours and by whom? Why was the PM of my country in so many distant locations conveying his grief and resolve in words, but not seen to be in the capital in consultation with the defence team or at the site, expressing solidarity with the forces? Somehow, reading this morning his message delivered to Yavatmal failed to bring me the surge of hope and conviction I hoped for. He says he has given the forces a 'free hand'. Does this convey unconditional support or 'do what you want, I couldn't care less'? As a citizen, I failed to be reassured and comforted. Instead, I was thinking of the figures that reflect Kashmir's growing disenchantment since he took oath on the 26th of May 2014: a 176 percent increase in terror attacks from 2014 to 2018, 1315 people killed, the uprising in 2016 that led to a whole generation affected by pellet injuries to the head and face. Who benefits from the alienation of Kashmiris from their fellow citizens? I suspect it is not just Pakistan or the Jaish-e-Mohammed but people much closer to my home. That is an infinitely disturbing thought.
The final straw on my despondence came yesterday, 16th February, when I saw images of BJP MP Sakshi Maharaj smiling and waving at the huge crowds who had gathered to pay respect to fallen CRPF soldier Ajit Kumar Azad at Unnao. It appeared as if, in the eyes of the ruling party, election season has begun before it has for anyone else.
Those who know me as a happy-go-lucky, indigent freelancer aunty know how much I resist falling into cynicism and despair. I try to retain some hope and humour in the most difficult of situations. But as the WhatsApp messaging after that inaugural picture gathered more speed and viciousness – many calling for a boycott of Kashmiri goods, stopping trips and pilgrimages to Kashmir, expressing contempt for candle marches and asking for more surgical strikes, some exquisitely worded ones saying we had had enough of kshama (forgiveness), daya (kindness), tap (penance), tyag (sacrifice) and manobal (inner strength) and recommending that we should now move towards the shining light of bal ka darp (might of sheer strength) if we wanted any respect in this world – all these made me more depressed than ever.
Today, when it has become more difficult than ever to hold one's own against the WhatsApp tsunami, perhaps it is also more important than ever to ask:
Who is inciting us and why?
How are our system and society really reaching out to help those killed in the line of duty? Were these deaths preventable, and how have we failed them?
Can we at one time say, 'Kashmir is ours!' and in the same breath declare that Kashmiris are stone-pelters and gaddaars (traitors)?
Pause and reflect.
(Visited 70 times, 1 visits today)