End of January marks the grape harvest season around Nashik. After falling prices after demonetisation led farmers to slash down standing tomato crops last month to make way for emergency sowing of wheat to eat, hope had rested on the grape crop coming up. However for all the reports in media about farmers adopting cashless methods and grape exports and what not, the ground reality remains grim. Here is a report from the Maharashtra Times.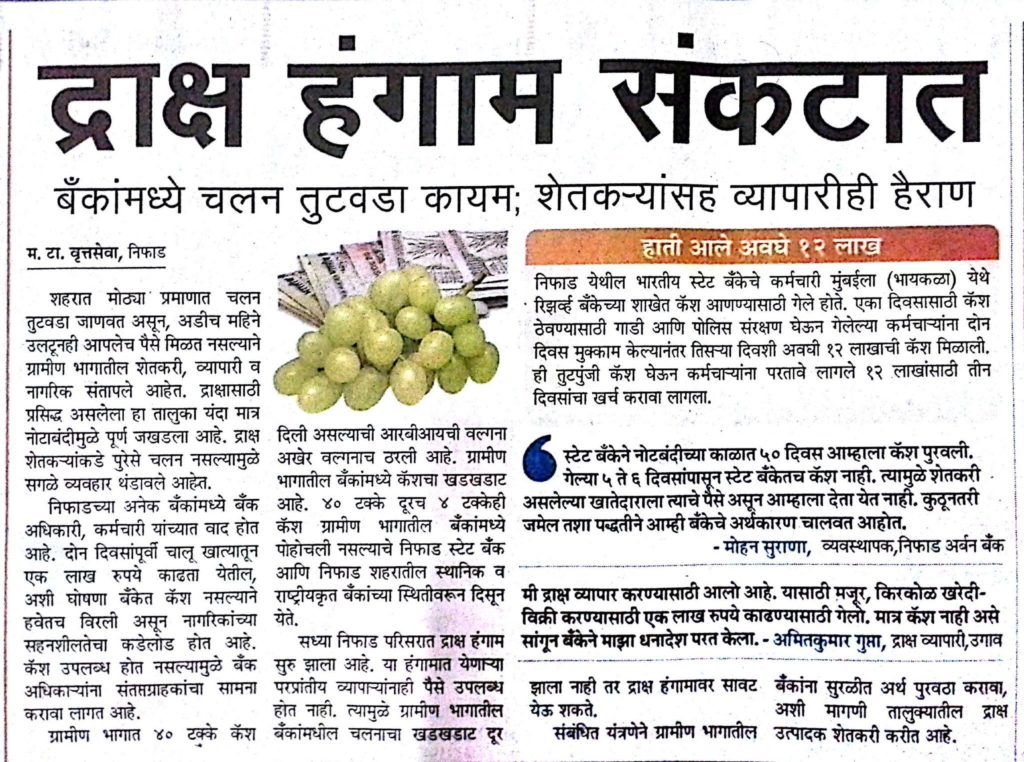 Rough translation
Grape season in crisis
Cash crunch in banks continues; traders and farmers frustrated
Cash crunch in the city (Niphad) continues two and a half months after demonetisation with farmers, traders and citizens furious about not being able to access their own money. This taluka, famous for its grapes is completely strangled by the note ban this time around. Grape trade has slowed due to lack of enough cash with grape farmers.
In many banks in Niphad, there is tension between bank management and employees. The announcement from two days ago of being able to withdraw a lakh rupees from current accounts has dissipated in the face of banks not having enough currency notes to give out and the fury of customers is reaching boiling point. Bank officials are being forced to deal with furious customers due to lack of cash.
RBI's directive of giving 40% cash to rural banks has proved hollow. Rural banks still don't have cash. Forget 40%, not even 4% cash has reached rural banks as seen from the condition of State Bank and regional and nationalized banks in Niphad.
At the moment, the grape season has started in the Niphad region. Even traders coming from other regions are not able to obtain money. Unless the cash crunch in banks is resolved urgently, the grape season will be muted. Grape growers are demanding that the rural banks get provided with cash as per procedure.
Received a mere 12 lakh
Employees of the Niphad branch of the State Bank of India had gone to the Reserve Bank branch in Mumbai to get cash for distributing. They had gone for a day with a vehicle and police escort for the cash they would bring. Instead of a day, they had to stay there for two days and got only 12 lakh on the third. They returned with this meagre amount, having spent for three days stay in Mumbai to obtain a mere 12 lakh.
State Bank provided us cash for 50 days during the note ban. Since the last 5-6 days, they themselves don't have cash. As a result, we are not able to give farmers their own money. We are managing the finances of the bank with great difficulty.

~ Mohan Surana, Manager, Niphad Urban Bank
I have come here to buy grapes for trade. For that, to pay labour, minor expenses, I went to withdraw a lakh rupees at the bank. However, they returned my cheque saying that there is no cash.

~ Amitkumar Gupta, grape trader, Ugaav
(Visited 291 times, 1 visits today)