#IndiaUnites for those affected by #ChitFundScams
Chit fund schemes are a popular savings technique almost all over India, older than even banking. It is projected that the number of unregistered chit funds is 100 times than the registered ones. Further, if the value of an unregistered chit fund is more than Rs.100 it is considered illegitimate in India. There are many rules and regulations while investing in a registered chit fund. Investors therefore tend to invest more in unregistered chit funds. This puts them in the danger of losing their money and having little recourse to justice and recovery of funds.

More than 100 chit fund companies control over INR 2 Lakh crore of funds invested by nearly 10 crore citizens. The largest of these companies, PACL Ltd. (earlier called Pearls) alone has defrauded over 5.15 crore investors to the tune of INR 49,100 crore. Starting in 1996, PACL, along with Pearls Golden Forest Ltd. (PGFL), made false allotments of land to investors without actually owning any land. However, although the Securities and Exchange Board of India (SEBI) initiated recovery proceedings in 2014, and the Central Bureau of Investigation (CBI) arrested the key people managing PACL (including the Chairman-cum-Managing Director Nirmal Singh Bhangoo) in 2016, investors are yet to recover their money. In February 2016, the Supreme Court appointed the Justice R.M. Lodha Committee to work with SEBI in overseeing the sale of PACL's assets and use the proceeds to refund investors.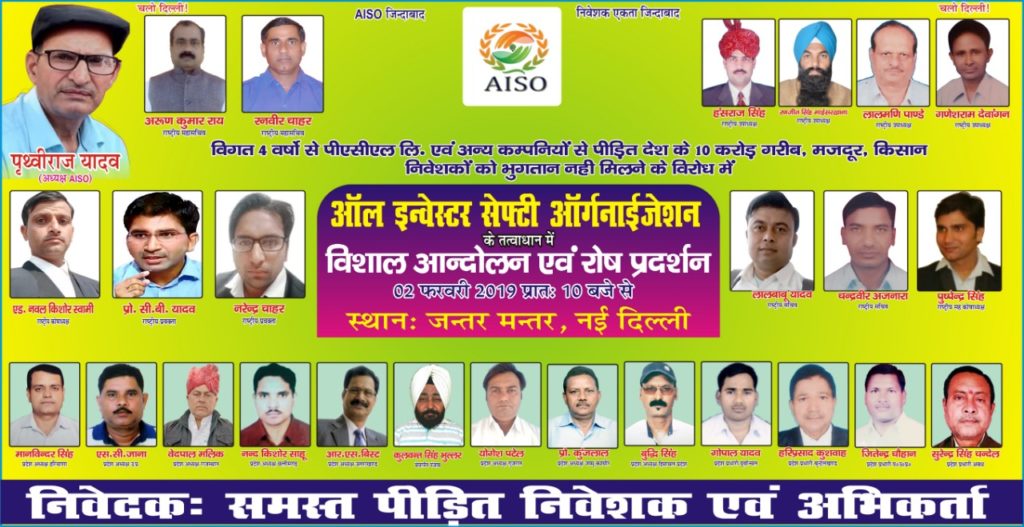 The Enforcement Directorate has also since filed a chargesheet in the case. As of October 2018, refunds have been issued to 1.13 lakh investors whose net investment in PACL is Rs. 2500 or under. However, even such refunds are only being issued to those with a bank account, whereas PACL's agents collected deposits from many small investors who do not possess a bank account. Investors have therefore come together under the banner of the All Investor Safety Organization (AISO) to demand the expediting of the process of recovery. (Also see @paclcasestatus for updates.)