To,
Mr. S.K. Pattanayak IAS
Additional Chief Secretary, Home
#Government of Karnataka
Room No. 222, II Floor
Vidhana Soudha
Bangalore – 560001
Dear Mr. Pattanayak,
In view of the killing of Prof. M.M. Kalburgi this morning in Dharwad by unidentified miscreants using firearms, believed to be #Hindutva extremists, it would be pertinent to bring to your notice a credible threat to Prof. K.S. Bhagawan as the 'next target'.
This morning, on 30 August 2015, a person by the name of Bhuvith Shetty ( His twitter handle is @GarudaPurana ), who claims himself to be the co-convener of #Bajrang Dal in Bantwal claimed in a tweet at 10:41 am that it was Bajrang Dal who had wanted to kill U.R. Ananthamoorty and had actually killed Prof. M.M. Kalburgi. In the same tweet, he ominously warned that Prof. K.S. Bhagwan is next on the assassination list.
The screenshot of the tweet has been attached to this e-mail. (Annexure 1)
The url to the twitter profile @GarudaPurana is below:
https://twitter.com/GarudaPurana
This handle was probably changed to the one below, which was still deactivated or deleted.
https://twitter.com/BhuvithShetty
Once this threat was noticed and people began taking note, the handle @GarudaPurana was either deactivated or deleted by the said Bhuvith Shetty.
It must be noted that he had earlier claimed to have chopped off the hands of some Muslims. (Annexure2)
This e-mail may be treated as a formal #complaint and may kindly be forwarded to the appropriate #police official with jurisdiction to investigate this and take necessary action. The tweet itself is in violation of several section of the IPC and hence prosecutable.
I had tried speaking to Commissioner of Police, Mangalore City Police on the number 0824 2220801 but couldn't reach him. I have left a voice message in his answering machine though.
In anticipation of swift and appropriate action,
With Warm Regards,
Nilim Dutta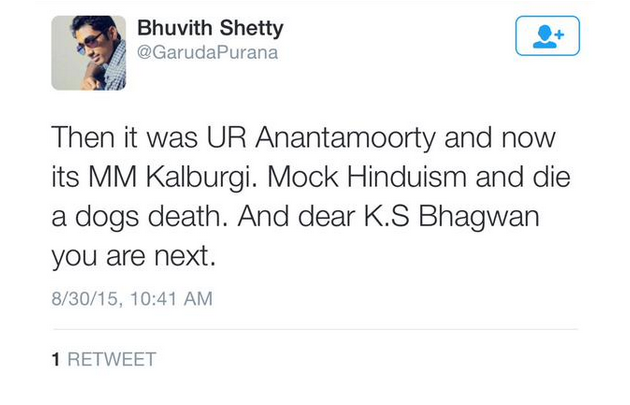 (Visited 344 times, 1 visits today)