C Manjula of the Karnataka Women's Commission and BJP's Mahila Morcha glossed over the horrendous homestay attack in Mangalore by Subhash Padil & Co, and instead in an utterly horrendous report, chose to blame the victims of everything from partying to questioning the character of their parents. She even recommended the transfer of a police officer whose daughter was one of the victims.
Such behavior is not becoming of anyone pretending to stand for women's rights, but that doesn't deter anyone in Karnataka, where the BJP government hasn't so much as whimpered about their ally Hindu Jagarana Vedike and RSS being proud of the attack on the homestay that saw girls molested, hit, stripped and boys beaten, not to mention that the attackers were drunk and tried to force them to pose in lewd ways on the bed.
On the other hand, she declared that the Karnataka Women's Commission would register complaints suo motu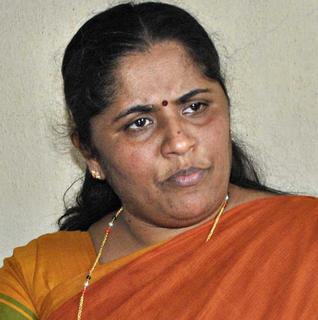 against people who spoke in a derogatory way against women politicians (largely BJP).
Never forgive or forget this one, because it comes in the guise of pretending women's rights. Talk of stabbing in the back!
Yo Manjula, this one is for you.
(Visited 810 times, 1 visits today)