This article examines @santvarun's tweets summarizing the press briefing by senior INC leader Ajay Maken and connects them with relevant information in the public domain.
Three days ago, the UK newspaper, Guardian, made public excerpts of a 97-page show cause notice issued by the Directorate of Revenue Intelligence (DRI) to an Adani Group company: M/S Maharashta Eastern Grid Power Transmission Company Limited (MEGPTCL).
On 5/2/2013, DRI under UPA-II initiated an enquiry into over-invoicing on import of electrical machinery by a subsidiary of the Adani Group.
This investigation ended on 15/05/2014. The summary of this investigation:
Note: The accused MEGPTCL, a wholly owned subsidiary of Adani Enterprises Limited, an Adani Group company, is a Power Transmission Company (TransCo). For electricity to reach our homes, first the fuel is procured, then electric power generated in a plant. This power is then transmitted through a Distribution Company to our homes. So the electricity chain is: import coal –> import machinery for Generation Company (GenCo) –> import machinery for TransCo –> sell power through DisCom. The DRI investigation exposes the TransCo part of this chain. The background, as described in Michael Safi's Guardian report:
India is electricity-starved. More than 240 million Indians – enough people to form the fifth-largest country on Earth – lack access to regular power.

In the early 1990s, to encourage power companies to build electrical infrastructure, the Indian government eliminated import tariffs on technical equipment such as reactors and transformers. Profit margins on these projects increased overnight.

Adani saw the business opportunity. In 2010, the Maharashtra Eastern Grid Power Transmission Company Limited (MEGPTCL), a wholly owned subsidiary of Adani Enterprises, was granted a license to develop two electricity transmission networks in the north-east of the state.
Per the DRI investigation, Adani Group routed the purchase of equipment via a front company in Dubai, thus inflating the price of equipment by nearly 400%. The ensuing profits were then transferred to a trust in Mauritius controlled by Vinod Adani.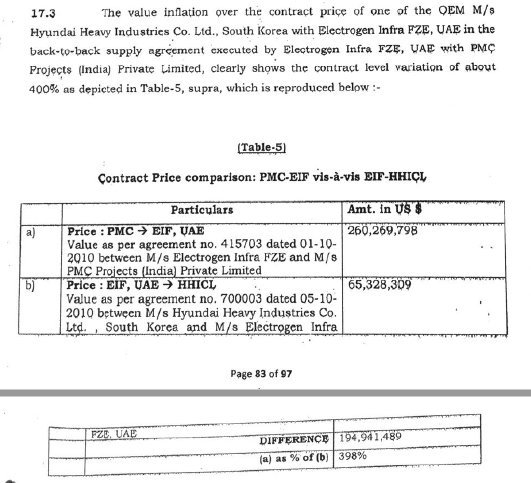 Vinod Shantilal Adani, the elder brother of industrialist Gautam Adani, set up a firm in the Bahamas in 1993 and, shortly afterwards, "corrected the spelling" of his name to Vinod Shantilal Shah.


The Guardian article also detailed how the illicit profits were siphoned off out of India (as summarized in the DRI notice).
How much money was siphoned off  by MEGPTCL? Nearly INR 1,500 crores!
The DRI notice was issued May 15, 2014. 9 days later, Narendra Modi flew from Ahmedabad to Delhi on an Adani aircraft to become India's 15th Prime Minister.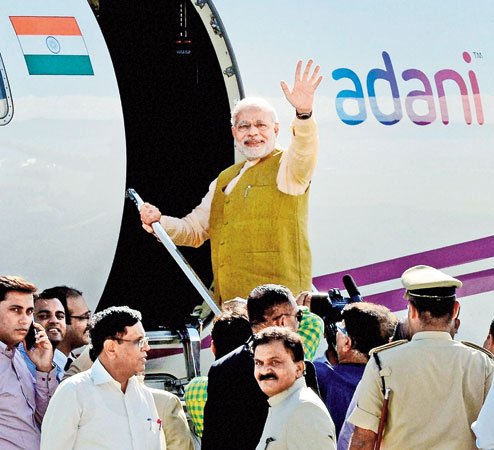 What happened to the DRI investigation once Modi took office is detailed by investigative journalist Josy Joseph in his book, A Feast of Vultures: The Hidden Business of Democracy in India, whose excerpts were carried in The Wire.
So there's a siphoning off of illicit profits by the Adani Group, who have backed the winning horse in the 2014 General Elections Narendra Modi, who then proceeds to stymie the investigation against them. The public is left to bear the cost of it all, which is where the INR 2/unit #AdaniTax comes in. It's not only about the INR 1,500 crore; inflated invoices have a downstream impact on wheeling & generation charges:
Further, Adani Group clearly stands to profit from every part of the electricity chain ( import coal –> import machinery for Generation Company (GenCo) –> import machinery for TransCo –> sell power through DisCom). There are more dots to join – one detailed in the June 2016 issue of The Economic & Political Weekly by Paranjoy Guha Thakurta.
Thakurta also co-wrote with Aman Malik a similar article in The Wire which talked about an ongoing investigation into over-invoicing by as many as FORTY of India's biggest energy companies. A side note: Thakurta recently resigned as Editor of EPW after a defamation notice from – no prizes for guessing – Adani Group!]
Summaries of these articles from the INC Press Release:
The more you delay the adjudication process, the more the cases fade away from public memory and our collective consciousness.
Adding up all the over-valuations: in coal imported – INR 29,000 crore; in power plant machinery – INR 9,000 crore; in compensatory tariffs – minimum INR 10,000 crores!
So the INR 50,000 crore question is, how does this affect the electricity tariff charged to consumers? See the excerpts below: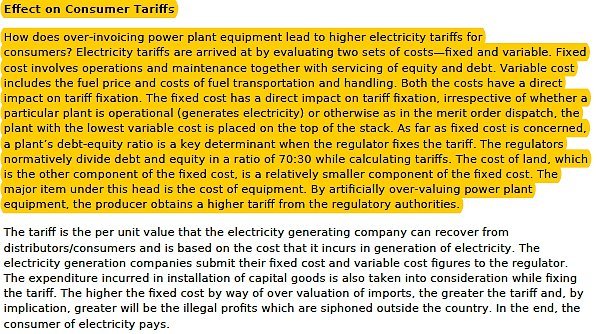 To repeat: As many as 40 energy companies, including Adani Group, overvalued invoices and transferred the (inflated) cost to electricity consumers! Why should consumers foot this padded bill? Why is Narendra Modi, of na khaunga na khaane doonga fame, silent on this?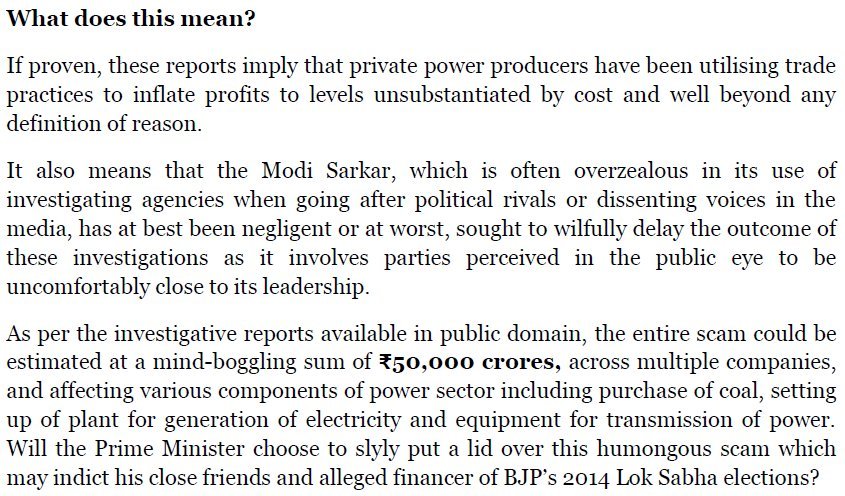 The demands made by the INC:
Immediate reduction of tariff by up to factor of ₹2/ unit wherever these companies are producing & transmitting electricity.
Immediate CBI investigation monitored by a judge of the Supreme Court into the corrupt practices of over-invoicing
The Central Electricity Regulatory Commission should investigate all private power generating entities to identify over-pricing of equipment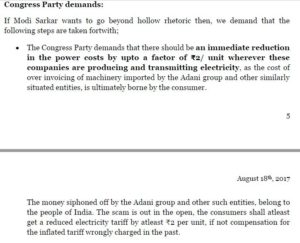 It is high time that Narendra Modi stopped dishing out #LalQileKeJumle and took strong action against looting of Indian public! Expose #BijliScam! Remove #AdaniTax!
Postscript: Aamjanata.com agrees it is high time Narendra Modi delivered on his repeated vows to cleanse the system of political corruption.
Post-postscript:
A piece in The Voice of Nation that tells you of the closeness of the Adani brothers – note the sympathetic tone. Is this supposed  to be the voice of India?
A recent Climate Change news article on Modi & Adani wreaking havoc on the environment.
 Vinod Adani was mentioned in the "Panama Papers"
(Visited 231 times, 1 visits today)