As the magic 49 number of days of Modi sarkar comes to a close, it has been a good journey. Looking back at some of the hilarious points of what is fast coming to be known as the U-Turn sarkar.
Should India be entertaining Pakistani VIPs if there is conflict at the border?
That is how the Modi sarkar began. Before, Modi had only contempt for Manmohan Singh's sarkar that apparently did not retaliate strongly enough to Indian soldiers being killed at the border. That too, in Telugu, it seems.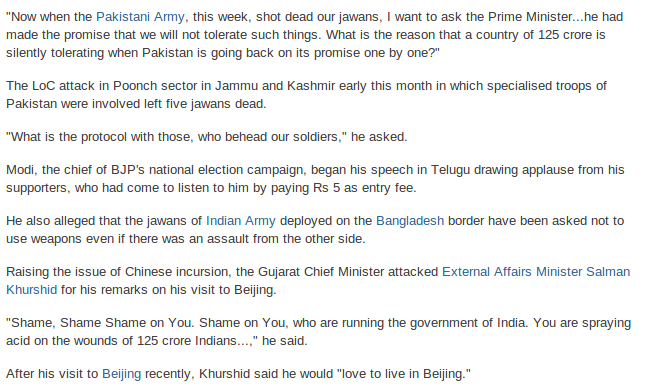 Modi himself had refused the evil Pakistanis in a massive demonstration of patriotic solidarity. Little did Dr. Manmohan Singh know that when people say his silence was a problem, they mean it. He could have tried something as simple as inviting Pakistan's Prime Minister for an important national function. Like so: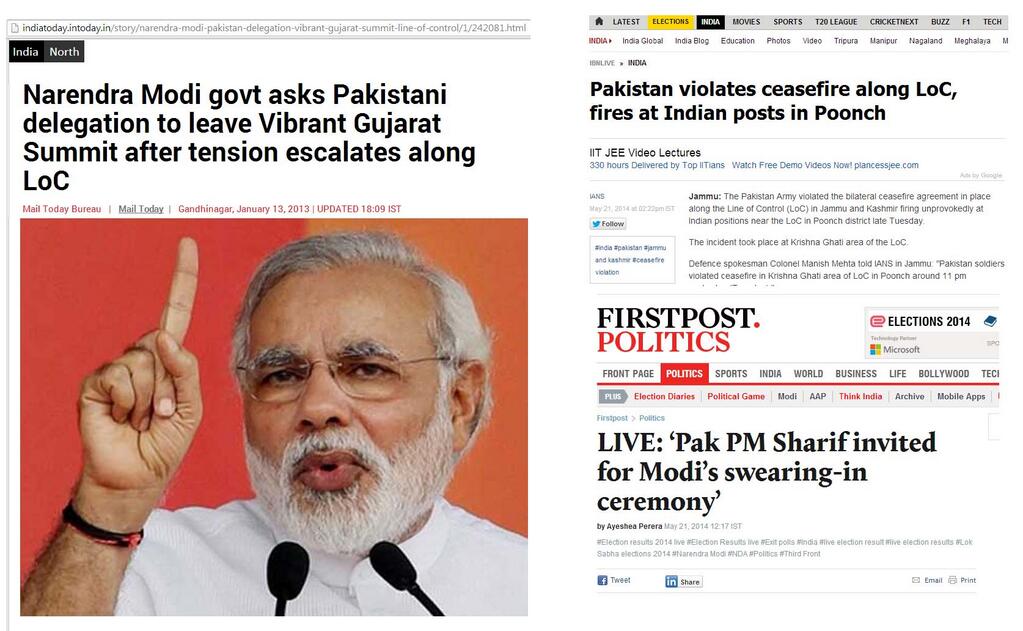 Or perhaps I may be wrong, and this may not be a patriotic move so much as the first installment on the election campaign expenses. Even as the poor beheaded jawan's wife was protesting. Sometimes greater good has to be seen.
But at least Modi was right about the other borders I think. Illegal Bangladeshis are such a nuisance. Modi was right to threaten to deport them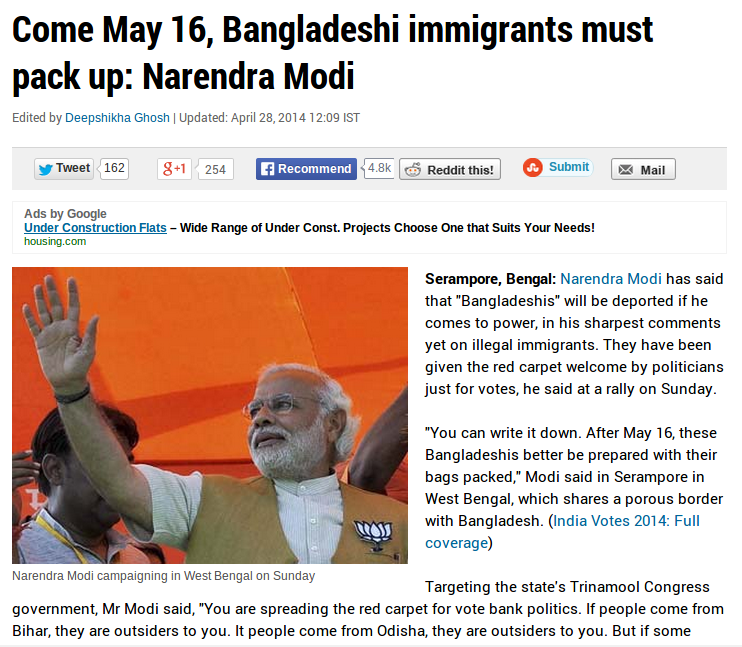 but there is a problem. After all, he'd just invited their Prime Minister for his coronation. So he at least tried to get rid of the "illegal" from it, if not deporting.
The solution was so simple, one must really wonder why Dr. Mannu never thought of it. Simply allow them visa free entry – voila! Now they can stay where they are legally!!!
This Modi sarkar is pure genius, I tell you.
What about that evil Gandhi bloodline (excluding the pure blood of Varun Gandhi, BJP). Dr. Subramanian Swamy had Priyanka Gandhi red handed. Multiple DINs! That evil witch and that Karti Chidambaram!!!
Appropriately terrified, Priyanka Gandhi confessed to making multiple applications and offered to pay the fine (and nicely ignored the jail time, thank you very much).
But wait. That was before. Now that Modi sarkar is in place, the greater efficiency showed that Priyanka Vadra may have applied as many times as she liked, but the super efficient (retrospectively as well) Ministry of Corporate affairs had actually issued her only one DIN. What a DIN about DINs. Just like Nitin Gadkari (No, you can't check now, the extra DINs nicely show "not yet issued" now that a better government is in place.)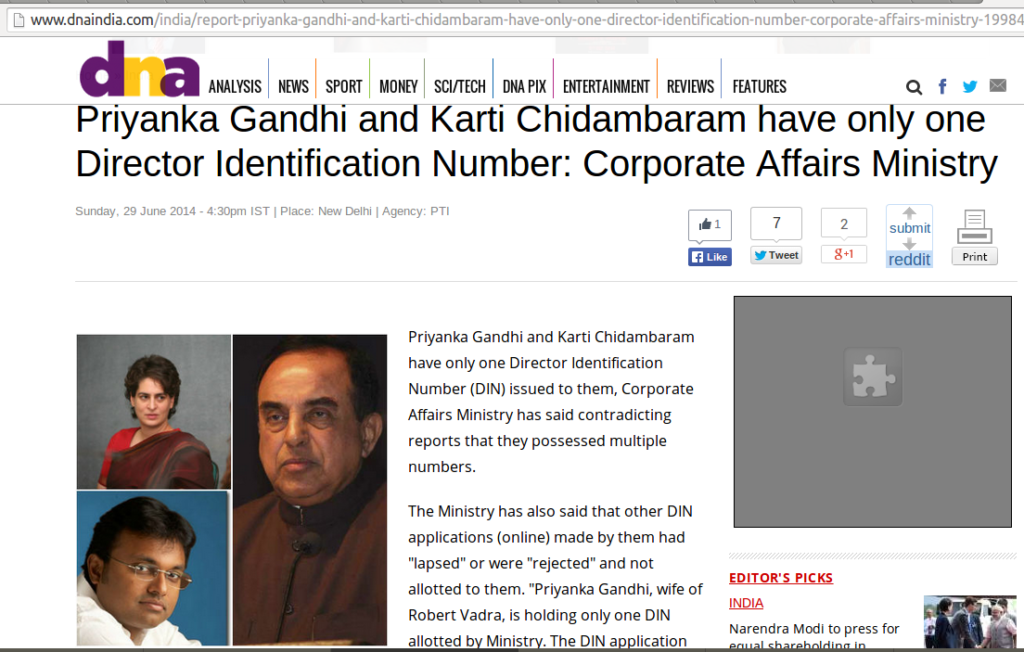 Modi sarkar had Vadra terrified while UPA2 was in rule.


Then, as they campaigned, they probably thought a panicked Vadra would fight too hard to defeat them, so they kinda…. reassured.
And never let it be said BJP goes back on its word. Robert Vadra remains unscathed.


They had even terrified the couple together. Imagine losing security privileges and having to go through security checks at airports? I bet the couple lost sleepless nights.
Modi Sarkar has brought acche din to the country.
Jaitlet had thought that the Income Tax exemption slab should be raised to 5 lakh before the elections. Now that he got to present the budget, he raised it to 2.5 lakh.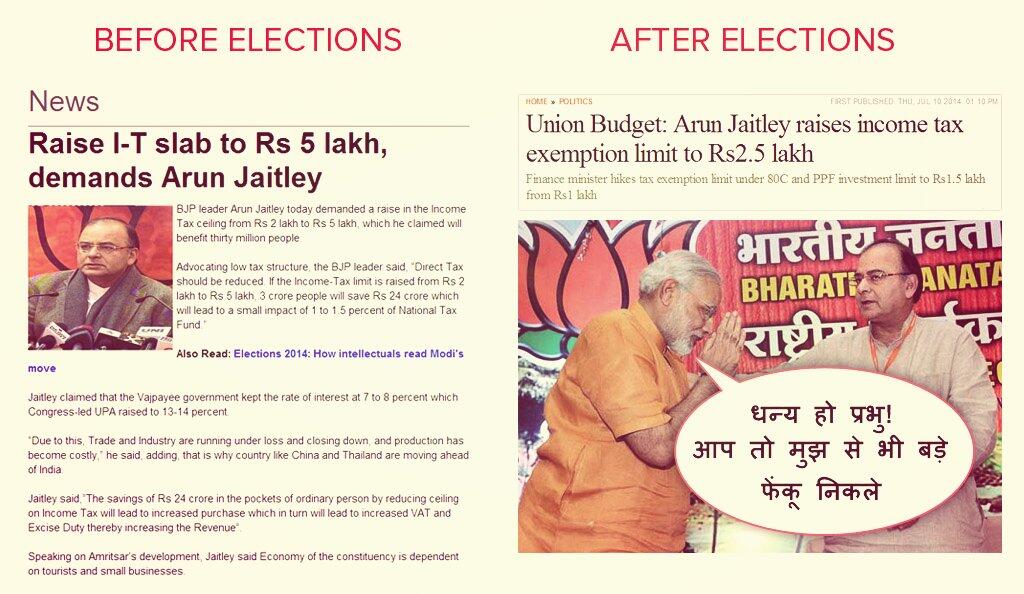 Hey! No need to get outraged! If you ignore the decimal point, 25 is five times 5.
What about investments in railways?
Everything perfect on that front. Just watch.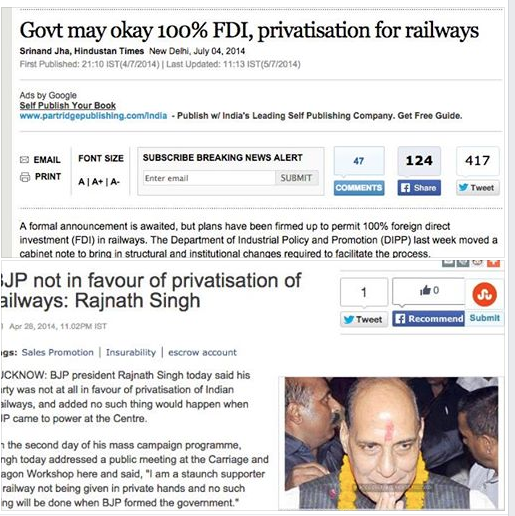 We have no hesitation in telling you that UPA2 would have totally messed up the privatization of railways and FDI, but now that it is a BJP sarkar and BJP no longer plays dog in the manger with the government, many things that UPA2 wanted to do are now possible without BJP staging a walkout against itself.
Still not convinced? You are a cynical sickular. Try this.
Oh wait. I meant this.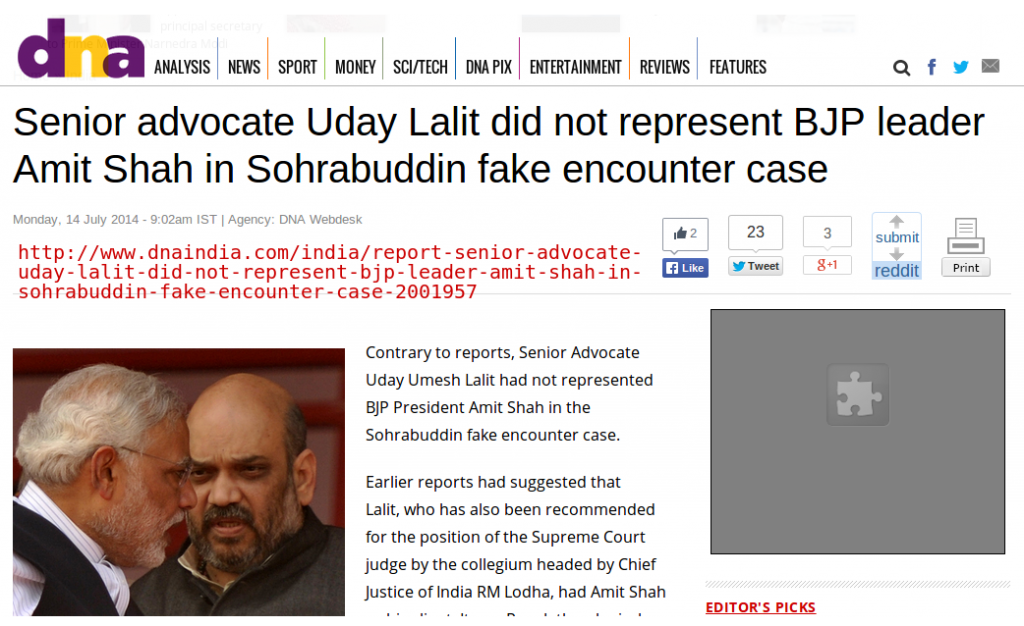 Amazing, isn't it, the things you can do when you can get a dozen newspapers to publish near identical articles without sources that can push things that happened before the election aside? Like this one?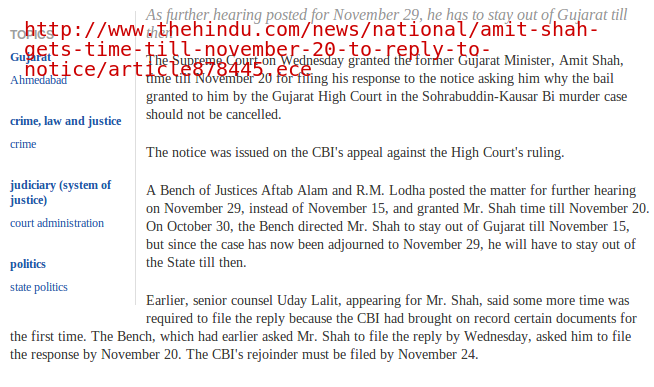 There are many, many such gems. And you cannot blame BJP. After all, they have delivered the only real promise they made before the election – Modi as PM. To avoid confusion, they even avoided publishing a manifesto as far as possible.
So you really cannot claim that they cannot do U-Turns.
Welcome to the opening innings of U-Turn sarkar. May the remaining period be as hilarious as so far… and may worries about the country never plague your dazzled brain.
Note: This post actually has a lot of things missing (mostly because I got tired of doing screenshots). Feel free to nominate your favorites to this collection in the comments. I will update as and when I am back in the mood to play screenshot-screenshot.
Some ideas to get you started. Google up what Jaitley thought about declassifying the Henderson Brooks report on the 1962 war before and after the elections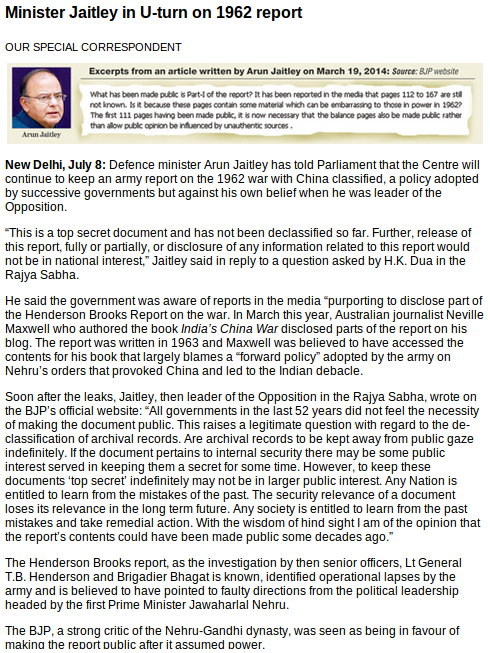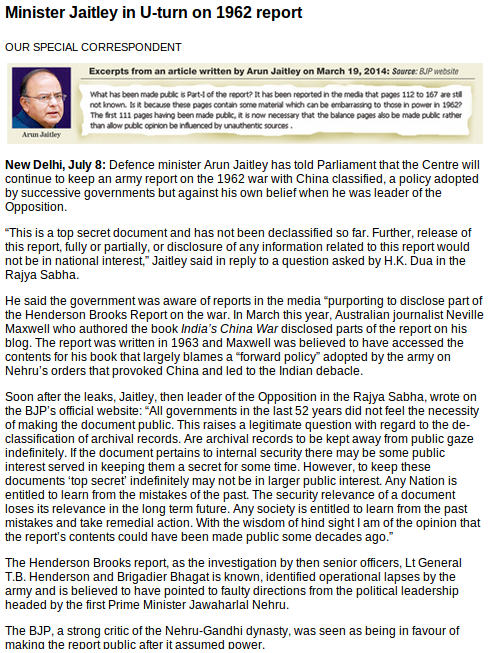 or Aadhaar cards, or…. you get the idea? Or you could try non-specific U-Turns like strict action against criminal politicians, inflation, using ordinances in non-emergencies and the infamous "Acche Din"!
Let's see what you come up with.
You're welcome.
(Visited 212 times, 1 visits today)