Mumbai, 30th August, 2016: To recover its Rs 100 crore project loan to RNA Exotica before it becomes a bad debt like BOI's loan and SBI's loan, Axis Bank is pressing the panic-button and threatening flat-buyers to immediately pre-pay large amounts (like Rs 25-50 lakh), forgetting about slab-completion schedules. Axis Bank has recently written strangely worded letters to RNA's Skyline Construction Co in respect of each and every flat (see specimen), saying that unless the entire remaining amount of the flat's consideration is remitted to its designated account, RNA Corp will not be allowed to sell the said flat to the name of the buyer. These letters, which are supposedly "No Objection Certificates" for the sale of flats to the purchasers, are being lovingly forwarded by RNA Corp to the individual flat-buyers with a tiny email (see example). Axis Bank's relayed letter is like holding a gun to the heads of helpless flat-buyers and saying: "Pay everything right now! Or else you will never get your flat!" And RNA Corp's forwarding email seems to suggest, "Yes, forget about installment payments based on slab-completion schedule. Just pay 100% right now".
In fact, Axis Bank's letter has come as a jolt to many buyers who were unaware that their flat was mortgaged by RNA to Axis Bank! Hundreds of RNA Exotica's buyers are suffering from sleepless nights, trying to figure out what course of action will be in their long-term interest. "Should we just pay the remaining amount to Axis Bank, so that it will release the lien over our flats? Or should we continue to pay in installments according to slab completion stages? Or should we go to Consumer Court? Or Civil Court? Or High Court? Or what?!!!" They are at a loss as to what to do next!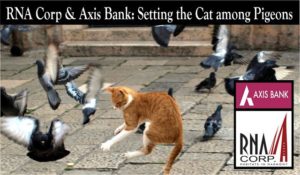 [NOTE: In our earlier article titled How RNA Corp taught ExoticArithmentic to Axis Bank, we revealed how Skyline Construction Co mortgaged unsold flats of RNA Exotica in 2011 and 2013 based on hugely inflated and completely unverifiable figures. Axis Bank gave the builder a Rs 75 cr line of credit in March 2011, and beefed it up to Rs 100 crore in March 2013, although the value of the collateral fell sharply.
Also, in RNA Exotica: Nine ways buyers got screwed, we analyzed the negative implications of the sale-purchase agreement.]
Now let us analyze the letter written by Axis Bank, supposedly addressed to Skyline Construction Co., but actually addressed to the flat-buyer directly. The subject line says, "No Objection for Release of Charge for Sale of Flat no. XXX in Building no. B Wing of RNA Exotica in favour of Mr YYY." The letter goes on to say:
RNA Exotica has been mortgaged exclusively to Axis Bank for a sanctioned line of credit of Rs 100 crores.
The said flat no. XXX is sold/proposed to be sold to Mr. YYY for a total consideration of Rs 1.8 crore (or some such amount), and that "We have been requested to issue our NO Objection for the said sale".
"We wish to inform you that we have No Objection for Release of Charge on the said premises to enable you to sell the said premises to said Mr YYY… subject to the specific condition that the total consideration mentioned above shall be deposited in designated account no ABCXYZ maintained with the Bank. Provided that if the Bank is not in receipt of the said sum of Rs 29.26 lakh in the designated amount as aforementioned, this NOC shall not have any effect and shall be deemed to be cancelled… and the charges over the said premises shall not stand released."
No, this is not really a "No Objection" letter; it is actually an Objection letter from Axis Bank to the flat-buyer with whom it really has no direct connection, and as such, it is illegal. As Axis Bank has given a project loan to the builder and not a home-loan to the buyer, it has no business communicating with the home-buyers.
IMPLICATIONS OF AXIS BANKS'S LETTER:
REGISTERING OF SALE-PURCHASE AGREEMENTS MAY BE HELD UP. Home-buyers who already have a registered sale-purchase agreement are slightly more safe. But, for those buyers who only have an Allotment Letter from the builder, this letter implies that they will not be allowed to register their agreement until they have paid 100% of the consideration amount and got an NOC from Axis Bank.
CONFLICTS WITH HOME-LOAN LENDING BANKS. Home buyers who have taken a home-loan from another bank may be in a fix. Their bank will insist on releasing funds only according to slab-completion, and therefore, they will never get Axis Bank's NOC until the final payment is made… and so, they may have to wait till that stage for registering their agreement.
HUGE PRESSURE ON SELF-FINANCED BUYERS. On the other hand, home-buyers who did not take a home-loan may feel under pressure to pay the entire remaining amount of Rs 25 to 50 lakhs, or even more, all at once. Do they have the capacity to pay such amounts immediately?
PAYING 100% NOW MEANS BEING AT THE BUILDER'S MERCY. If home-buyers succumb to the temptation of making 100% payment at this stage, then what financial power do they retain in their hands? After paying 100%, they are totally at the builder's mercy. Currently, construction activity is going on at the 33rdfloor slab. Even if one assumes that the building is only 35 floors (and not 40 floors), a huge amount of construction work still remains, namely brick-work, plumbing and drainage, electricals, plastering, flooring, interiors, fixtures, lifts, stairs and common amenities such as clubhouse, etc. etc. At least two more years of work — or about 50% of the work – is still remaining to be done before the flat-owners can get possession. What if Skyline Construction Co stops work and claims that it has run out of money? What if it demands more money – say another 20 lakh per flat – to complete the project? Going to court may not sound like such a good option then, and flat buyers will be left with no option except to pay whatever the builder asks.
What is the solution to all this? One possible solution could be that flat buyers should pay this amount to Axis Bank, but only after filing a civil case and after RNA Corp gives an undertaking to the court that they will complete the project within a deadline. Groups of flat-buyers are reportedly planning to take some such step, although these discussions are still at a preliminary stage.
Aagey dekhiye, iss dhaaravahik ki Ugly kadee!
ISSUED IN PUBLIC INTEREST BY
Krishnaraj Rao
9821588114
krish.kkphoto@gmail.com
WITH MAJOR INPUTS FROM
Sulaiman Bhimani
9323642081
sulaimanbhimani11@gmail.com
(Visited 218 times, 1 visits today)