A hate crime appears to have been committed at the Toyota Service Center in Mumbai. Yakub was brought dead to the hospital on the 29th September 2015 in an abnormally bloated condition and protruding eyes on the day he had returned to work after Eid. Otherwise in good health, the condition of his body alarmed his family enough to decide on an autopsy. Until this point, all they had to go on was his colleagues telling them that he had suddenly fallen ill and bloated as they carried him to the hospital.
His death certificate from his autopsy at the KEM postmortem center, conducted by Dr. Sunil Vidhate and Dr. H. M. Pathak states as provisional cause of death:
"Respiratory failure due to pulmonary air embolism with pressurized air in large and small intestine, thoracic and abdominal cavities, and scrotal sac" (UNNATURAL)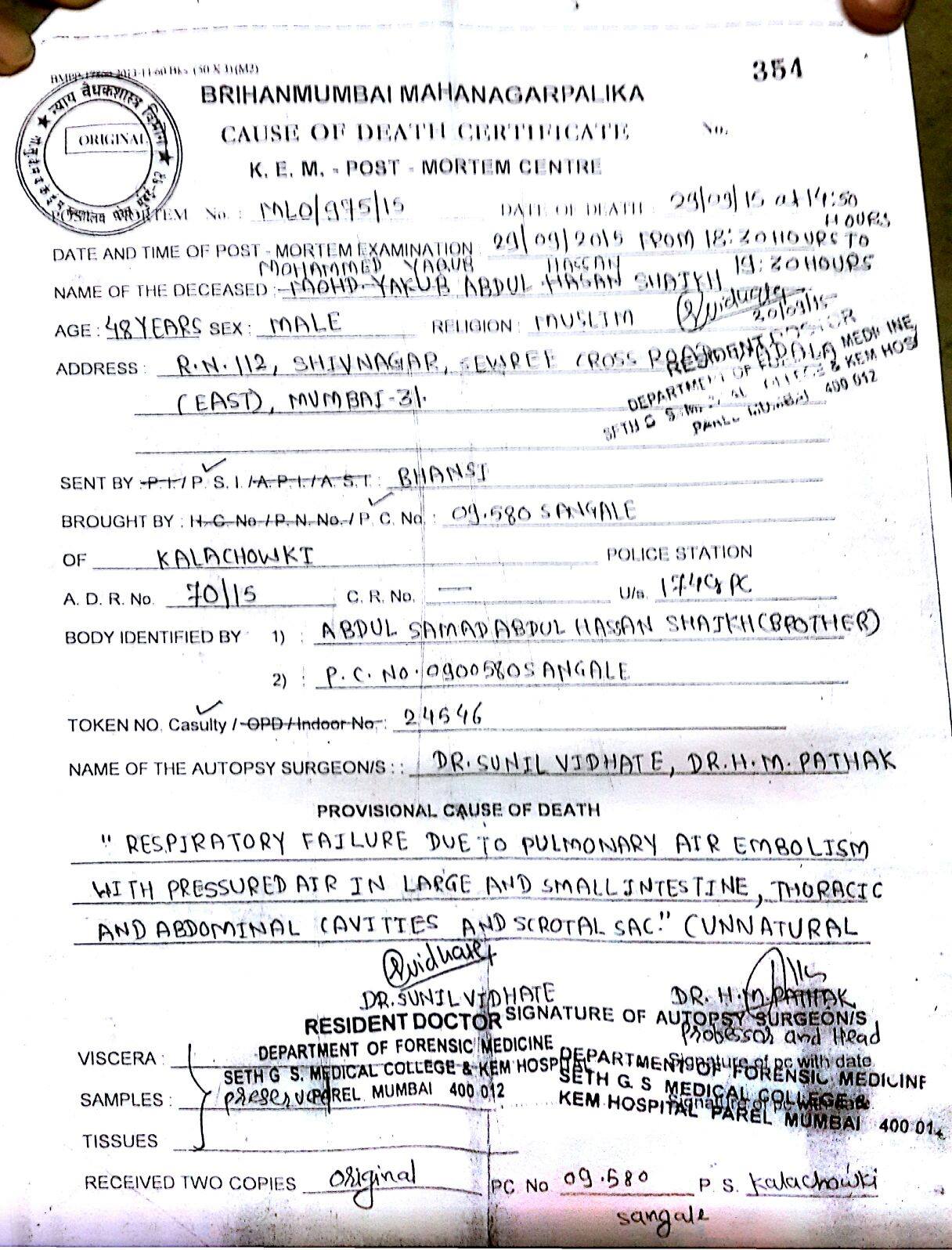 In other words, pressurized air was inserted into his body through his anus with enough force to fill him up like a balloon and cause his death within seconds due to air entering his blood vessels. Something his colleagues had missed describing to his family. The narrative then changed to them having some "fun" with him. Apparently filling a person up with air from the industrial compressors used in a service center is the idea of fun in a Toyota Service center?
What follows is more appalling. The police have bought this "fun" theory without hesitation and everyone else also apparently seems fine with it. Here's a rough translation.
Santosh Arekar while teasing and harassing Mohammed Yakub Shaikh got angry and using a pressure pipe in the Toyota Service center, filled Mohammed Yakub Abdul Hassan Shaikh with air.
Bewildered and intimidated by the murder, Yakub's family was helpless in the face of people who all seemed to think that it was "fun" and were fine with it. They are having difficulty being heard and having their concerns addressed. Santosh Arekar has been arrested under Section 302 of the IPC alone, in what was clearly a targeted hate crime (mentions of anger against Muslims over Qurbani – slaughter at Eid).
As of now, AIMIM appears to be supporting them by insisting on action being taken.
The question is larger. Why are they in this situation? Why is another Muslim man murdered in a hate crime with the state conniving to make light of it?
What are we planning to do about ongoing hate crimes against Muslims for no fault of their own?
There is a need for the state to ensure speedy and factual justice. There is also a need for Toyota to clarify what appropriate use of the pressurized air in their Service Centers is, given how no one seems to see filling people with it as extraordinary even with a man dead.
The remaining documents of the case may be found here: mohammed-yakub-shaikh-murder
Yakub is murdered at Toyota Workshop in Mumbai, Police is not …Yakub is murdered at Toyota Service Centre in Sewri, Mumbai allegedly by colleagues on 29th September 2015, when Yakub joined office after Eid. Family accuses Police of hushing up the matter as a "freak accident while having fun". Fun? Pressured Air is sent into a person and that is funny? Toyota Service Centre is not providing CCTV footage of the workshop. According to the family, Yakub was punished by this colleagues for doing Qurbani in Eid. Listen to what Yakub's family has to say. [Video courtesy: Akeel Shaikh, Mumbai]For FIR and Postmortem reports click here:https://www.facebook.com/milligazette/posts/1109366419081007

Posted by The Milli Gazette on Monday, October 12, 2015
Update: AIMIM MLA Waris Pathan has stepped up to support Yakub's family.
(Visited 1,132 times, 1 visits today)