Milan Gupta, a worker of Aam Aadmi Party has released the National Council member list that Aam Aadmi Party has not put up on its website and is calling out to supporters of Aam Aadmi Party to urge them to attend the National Council meeting and strive to save the party from its imminent sabotage. His video explains his credentials in the party (since anyone raising questions is termed as a BJP agent these days) and his message. The list follows below.
Making the AAP National Council official list public:Volunteers reveal what the office hides. ( http://goo.gl/4BIsLG )
______________________________
1) First image: is a scan of reply received from Election Commission asking the names of persons who came together to form AAP and AAP's date of formation.
(You should know that Article IV-F-a of AAP constitution mentions that "All those who come together to form the Party and are present in the first meeting of the Party, shall form the first National Council of the Party.")
Reply received says: Date of formation is 24.11.2012 and the names of persons required are in 957 pages of records. It can be obtained on payment of Rs 1914/-.
2) Second image : is the bundle of 957 pages of certified records that I received from Election Commission today after the payment. You are free to inspect these records for yourself at my address.
3) http://goo.gl/4BIsLG : The list of National Council members culled out from these records is on this public link now. It contains 295 National Council members only.
These papers will also be kept in front of the venue of National Council meeting on 28th March for anyone to inspect.
Milan Gupta
306,Plot 39B, Santosh Apartments,
Sector 6, Dwarka,
New Delhi -75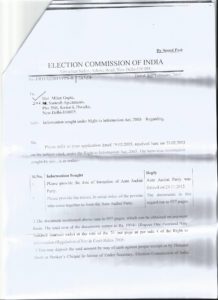 List of names:
Name
Arvind Kejriwal
Pankaj Gupta
Krishna Kant Sevada
Yogendra Yadav
Shanti Bhushan
Yogesh Dahiya
Vishvas Kumar Sharma @ Dr Kumar Vishwas
Manish Sisodia
Prashant Bhushan
Naveen JaiHind
Kishor Asthana
Mehmood Khan
Shazia Ilmi
Surender Singh
Rahul Mehra
K K Niyogi
Surajit Das Gupta
Vinita Deshmukh
Ajit Jha
Gopal Rai
Sanjay Singh
Mayank Gandhi
Madhu Bhaduri
Tapan Misra
Sanjay Kansal
Hubung Payong
Somnath Bharti
Sharad Singh Kumre
Waman R More
Kamal Shrivastav
Dedhia Chandubhai
Pratyush Kumar
Deepak Sane
Shailendra Kushwaha
Ved Prakash Balryia
Preeti Sharma
Sanjay Babubhai Parmar
Sandeep Nagori
Indra Vikram Singh
Jai Prakash
Kiran Upkare
Ibrahin Alimuddin Khan
Subhash Ware
Shweta Agarwal
R C Pathak
Vilas Rajput
Yogesh Manikrao Kanekar
Savarkar Ambrish
Rajesh Kumar Pugliya
Devendra Chandrasen Wankhede
Prafful Vora
Vidyadhar doshi
Nidhi Chandresh Trivedi
Vithal L Satav
Dr. Girdhar S Patil
Chandrakant Suvama
Neeta Sukhatanker
Vijayshree Khanivadekar
Ravi P Srivastava
Thakar S Bhaviben
Akshay Hunka
Manju Jain
Jagdish Parmar
Prahlad Pandey
Vinay Kadam
Bipul Dey
Alpana Malik
Mohammad Azad
Arun Kumar
Chandra Kala
Rajender Pal
Gopal Mohan
Aruna Singh
Shimla Shri
Archana
Dr. Mahesh vikram Singh
Vishal Sharma
Yogesh Kumar
Gyanendra
Iliaz Azmi
Yogesh Kumar S/o Sh Anand
Vaibhav
Satyendra
Sudhir Bhardwaj
Araresh Bajpai
Gaya Singh
Amarendra
Omendra Bharat
Moolchand
Sharad Raghuvanshi
Mehek Singh
Neena Jain
Manoj S/o SoorajBahn
Dr. Prem S Pahari
Ashwini Kumar Upadhyay
Ram Sumer
Dr. Atul Gupta
Cap. Srinivasalu Mekala
Pranjal Bordoloy
Anupama Sethy
Ratilal S Desai
Kishor N Desai
Parmar Pitambar
Mukesh Phoolchand Kothari
Gurpreet Singh Uppal
Sameer Sharma
Namrata Sharma
G Ranjith Kumar
Dr. R C Jaggi
Krishna K Solanki
Deep
Basant Hetamsariya
Rajendri w/o Tara Chand
Desh Raj
Sandeep Sandal
Salil Kumar
Hesamuddin Ansari
Dhiraj Kumar
Dharmendra Kumar
Anand Kumar
Suryadeb Pra Singh
Manjul Mayank Srivastava
Pradeep Kumar Singh
Dinesh Kumar Singh
Sunil Kumar Chipde
Neeraj Kumar
Rajendra Paswan
Ramnath Singh
Anup Singh
Rahul Gupta
Angesh Kumar
Gourav Singh
Sarita Singh
Kuldeep
Sushil Chauhan
Ruchika Manaktala
Ravi Shankar
Avinash Kumar Singh
Kuldeep Mudgil
Praveen Deshmukh
Maqsood Ul Hasan
Mohinder Goyal
Gobind Ram Choudhary
Shashi Kant Kumar
Shaleen Mitra
Madhuri Kashyap
Suryakant
Anil Kumar
Mohit Sharma
Shri Bhagwan
Kamlesh
Sakshi
Rajnish Verma
Neha
Munindra Singh
Satish Pandey
Ramniwas Gupta
Praveen Kumar Gupta
Narender Rathi
Sahajanand Rai
Rajesh Rishi
Omkar Shukla
Krishan Kumar Yadav
Jitendra Sharma
Nirupama Singh
Dimple Solanki
Bandana Kumari
Rajeev Kasewa
Ameek Ahmed
Dr. M. H. Ghazali
Rajesh Sharma
Asna Nausheen
Surinder Kumar
Devendra Sehrawat
Lenin
Praenjit Chakraborty
Harish Chandra Mane
Ajay Saxena
Ramesh Chandra
Anand Kumar Samal
Sayantan Panda
Narayan Manjhi
Diptiman Chattopadhyay
Chandra Mohan
Jahir Hussain
Upendra
Satish Sharma
Mohan Prasad
Rajesh Sharma
Narendra Singh
Christina Samy
Dhanada Kanta Mishra
Sumit Bhattacharjee
Prince Kumar Pathak
Krishna Moorthi
Harjot Singh Bains
Baljit Singh
Bhupendra Singh
Shahnaz Akhtar
Ramesh Kumar
Rajesh Jakhar
Dharam Veer Singh
Rajeev Godara
Lalit Kumar
Gurnaam Singh
Kuldeep Singh
Madan Puri
Ramjan
Sarita Oswal
Shankar Soni
Kirti Pathak
Gopi Lal
Prahlad Singh
Dr. Rakesh Parikh
Kuldeep
Prashant Kumar Ranasingha
Vijay Singh
Jafruddin
Sunil Agiwal
Ashok Talwar
Naveen Jeratha
Harinder Singh
Pawan Kumar
Ashawant Gupta
Shailendra Kumar
Ashok Kumar
Budha Nilesh Kumar
Naveen Kumar Mishra
Dalip Singh
Shivender Pratap Singh
Yusujaypehan Impiyakhan
Ratnesh Gupta
Rajesh Omprakash Mittal
Rajesh Mehta
Ashutosh Dutt
Ashish Garg
Anandaganeshan
Aravind Anand
Ashok Aggarwal
Anjali Damania
Avinish Sinha
Ankit Krishna Lal
Banamwar Sahu
Chegena Jee Chandra Sekhar
Dinesh Babulal Vaghela
Diwan Singh
Deepak Raj
Dilip Kumar Pandey
Durgesh Kumar
Gaurav Singh
Gunjan Kumar
Kuldeep
Kamaraj
Mamta Patra
Mangesh Dayaneshwar
Maruti Bhapkar
Manju Devi
Nishikant Mahapatra
Naresh Sharma
Naushar Ali
Naved
Narendra Kumar
Pawan Kumar
Pawan Kumar Pandey
Prithvi Reddy
Prabhakar Thyagrajan
Prashant
Praveen Kumar Gupta
Rahul Pandey
Ranjan Kumar Sahu
Rakesh Kumar Sinha
Raj Kumar Mishra
Sudesh Kumar Verma
Shailender
Subodh Sethi
Sanjeev Kumar Singh
Satish Pandey
Shyam Kumar
Sharwan Kumar
Sushil Kumar Kasyap
Siddhartha Sharma
Vinod Fotedar
Valmiki Nayak
Vipin Mittal
Vivek
Virendra Singh
Vandana
Vicky Sharma
Vikas Pandey
Laxman Singh
Manish Kumar
Abid Ullah Khan
Peeyush Nashine
Dinesh Mohaniya
Deepak Sarin
(Visited 529 times, 1 visits today)