This one on the disproportionate increase in wealth of crorepatis in Union Cabinet lived briefly and died silently on the Times of India website. The beginning of a trend of vanishing reports on questionable increases in wealth that would later be seen more dramatically in Reports of suspicious growth in assets of Gujarat politicians removed from news sites
The Association for Democratic Reforms (ADR) has faulted the format for declaration of assets adopted by the government saying it did not provide a correct indicator of the ministers' wealth and defeated the exercise towards transparency.
Several ministers in the cabinet have shown a dramatic increase in assets in just the last 5 months which ADR has attributed to lack of a standardized format for ministers' asset declaration. It said that in many cases ministers have either not given the value of their moveable and immoveable assets or not given the present market value which has led to discrepancies. For instance ministers including Jitendra Singh, V K Singh, Ananth Kumar, and Sripad Naik have not given value for moveable assets to the PMO while Harsh Vardhan, Venkaiah Naidu and Sushma Swaraj have not given value for their immoveable assets.
ADR claimed that railway minister Sadananda Gowda's wealth increased by over Rs 10.46 crore from Rs 9.99 crore in May to Rs 20.35 crore in October and assets worth Rs 10 crore had been acquired in the interim. However in response to reports Gowda tweeted that the properties were bought earlier with a loan worth Rs 8 crore from Federal Bank and Rs 2 crore had been paid in advance. He is followed by heavy industry MoS Radhakrishnan P who has shown an increase of Rs 2.98 crore (from assets worth Rs 4.09 crore to Rs 7.07 crore) and finance minister Arun Jaitley whose wealth has increased by 1% from Rs 113.02 crore to Rs 114.03 crore.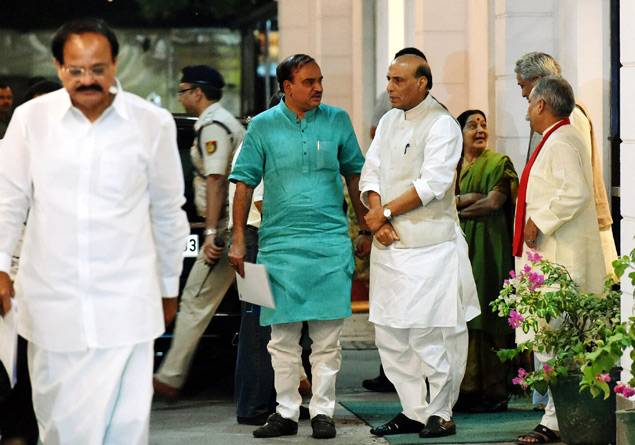 Minister for social justice and empowerment Thaawar Chand Gehlot whose personal wealth increased by 323% in the last two years has seen the sharpest rise in a cabinet dominated by crorepatis. He is followed by power and coal minister Piyush Goyal whose assets have increased by 212% since 2010. According to ADR analysis the overwhelming majority of ministers (91%) that is 41 of the 45 ministers are crorepatis with average assets worth Rs 14.32 crore.
Among the ministers—who did not contest the Lok Sabha polls—whose personal wealth has risen sharply are social justice and empowerment minister Thaawar Chand Gehlot whose assets increase by 323% in two years. According to the declaration he made to the Rajya Sabha in 2012 Gehlot's assets were Rs 86.12 lakh which have shot up to Rs 3.64 crore in October 2014. Coal and power minister Piyush Goyal came in second with his assets increasing by 212% from Rs 30.34 crore in 2010 (according to the affidavit submitted to the Rajya Sabha) to Rs 64.31 crore. MoS for Petroleum Dharmendra Pradhan's assets grew by 61% since 2012 from Rs 1.54 crore to Rs 2.48 crore. Communications and law minister Ravi Shankar Prasad's wealth rose by 27% in two years while urban development minister Venkaiah Naidu's assets grew by 28% in four years.
(Visited 79 times, 1 visits today)