Khalid Saifullah, the founder of the Missing Voter App and CEO of the Hyderabad based RayLabs undertook a study and found that 15 per cent of all voters and 25 per cent Muslims are not present on the electoral list. Therefore approximately 12.7 crores of all voters and three crore Muslims will not be able to vote in the May 2019 Lok Sabha elections.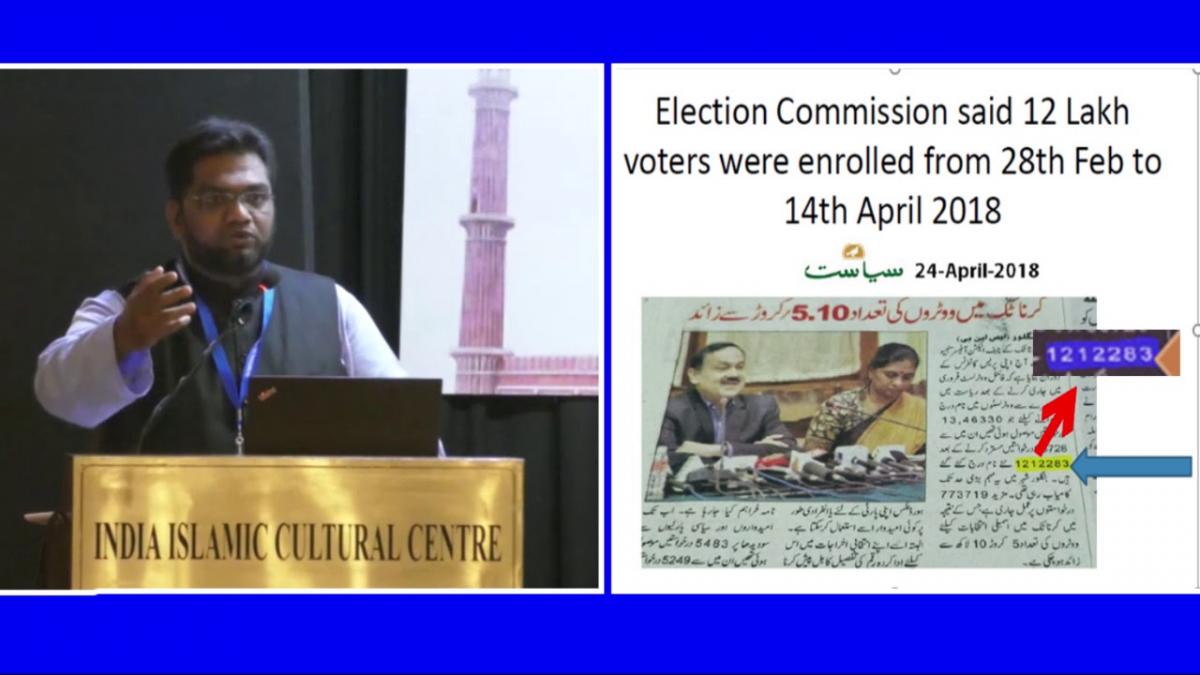 According to 38-year-old software wiz Khalid Saifullah, almost 3 crore Muslims out of 11 crore eligible voters in the country are missing from the electoral rolls.
Saifullah, the founder of the Missing Voter App and CEO of the Hyderabad based RayLabs undertook a study to find out how many Muslim and Dalit voters existed or were missing from the voting list. He found that 15 per cent of all voters and 25 per cent Muslims are not present on the electoral list. Therefore approximately 12.7 crores of all voters and three crore Muslims will not be able to vote in the May 2019 Lok Sabha elections. His study also found that 4 crore Dalits out of some 20 crore eligible Dalit voters were missing from the rolls.
At the 3rd National Leadership Summit 2019, India Islamic Cultural Centre, New Delhi, he spoke about why the names had gone missing and how his app could bridge the gap.
He said that he first noticed the discrepancy when lakhs of Muslim names were missing from the voter's list depriving them of their right to vote in the last parliamentary elections held in 2014. He studied the state of Gujarat where lakhs of Muslims were reportedly unable to vote as their name was not on the electoral list. A huge proportion of Muslim voters were missing in 16 Assembly Constituencies of Gujarat where BJP won with a margin of fewer than 3000 Votes.
He acted upon this information and decided to launch the Missing Voter's app. This free mobile App has the details of all the street names of constituencies, the number of households on each street and the number of voters in each household. The App can be used to identify missing voters, do a household survey and apply for a new voter id online. It is possible to download the Missing Voters App from the Google play store or after giving a missed call on 8099 683 683.
He claims that the process to make a new voter id is simpler than that on the ECI website and he noticed that many politicians were misusing the Form 7 to remove voters from the lists. He Data mined of 800 Assembly Constituencies and has identified 1.6 Crore Missing Voter Households, which is about 40 lakh Muslims so far with the help of the app. They now have more than 9000 volunteers registered on the App and 25,000 new Voter Ids applied through App.
They have even seen success due to the app. In the state elections in Karnataka, data showed that 18 lakh Muslim names were missing. Some 12,000 volunteers registered to enrol more voters. Up to 12 Lakh new voters were enrolled in a fresh drive over three weeks.
Registering so many voters would have a definite impact on the final result. He added that there were three reasons for the present scenario including the political conspiracy related to form 7, the vulnerability and helplessness of Muslims and Dalits and the ignorance on the part of literate people.
He also designed Citizens for Justice and Peace (CJP's) HateHatao App, to fight hate and can be used by anyone with an Android smartphone.
As the Uttarakhand gears up to go to Lok Sabha polls in a single phase on April 11, a survey conducted by Chetna Andolan, spanned across Dharampur, Raipur and Mussoorie in January has revealed that about 12-13 per cent of the total electorate could have been disenfranchised. It also revealed that about 90 per cent names missing from the voter list are of the Dalit and Muslim voters.
Muslim voters missing across the country
"If you are a Muslim in Uttar Pradesh with four voters in your family, chances are that only three will get to exercise their right to a franchise granted by Article 326 of the Constitution. The fourth person's name would either be missing or excluded from the electoral rolls," The Hindu Frontline reported.
"In Tamil Nadu, too, every fourth Muslim person's name is found missing from electoral rolls. The situation in neighbouring Andhra Pradesh and Telangana is not any better; nor in Gujarat and Karnataka, from where the first voices were heard about Muslim names missing from electoral rolls. Incidentally, the number of Muslim voters has declined over the years, giving rise to fears about discrimination, political exclusion, total elimination and so on. In Karnataka, the names of 6.6 million people were reportedly missing from the electoral list; later, about 1.2 million were re-enlisted. The names of members of other communities also go missing, but the figures are significantly higher for Muslims—15 per cent for other communities and 25 per cent for Muslims," the report said.
Abusaleh Shariff of the U.S.-India Policy Institute, Washington, who is also the founder of the Centre for Research and Debates in Development Policy (CRDDP), New Delhi, in the report said, "There is a huge exclusion of Indians at large from the electoral rolls, but the exclusion of Muslims is higher. It threatens to make a mockery of our democracy. It is estimated that there is an exclusion of 150 to 180 million Indians from the electoral process. It is like excluding a whole country or even a hundred small nations. That in itself is a disgrace to India. For Muslims, I would say, in up to 50 per cent of the households in a State, there is at least one person who does not have a vote though he/she is otherwise eligible. Though we started with Karnataka, the pilot work is on in Gujarat, Telangana, Andhra Pradesh and Tamil Nadu. The trend is similar in all States. It is a cause for concern." The percentage of people left out of the electoral process, ranging between 15 and 25 per cent, becomes extremely significant when one sees that in any Assembly election, a third of the seats are decided by margins of less than 2,000 votes."
Why is it that more Muslim names are left out than those from other communities? "There can be many reasons. One is not getting into the politics of it, but the exclusion could be because the people at the block level may not be doing their job well. There are cultural and linguistic differences. For instance, not many block level officers can spell a name like Zebunissa. There can be many spellings for names. Also, many Muslims give their ages in Urdu rather than English. Thus, discrepancies creep in age data at the time of enrolment itself," says Shariff. He does agree that there is a strong possibility of a systemic bias against Muslims which, at times, even leads to the exclusion of the entire community or a locality from a constituency."
21 million women voters missing
Voters from across the country have gone missing from electoral rolls and the number is higher for women. A staggering 21 million women are missing from electoral rolls across the country.
Three states – Uttar Pradesh, Maharashtra and Rajasthan – accounted for more than half of the missing female voters. Southern states such as Andhra Pradesh and Tamil Nadu fare better, BBC reported.
According to the BBC report, analysts say that the missing women voters translate into 38,000 missing women voters on average in every constituency in India. In places like Uttar Pradesh, India's most populous and a key bellwether state, the figure swells to 80,000 missing women in every seat.
"Given that more than one in every five seats are won or lost by a margin of fewer than 38,000 votes, the missing women could swing the results in many seats. The absence of a large number of women also means that India's electorate would be higher than the 900 million people who are eligible to vote in the summer elections. If the sex ratio in a constituency is skewed against women and the average voter is male, the preferences of female voters are likely to be ignored," the report said.
Originally published at Sabrang.
(Visited 153 times, 1 visits today)