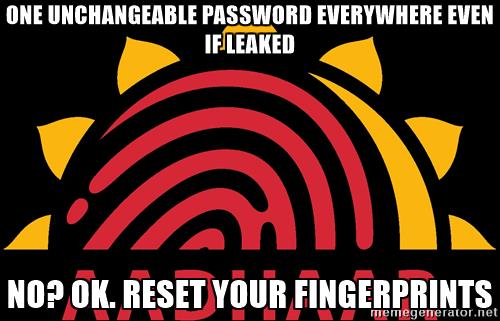 "The State has no right of eminent domain on the body"
Senior Advocate Shyam Divan's arguments for the petitioners in the Aadhaar PAN linkage matter highlighted major problems with the Aadhaar project and seminal issues vital to the nature of relationship between the citizen and the state.
He covered bodily integrity, discrimination, personal autonomy and choice in the context of Aadhaar being made mandatory for PAN cards.
He explained that the petitioners in this case are conscientious objectors to the Aadhaar project. They are law abiding citizens who wish to pay tax, but do not wish to get Aadhaar. There are many like them. The amendment to the Income Tax Act discriminates between those who have Aadhaar and those who do not want to get Aadhaar. Both classes of people want to pay taxes but those who do not wish to get Aadhaar will face penal consequences. This violates Article 14 of the Constitution, which guarantees the right to equality. Aadhaar acts as an "electronic leash" and creates the potential for constant and continuous surveillance.
The Aadhaar project itself has been riddled with scandal. We have seen massive data leaks across 12 government websites including the Jharkhand Directorate of Social Security which leaked the Aadhaar numbers of over a million people. 34,000 private enrolment agencies were blacklisted by the UIDAI itself. In such a situation people are compelled to enrol through various manipulative coercive exercises of this government when the Aadhaar Act makes Aadhar purely voluntary. The Aadhaar Enrolment Form itself states that Aadhaar is consensual and voluntary. Shockingly, children are being enrolled into Aadhaar before the age of free consent. Consent must be free and informed.
Mr. Divan explaine what was at stake in this matter. He said that since the matter was referred three Chief Justices had not been able to constitute a bench to hear the question of whether privacy is a fundamental right. In the interim there could not be a fait accompli situation.
The Aadhaar project alters the relationship between the State and the individual. It is an issue of civil liberty.
The Attorney interrupted these arguments and asserted that the right to privacy could not be argued. Justice Sikri said that Mr. Divan was only explaining the context of the matter.
The Aadhaar Act itself does not allow Aadhaar to be made mandatory. Section 3 creates a right that entitles citizens to get Aadhaar but there is no duty to obtain an Aadhaar number. "How can you engraft a provision into the Income Tax Act making mandatory when the Aadhaar Act itself makes Aadhaar purely voluntary," he said.
Mr. Divan returned to the question of bodily integrity. He said "my fingerprints and iris are mine and my own. As far as I am concerned, the State cannot take away my body. This imperils my life." He cited judgments and jurisprudential literature that "others cannot act in a way that subjects my body to their interests". He explained bodily integrity in the context of the intrinsic wrongfulness of slavery which takes away the body and liberty. The use of a person's body can only be for their own objects.
When asked whether this argument would apply to passports, Mr. Divan responded that biometric collection could only apply to a narrow limited situation, such as passports, or identification of prisoners. Biometrics could not be collected wholesale and stored in a central depository. He said that the Aadhaar programme went against the concept of limited government.
He said that regular routine activities including buying a car, selling property, opening a savings account, would become contingent on the provision of biometric linked information. He said "how can someone ask for fingerprints for carrying out routine activities."
The bench asked whether this argument would apply to the mandatory provision of PAN as well. Mr. Divan explained that PAN cards are not intrusive of our bodies whereas Aadhaar is.
Mr. Divan said "this is the kind of case where we have to read the Preamble to the Constitution". In reading the Preamble he emphasised that the people of India give the Constitution to ourselves. "The Constitution of India is not a Charter of Servitude"
The Aadhaar project is unworkable, unreasonable, void, colourable and discriminatory.
Mr. Divan's arguments will conclude tomorrow after 2pm. The Attorney General will reply to these arguments next Tuesday.
Press release from Rethink Aadhaar
Vidyut has a keen interest in mass psychology and using it as a lens to understand contemporary politics, social inequality and other dynamics of power within the country. She is also into Linux and internet applications and servers and has sees technology as an important area India lacks security in.