RNA Corp Pvt Ltd defaults, Bank of India takes possession of secured assets under Sarfaesi
RNA Corp Pvt Ltd, a prominent Mumbai based developer, has defaulted in its commitments to Bank of India. After Mantri Developers, RNA Corp is major developer who has failed to pay its dues.
Bank of India has issued a possession notice dated February 15, 2016 under the Securitisation & Reconstruction of Financial assets and Enforcement of Security Interest Act 2002 to RNA Corp Pvt Ltd and guarantor Chamber Construction Pvt Ltd on taking possession of  various assets given security. Assets include Flat/units admeasuring 8820 sq ft Kandivali, Mumbai, parcels of land admeasuring 46300 sq metres in Vasai, Thane and Flat at Sai Mansion,Cumballa Hill Road, Mumbai.
Total dues of Bank of India are about Rs 58.18 crore.
Total dues of State Bank of India are about Rs 62.00 crore.
RNA also enjoys loans from Axis Bank, Punjab National Bank, Reliance Capital Ltd, Reliance Home Finance Ltd and State Bank of India.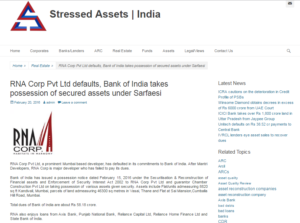 President and founder
at
Citizens Justice Forum
I am the President and Founder of NGO called the Citizens Justice Forum (Reg No. E-28689 Mumbai)
Our NGO is primarily functioning to address, resolve and put to rest the grievances of masses at large particularly those sections of society who are underprivileged, ignorant and unaware about their legal rights given to them by the Indian Constitution and are being exploited legal system. In short, we aim to assist those who seek justice, achieve their rights given to them by law. Once such issue is brought to our notice by aggrieved citizens, we after a thorough study of the issue we represent the suppressed, aggrieved and neglected citizens. By taking up their issues with higher authorities and put the issues in Public domain through social media posting on blogs, tweet them or publish in Main Media as the case may be.
Keeping in mind at all times the benefit and up-liftment of the aggrieved citizens, the gross injustice done to the citizen of India who ought to be protected by the hands of law and hence we take this initiative to address their issues.
Latest posts by Sulaiman Bhimani (see all)