The news hit briefly. A few comments, some photos. Farmers from drought stricken Maharashtra and disabled people were protesting at CST station.There was no major news story. In fact the first major story on the subject was what the police did about it. The Times of India did a two paragraph report:
MUMBAI: A day after a mob of 2,000 farmers and physically challenged people laid siege to CST, security agencies registered criminal cases against them and are scrutinizing footage from CCTV cameras to identify the accused.
The RPF has booked the protestors under the Indian Railway Act for trespass, obstructing the running of trains, obstructing railway employees in their duties, drunkenness or nuisance and endangering safety of commuters. The GRP has also booked the protestors for unlawful assembly and wrongful restraint. A probe is on and no arrests have been made yet, said officials.
Now this is interesting. Whatever "obstruction" the farmers did at CST did not hit Twitter. I know, because I was checking. I find this impossible to believe that people getting inconvenienced at Mumbai's largest train station would not generate whines on Twitter, when the smallest train delays will do it anyway. In fact, the only news on the subject came from DNA reporter Rajendra Aklekar, who seems to exclusively cover trains, tweeting a photo or two. Incidentally, he mentions a few hundred farmers, which makes a lot more sense and is supported by his photograph than two thousand farmers that nobody noticed. All photos from his timeline.
[Update: I later found an Asian Age article as well as a few first person accounts that paints a drastically different picture. Apparently the several thousand people from various organizations including Prahar Vidyarthi Sanghatana (PVS) that organised the protest and Apang Kranti Andolan, led by independent MLA Bachoo Kadu protested at Azad Maidan since morning. After being ignored, they decided to move to the streets and CST station, intending a protest by staying there till they were assured of attention.

Attention rapidly followed, with the Chief Minister agreeing to fulfill their demands. The "take over" of the station was no more than 45 minutes at most, though traffic snarls on the street lasted longer. The day being a National Holiday is probably why it didn't seem to get noticed on Twitter, with most offices being closed anyway. The protests were peaceful and police too were restrained considering the large numbers of handicapped people in the crowd.

This makes the police investigation of CCTV footage to identify people who led the protest even stranger, since the organizations responsible were clearly named, led by an MLA and in communication with the CM and another MLA Ahir.]
I want to accuse upfront that Maharashtra Government hates farmers because of their audacity to die and suffer drought openly, thus exposing the governments utter colonization of the Marathwada and Vidarbha regions. Times of India has long written fiction discrediting farmers protests in favor of Monsanto - the seeds sold by which had been extensively promoted to farmers by government organizations in spite of the fact that they need more cotton to thrive, while the government itself has been the biggest contributor to the destruction of availability of water in the region, while also depriving the people of a decade worth irrigation development that got paid and only bumped up project costs without delivering.
In fact, Sharad Pawar's comment on a day when four farmers committed suicide in Vidarbha was "I don't see problems in this region being as terrible as [they are] made out to be." One wonders why if water scarcity is not so terrible, he flat out refused to reduce water allocations to sugar factories and make someone else bear the "not so terrible" for a while. He had flat out refused to even consider reducing industries, sugarcane farming and sugar factories that consume insane amounts of water in the middle of the worst drought the region had seen.
I have no idea what the farmers were protesting, but God knows they have plenty to protest about when it comes to their conditions in Maharashtra. For example, the Chief Minister of Maharashtra (incidentally installed as a "clean of corruption" option) has done an about turn on the Chitale Committee looking into irregularities in the irrigation scam. From their stated role of fixing responsibility, he has arbitrarily and illegally downgraded their role to acting in an advisory capacity. This follows on the tail of the worst drought in this state. This follows a "clean chit" to Ajit Pawar, who was irrigation minister when the scam happened. This follows water scarcity hitting as soon as monsoons are over. This follows huge issues with credit and compensations for losses. And it could be something else altogether.
The deaf-dumb people seem to be demanding for Indian Sign Language to be formally included in curriculums and recognized as an Indian language as per this photo.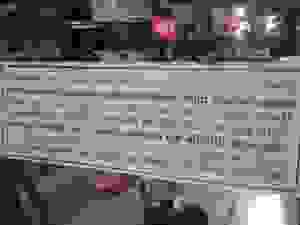 Demands in this poster by the Marathwada Deaf Dumb Sports Club and Association are:
Teaching Indian Sign Language on primary level.
Indian Sign Language should be formally recognized as a language of India
Deaf Dumb people should be allowed to drive vehicles.
Empty government posts reserved for the deaf and dumb with 100% handicap must be filled.
Job opportunities in the private sector should be created for deaf and dumb people through the Companies Act.
Families with deaf and dumb members should be given 12 gas cylinders a year.
Strangely our newspapers are not interested in what could have got farmers and disabled people to travel overnight to occupy space in a train station. The one journalist who did click a photo and comment wondered if they had purchased tickets. Then wondered at the speed by which they "took over" the station. A few thousand people taking over the largest station in the city is a bit extreme considering that a single train carries several times that number easily.
The photo shows protesters and police on one track. I am still skeptical about this "take over", since all the photos seem peaceful, there seems to be open space (which wouldn't be if commuters were blocked). Not to mention photos of crowds numbering thousands seem to be way more full of people. This here looks like a normal rush hour crowd - with possibly some people crossing tracks.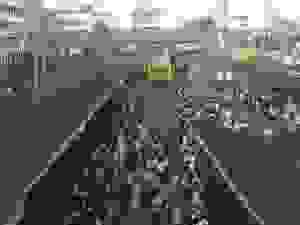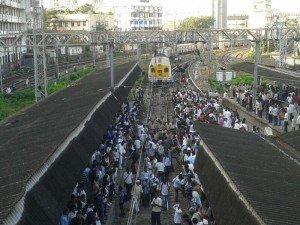 But what is particularly inspiring is the astonishing promptness of the railway police who are apparently using CCTV footage to identify protesters for "unlawful assembly" - apparently assembling is illegal without Section 144a being applied too, now.
As for obstructing, let us not even get into how many times trains get obstructed without any punitive action whatsoever. In fact, this is the same railway police force that ignored an armed mob traveling on trains before the Mumbai riot in the wake of the Assam riots.
Now it seems they are very interested in law and order. This is so typical of governance in India. It is a formula. Real demands of people don't raise curiosity in media, generate ready (and fake) promises by politicians, and are followed by retaliation against protesters once the moment of crisis is over. I am trying to remember which of the many political and thuggery rail rokos saw anyone arrested - in spite of several cases of vandalism.
Fact of the matter is, rioting and stopping trains for political purposes is not just common, no one expects it to be punished anymore. Then all of a sudden, natives of a colony land up in the area of rulers and make them look bad and well, something needs to be done about them, yes? So it is being done.