Unnoticed in the media hype is a long overdue and very welcome change in Indian politics. Powerful women entering Indian politics on their own steam. Women who have no hesitation standing among the men like any other candidate among equals. Women who are fighters and challengers of the status quo in real life so far entering the corridors of minimal representation of women and token power, except the powerful ladies at the top of the parties who have so far proved useless toward changing the gender bias of the masses.
During the Delhi Elections, if I had a complaint about Aam Aadmi Party, it was the lack of women candidates. AAP had just seven women candidates. In typical fashion, I made no bones about my displeasure over this, only to be assured that AAP was keenly looking to field more women candidates. Taking this with a bucket of salt, I had, at that point been irritated enough to say that perhaps feminists need to start making their own parties. That the only three women to get elected in the Delhi Assembly were from AAP was hardly a balm when the number was THREE! And I was angry there was only one in Arvind Kejriwal's cabinet.
At that time, several AAP handles had engaged with me asking for suggestions on how to get more powerful women into politics. I shared what I could. I became convinced that these people do want more women visible, even if they weren't at that time and did what I could to support that goal. When Alka Lamba shifted from Congress to Aam Aadmi Party and supporters reacted with knee jerk paranoia about her, I engaged and criticized and got them to see reason and went as far as to suggest that women in all political parties should be defecting to AAP if they really are giving them rights.
I didn't really expect much. And I lost track of that measure for a while as other things started coming up and I started supporting Aam Aadmi Party in the run up to this election as well as my ethical stand against the rampant paid media influencing of electoral results, which in my opinion is an assault on democracy by vested interests.
And I came face to face with that evaluation again today. On the surface, not much has changed. AAP does have more women candidates this time around, but they also have more candidates overall this time around. This is the freaking national event. All candidates are more. But beyond the numbers, there is something completely unprecedented in Indian politics. Drop by drop dripping onto a status quo, it is being eroded in ways I can only celebrate.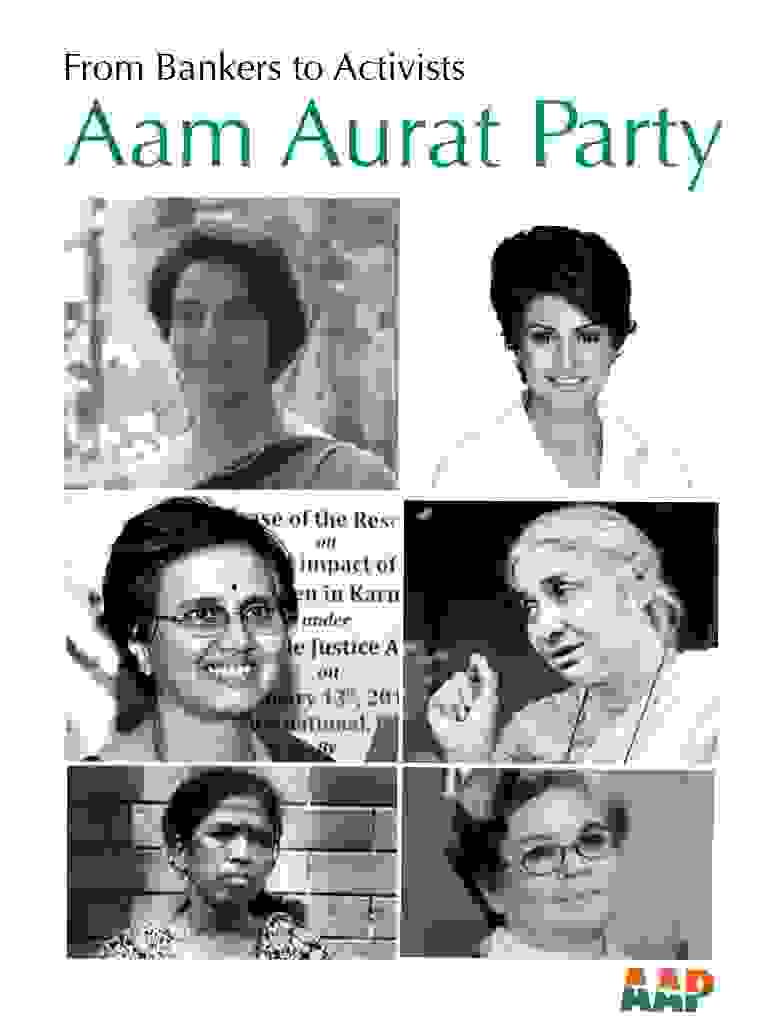 One by one, without much sensation, right along with other candidates, is the steady growth of powerful women rising from the masses and shouldering the responsibility of being leaders of a maverick revolution, the likes of which India hasn't seen before. I remember reading some research paper on women in politics, and a point remains in my mind about the link between corruption and disempowerment of women. I don't recall the paper, but the insight that remained in my mind was that with power largely residing in the control of men, corruption naturally becomes a playing ground for men as it thrives on "networking" - to put it mildly. Not to mention the conditioned reluctance in women to engage in questionable activities with men. And somewhere in my mind a link forms of the spontaneous emergence of women leaders in a party dedicated to fighting corruption.
Perhaps it is a coincidence, but the fact that there are a lot of women suddenly exercising their influence on the nation's future is significant in terms of women's power in India. Most of these without political families. Stepping into a profession that had come to symbolize actions that respectable people don't engage in. Certainly non-political families would not like the idea of their women becoming politicians. It would be seen as a risk that the family has no power to protect against.
Yet here we have not just women leaders emerging, but there is no women's wing. Women are leading just as same as any man. The stress on non-violence has had the unexpected side effect of turning the whole party into an area where men or women are very similar in power. Here are some of the women who have recently made news one way or the other related with the party.
Anjali Damania, state convenor of AAP's Maharashtra unit, contesting from Nagpur against Nitin Gadkari
Anjali Damania. Social activist who was independently taking on corrupt people by the time she got into Aam Aadmi Party and is now among the key leaders. Anjali played an important role in exposing the corruption in dam constructions in Maharashtra that led to 10 years with no increase in irrigation here.
Meera Sanyal, renowned banking professional, contesting from Mumbai South
Meera Sanyal, one of India's top banking professionals is contesting from Mumbai South. To paraphrase from her Wikipedia page, Meera resigned as CEO and Chairperson of the Royal Bank of Scotland (RBS) India, to enter public life. She is also on the international Board of Right to Play, a NGO that works with over one million children in more than 20 countries and uses the transformative power of play to educate and empower children facing adversity. In 2011, Meera was invited by Secretary of State Hillary Clinton to join the International Council on Women's Business Leadership (ICWBL) and took an active role in the Leadership sub-committee for the empowerment of women. In recognition of her initiatives on Financial Inclusion & Sustainability, she has been appointed as a member of the National Executive Council of the Federation of Indian Chambers of Commerce & Industry (FICCI), and chairs FICCI's Financial Inclusion Committee. She is also a member of the National Councils for Banking & Finance, Public Policy and Women's safety of the Confederation of Indian Industry (CII) (CII). Does India need competence and vision like this steering its future? Hell yes.
Soni Sori, Teacher, Social activist, contesting from Bastar
Soni Sori, an adivasi teacher framed by a corrupt system and brutalized and raped in jail does not let her voice falter from calls of justice even as vested interests try to paint her as an enemy of the state. Her rapist got a bravery award. She now claims voice for herself and countless others caught between the Maoists and a ruthless and opportunist state as an Aam Aadmi Party candidate.
Medha Patkar, social activist and legendary leader of several people's movements against powerful exploiters, contesting from Mumbai North East
Medhatai was earlier planning to contest independently, and Aam Aadmi Party had declared that they would support her anyway. She has since joined the party.
Medha Patkar is a legend in her own right. The forgotten tenacious pitbull that forced the Adarsh scam to light. The fearless activist to challenge devastation of people being sugarcoated as progress. Be it the displaced villagers of the Sardar sarovar dam or the mega connected Lavasa city or slums in Mumbai being demolished without fair compensation. On the day when Indian media went into a rhapsody of outrage over Aam Aadmi Party's violence in toppling over a metal detector, which was stood back in its rightful place without damage, the purpose of media seemed to be coverage of election travel, because the rally the travel happened for was blacked out. If it weren't, people sitting tight in homes would see an electrifying Medha Patkar taking the gathering by storm with her straight talk based on years of hands on experience of fighting for the rights of the common man. You'd have seen this.
https://www.youtube.com/watch?v=i-sbzvtBGjs
Gul Panag, actor, activist adventure junkie, contesting from Chandigarh
Gul Panag. According to her Twitter profile, Gul Panag is "actor, activist, aviator, animal lover, adrenalin junkie, adventurer, avid traveller, automobile & fitness enthusiast, biker, entrepreneur, student, writer". She also happens to be a Miss India, "Army brat" adult daughter of Lt Gen H S Panag who took on corruption in the Army before he retired. She works in many social initiatives for change and is an astonishingly diverse person.
As a model, beauty queen and actress, there is no end to fantastic photographs of her to illustrate any aspect of her life and work, so we must assume that Aaj Tak is merely sticking to standard India Today policy of showing bare female flesh where possible even if it is a candidate announcement for elections. If you have ever worn a bikini, you might as well grow a paunch and color your hair purple. Your file photo is the bikini one.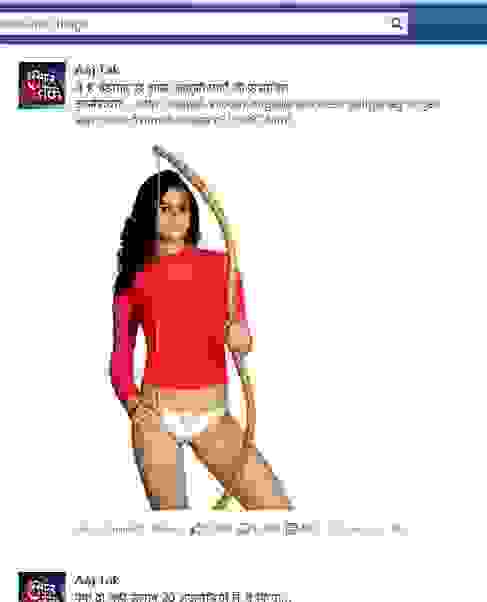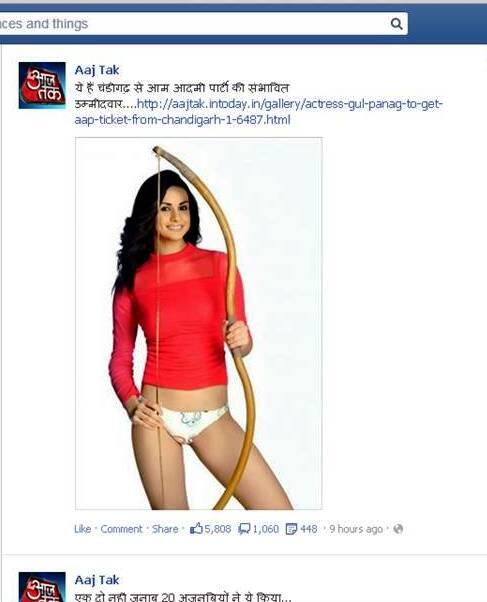 Women of India are cursed with a media and powerful people who are relentlessly SLEAZY. From publications like India Today to MLA's watching porn in Assemblys and your vegetable vendor who weighs twice your weight and sizes you with his eyes. I could have chosen to ignore this photo, but it is important, because it is not how she normally looks and someone has gone out of their way to present her in a manner not fitting for her role. Unless of course they want to show all news of Govinda with a photo of him in yellow underwear or sprawled on a cot. The good news is that Gul is a woman of strength and if her presence allows these questions to be raised, she's bringing change before the polls, as far as I am concerned.
Or perhaps it is a continuation of India Today's hatchet jobs against Aam Aadmi Party, where a candidate for election's photo is deliberately chosen to make her look frivolous and unsuitable, when there are plenty of excellent, professional and RELEVANT photos of Gul Panag in terms of her new role. Since their coverage of Rakhi Sawant joining BJP didn't include any mega cleavages (saffron sari, believe it or not), I'm also going to add this one to the log of paid media bias on the India Today account.
Shazia Ilmi, ex-media professional, contesting from Ghaziabad
Shazia Ilmi is among the oldest of Aam Aadmi Party women leaders. She got my respect when she contested in Delhi Elections breaking unsaid norms on religious politics by contesting from a "non-Muslim" constituency. She was the victim of vicious hatchet job by media where candid footage of her speaking with the reporter who was trying to get her to support illegal activities was edited to create a perception that she was interested in taking money to hold false protests. Earlier, a property dispute in her family was used to present "proofs" that not even her family thought well of her. She ended up losing by a narrow margin. This time I wish her luck.
Shazia Ilmi was among the reasons why I started this habit of special coverage to counter media bias against AAP in the run up to elections. I do not see this as contradictory to my preference to remain on "my side" as opposed to political parties. I believe "my side" is being attacked when it is fed false information that will lead to choices that would not have been made without the deception.
Kanchan Chaudhary Bhattacharya, India's first woman DGP, contesting from Haridwar
Kanchan Chaudhary Bhattacharya was India's second woman IPS officer after Kiran Bedi and the first woman Director General of Police in the country in Uttarakhand. Forging new ground in a male bastion of gender prejudices, Kanchan Chaudhary's fight is the stuff of legends as she took on thugs and lawlessness without even as she asserted her place within a police force not used to seeing women as authority figures.
At the same time she proved to herself that she could do it. She could be herself and she could change the police force and the world for the better. By doing it.
Older readers may remember a television serial called Udaan that had a lot of girls wanting to be cops. Yep. This is *that* Kanchan Chaudhary Bhattacharya.
Balwinder Kaur, agriculture activist, contesting from Kurukshetra
Balwinder Kaur, a farmer activist who mobilized women farmers to fight for their rights is AAP's candidate for the constituency currently represented by Naveen Jindal.
Many in Aam Aadmi Party were disappointed when Irom Sharmila declined to contest from an Aam Aadmi Party seat. Yet, as I write, it becomes clear that the refusal was to contest the election alone, and she walks with the party like many other inspiring women of power who have their independent identities for their struggles for what is right. This image came in just as I was about to end this post.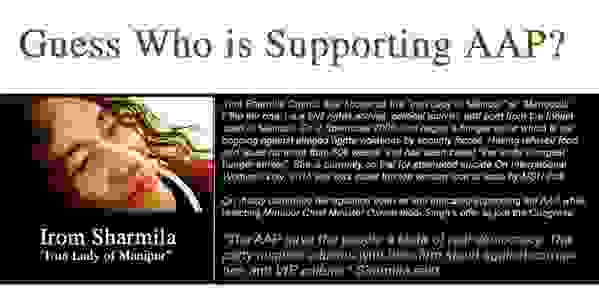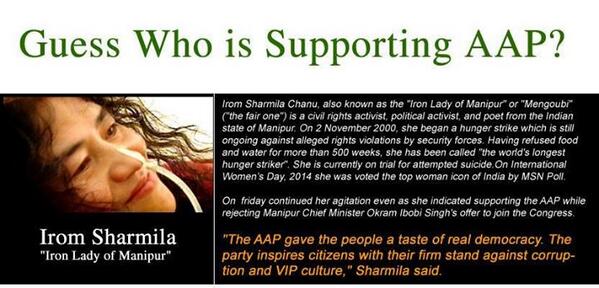 In my view, while the party continues to inspire and provide support to women to be powerful, it is worth bringing to power to be able to tackle far more serious crimes.
And there are more. Many more nameless ones who get attacked by insecure mobs of fanatical parties. Who get threats and die. Still others who live and work tirelessly shoulder to shoulder with the men to allow the party to sustain its rocket like growth trajectory without splintering.
And they are safe. I was amazed to see a few tweets on women's day by volunteers of AAP thanking the party for making the events so safe for them. These are practical things. They exist if you are like that. No amount of presenting can make them happen. This is also a country where an outraged Sonia promising women of her party who complained of harassment by politicians that action would be taken.... faded into oblivion. This is also a country where a woman of Sushma Swaraj's stature got overruled when it came to her objecting to allowing a person of dubious credibility to represent the party. And this is a place where a new politician like Shazia Ilmi who suffered the brunt of a major hatchet job on her credibility could still frankly refuse to contest from Rae Bareilly and prevail even when the party wished otherwise.
It is a party where objections to Alka Lamba joining did not involve her as a woman and the volunteers could be made to listen and understand a larger point and include her.
I do not doubt anymore. The lives of women will be transformed by Aam Aadmi Party coming to power.