If one were to hear the Congress criticism of BJP, one would imagine that misuse of state machinery is a BJP trait with all the snoop gate and fake encounters. Yet what happened in Amethi is hardly different.
After a month of routine attacks by Congress workers on Aam Aadmi Party volunteers, the end of campaigning before the polling saw a new phase of enlightenment. Congress fell back to its classic tactic. Weaponizing state machinery. I have remarked before, that if BJP's targets suffer violence from supposedly unaffiliated random Senas and Dals, people Congress targets find themselves on the wrong side of the law from the complaints of anyone except the Congress. We saw it when Kapil Sibal did an about turn on his attempt to control free speech two years ago. A random lawyer still got the "objectionable content" he had a problem with banned through courts. The Janlokpal Andolan saw similar moves. Now it is the same in Amethi.
The Amethi police woke up to the Representation of the People Act last night. The act says, "the presence of political functionaries, party workers, procession functionaries and campaign functionaries etc who have been brought from outside the constituency and who are not voters of the constituency, should not continue to remain present in the constituency as their continued presence after campaign ends may undermine the atmosphere for free and fair poll.'
In a bizarre twist of interpretation, they have interpreted it to mean all AAP supporting non-voters in Amethi. Whether they are party functionaries and campaigners or not. Including Kumar Vishwas's family, which isn't there merely to campaign, but have actually moved to Amethi, with his daughters enrolled in the local school. Sanctimonious Congressis are giving the example of how Siddaramaiah had to leave the Mysore constituency quite forgetting that he was also CM and promoting his party. Did every Congressi non-voter leave Mysore?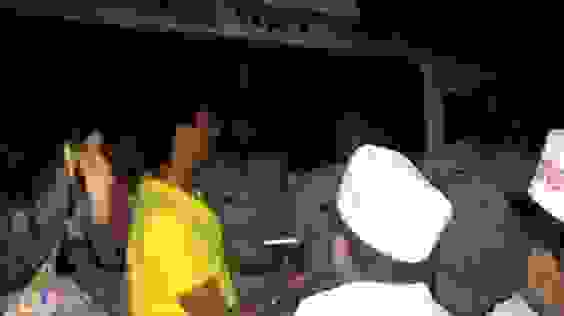 Late last night, the police cars blared on loudspeakers outside Kumar Vishwas' home asking all non-voters in his family to leave urgently or they would be arrested - including his wife and sister who have moved to Amethi with him and are now residents, even if not voters and not functionaries in the party.
When quick thinking AAP supporters alerted the media to the unfolding drama, the channels arrived, and the police slunk away. The police returned with their threats as soon as the channels left. Clearly the police did not want to be recorded with their illegal demands and creative thinking around not arresting women at night, merely trying to bully them into leaving home in the night. The channels left and the police returned and so far, other than stray reports in one or two people, media has most cooperatively managed to not see what the police did not want to show them.
The police on their part are claiming to carry out the Election Commission's orders, which raises questions about the neutrality and competence of the Election Commission in Amethi, since the orders seem to be directed at only one party.
In my opinion, this points to a larger conspiracy in Amethi, and the BJP silence bodes ill for Varanasi. An issue of this magnitude being carried out with such impunity and confidence about lack of objections by anyone except target, in my eyes indicates every possibility of a a reciprocal arrangement.
AAP MLA Akhilesh Pati Tripathi from Model Town was arrested.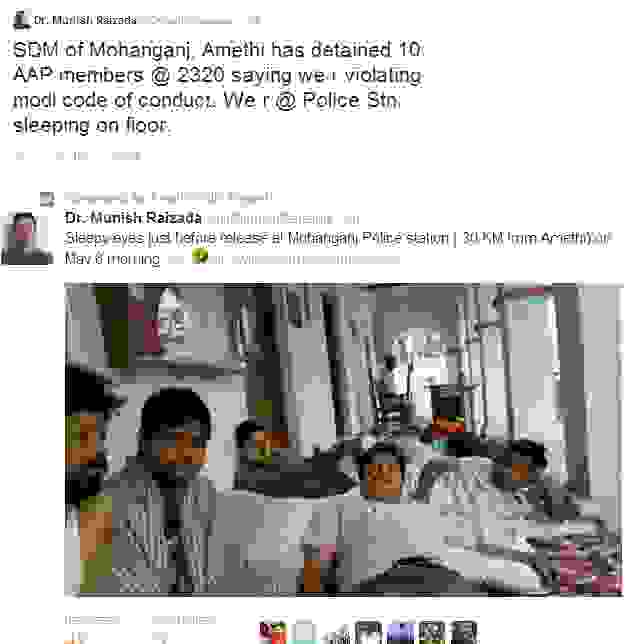 Police confiscated the booth bags from volunteers in Aam Aadmi Party's Mohanganj office at 11:20 in the night and arrested 9 volunteers, at least one of whom updated that they were sleeping on the floor of the police station.
SDM of Mohanganj in Amethi has picked us up from our AAP office (where we were sleeping) in Mohanganj and has detained me and 9 other AAP members @ 2320 saying we are violating model code of conduct. We r @ Police Station sleeping on floor.
There have been reports of police taking away phones of anyone they saw trying to record the police actions at Kumar Vishwas's home.
Even as cars are parked outside the Munshiganj guest house where Congress functionaries and workers from outside the constituency are staying, even as AAP volunteers reported that a car involved in an attack on AAP workers was seen parked outside the Munshiganj guest house, it appears that the Amethi police do not expect the Representation of People Act to apply to the Congress. Nor has the exercise been repeated at the BJP offices. As with BJP not attacking Congress in Varanasi, Congress does not appear to be attacking BJP in Amethi, though they will, of course deny being hand in glove.
This leads me to wonder if a similar exercise will be carried out in Varanasi. Aam Aadmi Partywould do well to anticipate the tactic being repeated and be prepared to manage their presence in such an eventuality.
Here is a WhatsApp post from a volunteer in Amethi:
पुलिस कुमार भईया के घर पे है और कह रही है
भाभी को अमेठी से
जाना पड़ेगा क्योंकि उनके पास
अमेठी का voter id
नहीं है # 144InAmethi ..क्या स्मृति ईरानी ,राहुल
गाँधी और प्रियंका गाँधी के पास
है ...CONGRESS HAI HAI.
Hum b girefdari denge chahe jaan chle jaaye गिरफ्तारी सुरु हो चुकी है 10 आम
आदमी कार्यकर्ताओ को गिरफ्तार
किया गया ,मॉडल टाउन के विधयक
को भी गिरफ्तार किया गया पुलिस ने बूथ बैग
अपने कब्जे मे किये... Police back at @DrKumarVishwas' for
arresting his
wife. # 144inAmethi ...CONGRESS HAI
HAI Dr. Kumar Vishwas
रात 11 बजे पुलिस वाले मेरे अमेठी आवास पर
आए हैं, और उनका कहना है कि आपके घर में
जितने लोग ठहरे हुए हैं, यदि वो अमेठी के वोटर
नहीं हैं, तो उनको गिरफ्तार किया जाएगा।
मेरे यह कहने पर, कि मेरी पत्नी और मेरी बहनें
यहाँ हैं, उनका क्या? प्रशासन का कहना है
कि यदि अभी के अभी घर
खाली नहीं किया गया, तो उन्हें
भी गिरफ्तार कर लिया जाएगा।
मैं एक सवाल पूछता हूँ - मुंशीगंज गेस्ट हाउस में
सैकड़ों कांग्रेस कार्यकर्ता हैं, क्या प्रशासन
मुंशीगंज गेस्ट हॉउस खाली करवाने का साहस
कर सकता है?
Another person, on reading the updates from Amethi commented:
Though I was about to sleep and thought I won't msg about political msgs... I felt compelled to write... Specially those who think Aap is B team of any other pol party why such nonsense is happening?

I have kept an stand of on observer but this seems too undemocratic. I know many of us have already voted... This Msg is specially for making you think - where exactly we're heading as a democracy, are we really a democracy, are these netas not goons in white clothes... Are we still going to say cons are good, are we still going to say "Ab ki bar.. "

Why beat your fellow citizens, why misuse power.... Had these netas done their job well, this situation won't have arrived.

A request - just think - ain't intentions of Aap genuine?
A part of me is glad that this happened. The more BJP targeted AAP in Benares, the more their support eroded. This happening before the election day is news that spreads fast and will hopefully add the final nail to the Congress coffin in a fiefdom of entitlement without duties.
The media reporting or not reporting anything doesn't make any difference to locals who see what is going on. The attacks, the impunity, the uneven misuse of state machinery, the man who lived among them for months and moved his children to the local school, and the prince who ruled them for so long without denting their "backward district" image.
Voiceless voters have a way of devastating those with voice at the polling booths, the one place they can hit back with impunity.
[I thank over a dozen willing volunteers who painstakingly emailed me updates and sources on the situation, since I was not able, and in the process, made this post possible. KRD Pravin, Kartik Kwatra, Richa Bharadwaj, Alka Harke, and others who sent in quick inputs on Twitter, which have since faded into its depths, but influenced this post, thank you.]