I had written a post earlier, about why we need the Lokpal Bill to be revised, but took it down, because Anna Hazare's Letter to Manmohan Singh describes it far more clearly. What exactly is the problem with the Lokpal Bill and how and why it should be changed and passed rather than hatching eggs for another 42 years.
Anna Hazare has started a fast unto death at Jantar Mantar for the bill to be reviewed and passed. He has drafted a Jan Lokpal Bill which will give teeth to the fight against corruption. He believes (like we all do) that powerless bodies who can only 'recommend' actions against corrupt politicians to corruption supporting governments are a farce.
The movement has spread like wildfire in our country already reeling under the daily onslaught of discoveries of theft from the country. People have joined by the lakhs all over India and abroad, with many citizens announcing fast unto death themselves in support. Over 400 cities had demonstrations and a plethora of supporting movements are mushrooming. Writers, thought leaders are standing in open support. Amir Khan wrote to Anna Hazare in support of his movement and said that this is more important for India to support than the World Cup.
Colleges have students supporting fasts on campus, and many corporate employees are fasting at work. The spirit of the Satyagraha once again resounds in the nation and many have called this our second freedom movement – freedom from corruption.
Anyway, you can find out anywhere, coming to the point of this post. We are stakeholders in our country. We have the right to demand accountability and we have the right to demand that an elected government be held accountable to its citizens.
Forget all the naysayers who say nothing will happen. There were those being cynical during our freedom struggle as well. Where are they now?
Ignore all those shoving desperate logic in our faces as to Anna Hazare being misguided or fasting being a form of terrorism and other such nonsense. If it rings true in your heart that people rise up and demand a mechanism that has the absolute power to investigate and prosecute corrupt people stealing our money, THIS is the time to stand up for it. It is as simple as that.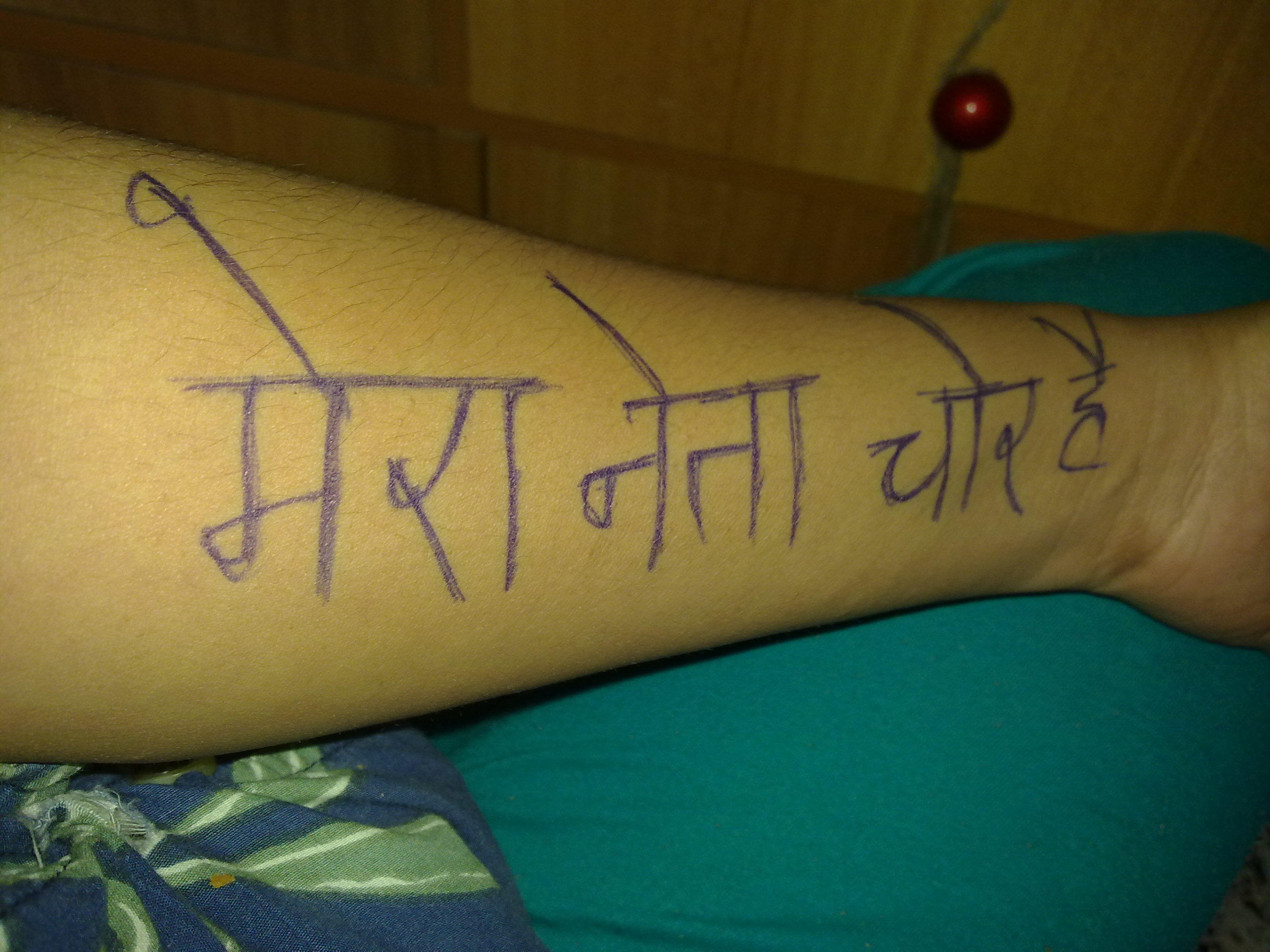 Here is what you can do:
Join the protests whether you are in India or Abroad. Fast as much or as little as you can, support by being there and adding your voice to the mass.
Spread the word. Reach out to others, become visible in your demands for accountability and invite others to do the same. Whether you fast, or do other things.
Chetan Bhagat has floated a movement in support of Anna Hazare – "Mera neta chor hai". The idea is that you write "मेरा नेता चोर है" on your forearm a la Amitabh Bacchan. If someone asks you, show them, explain your stand, hand them a pen to join in. Post your pic on the net.
Register your voice among the supporters. Give a missed call to 02261550789 – free, of course.
Sign the petition to Manmohan Singh on Avaaz
If you have a website or blog, write about your own contribution and experience. Write about why you think this is important. Spread the word in social media. Tweet up a storm. Share it, like it, add it, whatever.
TALK about it. Bring it up in casual conversations.
Write to politicians and the government in support of the strike and demand that they comply.
I have noticed that most people are looking at the news, but don't really know much about what is happening. Start conversations, tell them. Explain why its important. Print out the information file issued by India Against Corruption or Hazare's letter to Manmohan Singh and hand out to people, so that they can read the exact details of what is being demanded. Invite them to participate in easy ways at least. Partial fasts, calling the number for them to be counted in support, writing "mera neta chor hai" on their forearms, etc.
The .pdf with information on what Anna Hazare is fasting for >> India Against Corruption