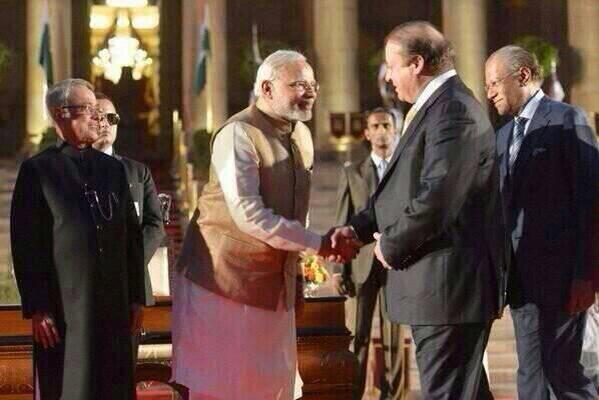 My first understanding of the RSS is my grandfather going to the park and doing exercises with lots of people. He was a member from before India became independent. I used to think it was an old people's organization, like Sobati (for retired people) where old people do exercise because they should. Swayam Sevaks ride dinosaurs. Not much happened on the grandfather's end to change this opinion.
I learned some about the freedom struggle from him. Particularly support for Swadeshi. Volunteers couriering messages and secret newspapers… Very exciting. Much better than text books. That said, he has never been one to talk about the past unless asked directly. He is also a philosopher and a violinist.
Continuing, the next impression was staying over the summer holidays with a cousin, where I suffered a lot of taunts over studying in a convent school from his father. Missionaries are traitors. So what, you learn the Bible, there? Did your school teach you to call your aai (mother in Marathi) Mom (with an exaggerated accent)? Killing Indian languages. You guys are responsible for the partition of india… the list went on and on. Taunts, judgments, which I largely ignored as his ignorance, since school was nothing like that and India was partitioned way before either of us were born. I later came to know that he also went to the Sangh on and off.
A third instance was a Shiv Sena adventure camp for kids. Another cousin was very active with the Shiv Sena in Dombivli and he and his mother were both instructors. That cousin (whose father is mentioned above) and I both went. Almost like two separate camps, though at same location. Boys and girls. I was too young to be particularly bothered by that. Besides, stydying in a convent, it seemed normal. Ours was a girls only school.
It was my first camp and it was fun. Lot of activities. Climbing, rappelling, valley crossing, rifle shooting, swimming…. and stand in queues and prayers morning and evening. To the utter astonishment of all relatives present and who heard later, I had zero problems with any of the prayers. If you ask me if I know Hanuman Chalisa, or the 5th chapter of Gita, I am likely to say that I don't know, but my grandfather being a kind of Hindu "hafiz" of the Gita and other scriptures with a habit of reciting loudly, I could pick the start of any and continue flawlessly. Score one for the convent educated idiot.
I also knew the meanings of most, thanks to him and had a more than passing acquaintance with Adhyatma. A friend of his called Phadnis used to come over every Friday, and they used to debate Hindu scriptures – for years and years this was the routine. He also explained without giving us "kid versions" of anything he was reciting.
Anyway, after returning, I discovered it was a RSS affiliated thing, which only bothered me because I was nowhere near ready for an "old people" organization. In hindsight, the gender segregation makes sense.
That cousin grew up to become politically active around college with the BJP. I remained uninterested in politics. Thought it was a waste of time.
Once in my teenage I passed an RSS Shakha with young people too. On inquiry I discovered it had nothing to do with "old people"! I heard about the readiness to serve the country and society, crisis response volunteering, etc. Impressed, I asked how to join. They guided me to a women's version. Not interested.
But anyway, the RSS has always kind of been one step removed one way or the other, so I certainly heard talk of all sorts.
One instance that clashes in my mind still, is a disturbed conversation with some guests that the grandfather had. The Gujarat riots had happened, and these guys didn't like what was happening. One sentence I remember clearly was one of those men saying twice or thrice – "Hindus need to be stopped by Hindus" They were leaving for Gujarat. My grandfather didn't like the riots but wasn't too involved by then. Also too old to do much. Don't know what happened of that, but I always remember that half remembered talk when the RSS is accused of the Gujarat massacre.
I also remember the calls for volunteers and "Mandir wahin banayenge" and people ready to riot and defend and what not in general society, but these guys were obviously of a different opinion.
I don't accuse or defend RSS, because one largely retired volunteer doesn't define the organization. At the same time, I can guarantee that my grandfather was not likely to support violence ever. Against any community.
From then, I discovered RSS in many ways. I developed a very sophisticated contempt for the chaddiwalas, a reluctant respect for the rescue work, anger over the chauvinistic views, respect for standing for their beliefs no matter what, a whole range of perceptions and opinions.
I do think the current brand of Hindutva will do more to destroy Hindus than anything other religions can. I disagree with the cave man views on gender. I disagree with generalizations about religion, race, public figures and countries. I definitely respect the principle of self-help and volunteer rescues. Like the RSS, I believe the world is multi-faceted. I think they fail to recognize that and are trapped by the lies of their own generalizations. What they demand of the world – that they be seen as a whole, is something they fail to offer the world with their rigid understandings.
I also think that an organization with a religious and paramilitary agenda without its own political voice is a target for whoever wishes to take potshots.
In the end, I think that an organization that has contributed to the country throughout history and continues to serve desperately needs to introspect and form a clear identity and voice without the reflections of either political organizations like BJP or Shiv Sena or religious organizations like the VHP taking over their identity.
Today, I think few know what the RSS really is on its own, including many RSS volunteers. Even militant/terrorist/extremist organization isn't it, because they aren't actually convicted of anything – which should have been super easy in a Congress world. Even the Malegaon bombings have been about individuals rather than RSS as an organization.
Also the accusations of religious intolerance as a generalization don't wash. The same people didn't so much as raise a squeak when Darul Uloom requested Saudi to ban Ahmadiyas from Haj. This organization represents of Muslims of India – where religious discrimination is illegal and is communicating with another country on our behalf demanding something that contradicts our constitution!
Those who don't have a problem with such actions whining about religious intolerance doesn't wash. Not saying go and protest now. Pointing out that we are used to bashing some and ignoring some. This is bigotry and we ought to make an effort to grow out of it. Then our judgment will be more reliable. it may lead to same conclusion or different, but the thinking will have integrity.
I also think that in a country where intolerance is the norm, most perspectives including intolerant liberals don't have a foot to stand on to heap generalized slander on the basis of intolerance. And a tolerant liberal has no reason to have a default of insult for anyone.
If intolerance is a crime, we all are doomed. If criminal members make a terrorist organization, ALL our political parties would qualify.
My hope is that as freely as we should condemn wrong practices and attitudes by the RSS, we need to respect their contributions too. Criticize actions rather than identities which are more than any one specific thing. This is an organization interwoven with our roots, getting more alienated rather than criminal. Many attitudes are flat out non-progressive, but at the same time, alienation only creates further differences.
This is by no means a defense of the RSS, only a sharing that there is far more than meets the eye – both "good" and "bad".
Vidyut has a keen interest in mass psychology and using it as a lens to understand contemporary politics, social inequality and other dynamics of power within the country. She is also into Linux and internet applications and servers and has sees technology as an important area India lacks security in.