Economic Times had covered the expose of PayTM by Cobrapost in Operation 136, Part II. Subsequently the story was quietly deleted without any official retraction. AamJanata believes that stories silently vanished tell a story of their own, and therefore is republishing the story here. A sting operation conducted by Cobrapost called attention to reports that the Prime Minister's Office (PMO) may have approached Paytm to get user details of protestors in the Kashmir Valley. As per the investigation titled 'Operation-136 II', Ajay Shekhar Sharma – who is incidentally senior VP and brother of Paytm founder Vijay Shekhar Sharma – is captured on camera claiming that someone from PMO had called to asked for data of users to identify stone-pelters. The video, however, does not mention whether Paytm complied with the alleged requests or not.
"PayTM=PayToPM"
Following reports, Paytm has released a statement on Twitter rubbishing the claims made by Cobrapost.
"There is absolutely NO TRUTH in the sensational headlines of a video doing rounds on social media. Our users' data is 100 percent secure and has never been shared with anyone except law enforcement agencies on request. Thank you for your continued support." However, Congress president Rahul Gandhi calls it " proof that (we) were absolutely correct about demonetisation".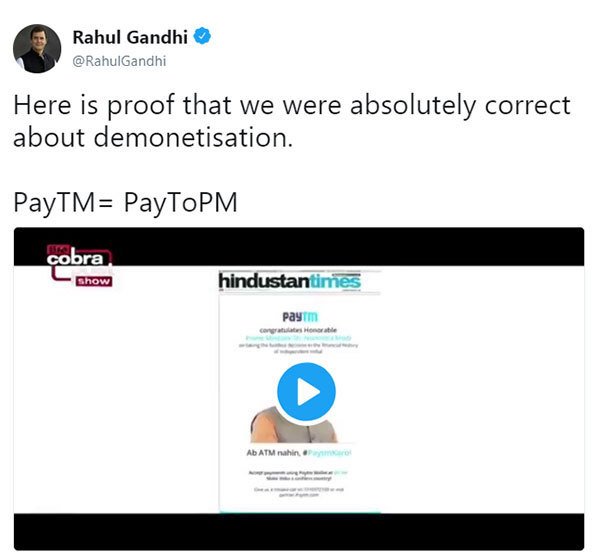 The sting operation
Cobrapost's reporter had posed as an employee for an NGO affiliated to the RSS and is heard telling another top Paytm official that he wanted to promote books like the Bhagavad Gita and the Ramayan on the company platform. The reporter openly says that the campaign is driven by a Hindutva agenda, to which the official responds by admitting to having promoted PM Narendra Modi's book 'Exam Warriors' by highlighting it on Paytm's homepage. In the video, Ajay is also heard making his political affiliation to RSS very clear right at the onset of the conversation. He also claims that Union Minister for Rural Development Narendra Singh Tomar and MP CM Shivraj Singh Chouhan know him by name and face. Originally published at: Economic Times