MMRDA has given permission to set up a multi-storey public car parking facility in a Slum Rehabilitation Authority (SRA) building being constructed at Oshiwara, Goregaon West near Ram Mandir railway station to accommodate Project Affected People (PAP), without even conducting a feasibility study.
Ground plus seven floors are being constructed as part of " RNA Exotica complex"  which will be reserved for tenements to be constructed for the PAPs. Besides the public car parking facility will be set up from the 9tH to 18th floor. MMRDA has given permission for this car parking facility even without carrying out a feasibility test.
In reply to a query by RTI activist Sulaiman Bhimani, Rahul Pande, Public Information Officer and  Deputy Town Planner, MMRDA, vide his letter No MMRDA/SRA Cell/30/17 dated 20 February 2017 replied that the information whether or not a feasibility test was carried out, before granting permission for the car parking is not available and if dissatisfied Bhimani may approach MMRDA's appellate authority, SRA cell.
When contacted Additional MMRDA Commissioner Anil Wankhede told The Afternoon D & C, that the permission for public car parking facility has been granted, by clubbing it with slum rehabilitation project since the plot was reserved for the car parking. The decision was taken much earlier. But it is not clear why no feasibility study was conducted. Yet we will look into it, he added.
However Bhimani maintained that the  permission for car parking was granted in haste by former MMRDA Commissioner  Ratnakar Gaikwad before he became the Chief Secretary of Maharashtra, using his discretionary powers and malpractice in the deal was not ruled out. Basically the car parking on such a massive scale (for nearly 190 cars) is not feasible, because it will increase the load tremendously on the building. Besides, the cost will be Rs 300  per trip (ground to 18th floor and back). As such there will be no takers.
"The building is yet to be completed so the corrective action can always be taken to make better utilisation of 4 FSI granted. If the MMRDA does not amend its decision, we will have no option but to launch an agitation against this car parking which will be a "white-elephant" he added. When contacted RNA team preferred to dodge the query and did not furnish any reply.
is it feasible?
A feasibility study evaluates the project's potential for success; therefore, perceived objectivity is an important factor in the credibility of the study for potential investors and lending institutions. The feasibility study involves taking a judgment call on whether a project is doable. The two criteria to judge feasibility are cost required and value to be delivered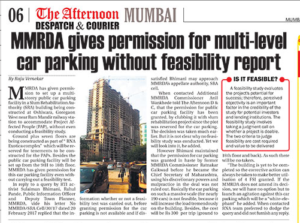 ISSUED IN PUBLIC INTEREST BY
Sulaiman Bhimani
9323642081
President and founder
at
Citizens Justice Forum
I am the President and Founder of NGO called the Citizens Justice Forum (Reg No. E-28689 Mumbai)
Our NGO is primarily functioning to address, resolve and put to rest the grievances of masses at large particularly those sections of society who are underprivileged, ignorant and unaware about their legal rights given to them by the Indian Constitution and are being exploited legal system. In short, we aim to assist those who seek justice, achieve their rights given to them by law. Once such issue is brought to our notice by aggrieved citizens, we after a thorough study of the issue we represent the suppressed, aggrieved and neglected citizens. By taking up their issues with higher authorities and put the issues in Public domain through social media posting on blogs, tweet them or publish in Main Media as the case may be.
Keeping in mind at all times the benefit and up-liftment of the aggrieved citizens, the gross injustice done to the citizen of India who ought to be protected by the hands of law and hence we take this initiative to address their issues.
Latest posts by Sulaiman Bhimani (see all)