MTNL Landline bill payment online
Should be simple, right? Wrong. If you are attached to a virtual existence where you visit a page and it immediately has what you need….. MTNL turns that principle of good webdesign – to not have visitors bouncing, and to encourage them to click around on the site – upside down. Here, visitors don't bounce, because they are guaranteed not to find what they are looking for at first shot. They hunt for their original goal around rather than look for more of what they enjoy. Uh… MTNL bill payment online is a relatively simple process….. if you know where to go and what to do. Otherwise, its an illogical maze. The entire Mahanagar telephone Nigam Limited presence online is a monument in unusability. Outstandingly tragic if we see that they are India's leading telecommunication providers, and do offer things like broadband and web hosting. One would imagine they know a thing or two about it. Take for example that their MTNL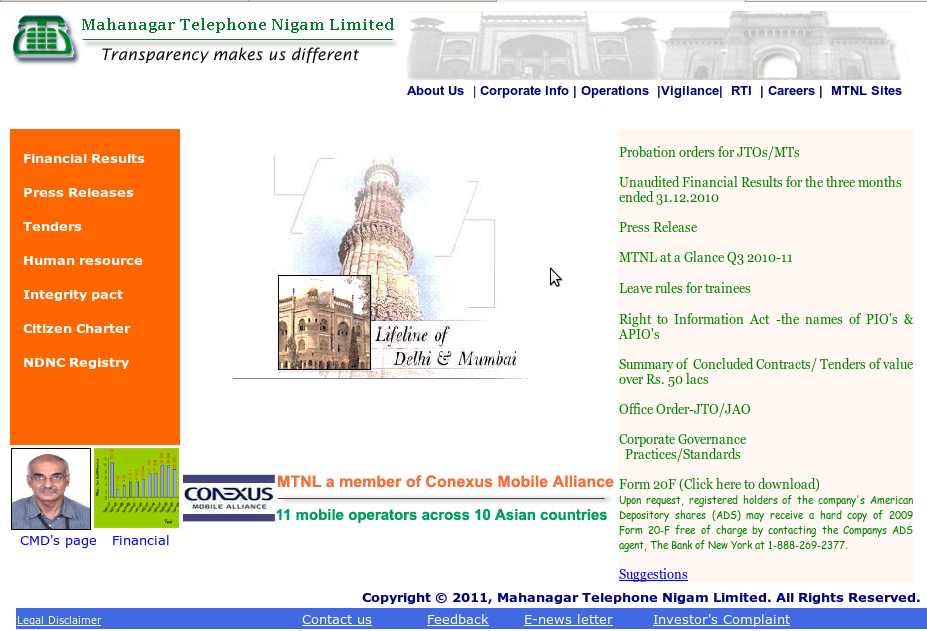 website seems to assume that no one lands up there for paying bills and utterly improbably, but that is exactly what you want to do. Its all about things you never think of when you think MTNL bill payments – which really has to be the organization's largest point of contact with people – considering how they are the largest telecommunication services provider of India. I mean, really? People want to know about their human resource, integrity pact and citizen's charter when they come looking? Leave rules for trainees? What next – instructions to leave the toilet seats up in men's loos and down in women's loos? But of course, no bill payment. They aren't so cruel as to want your money at first meet. Eventually, you figure out that the drop down menus contain links to its Mumbai and Delhi websites. You know now you are a couple of clicks away from Nirvana. Not so fast. Here's the Mumbai MTNL website. Guess where you are going to pay your landline bill?
Go ahead, take your time. You know its not easy to guess these mysterious government processes. You also know that they WILL cut your phone line if you don't pay soon. So, you will make the effort to search, right? Sure, its a very playful site. You are playing "treasure hunt" you will follow various clues to finally reach your goal – the MTNL online bill payment form.
You go to that Landline services on top. Logical? Nope. Close, but no go. You can find information on drop boxes, payment outlets or how to pay from ATMs but not the option to pay right now. You almost miss western internet capitalism and the abundant "buy now" "pay now" type horrors you used to hate. In the meanwhile, you have idly glanced at the value added services link, which links to – of all things, MTNL's regular mobile connection – Dolphin! Wow. Its dolphin that is the value added service? Silly me for thinking that it would be something like Triband or 3G, but then that's me. Hah. I thought I had you fooled? On this site that is determined to not let any color feel left out, there is a modest grayed out "Print/pay your bill" graphic right there. Hiding in plain sight. Almost like its apologetic for existing at all, and you want to give it a good hard shake and encourage it to shout its existence, because not finding it isn't going to mean you don't pay bills.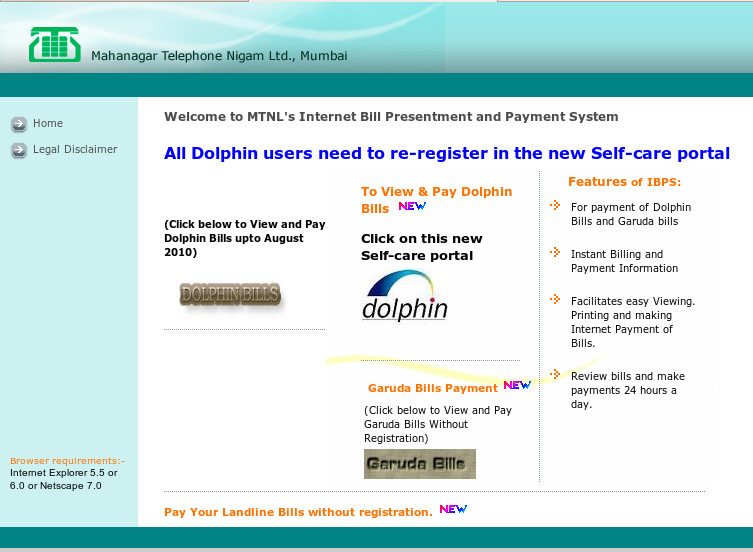 You win, I lose, you think. In your imagination. Go ahead. Click there. You can pay your dolphin or garuda bill …. but you are getting close. If you look below, there is your landline bill payment link – as far as I know, it is the only one. Click there and it takes you to…… right back to a subdomain of the corporate MTNL site you began from – http://selfcare.mtnl.net.in/MumbaiSelfcare/Forms/Landline_billpayment.aspx And there she is, in all her glory – the wonderful, sweet, much awaited MTNL landline bill payment facility you have been scouring the earth for. Pay your bill, get out? Not so fast. This thing doesn't like Google Chrome. The telephone and customer account bills are coded so that they take exactly the number of digits your phone or customer number is supposed to have (no doubt, some designer thought it was a cool thing to do). As though filling in the wrong number would give you access to your bill! Unfortunately, this brainstorm of someone results in something rather unexpected. If you try to fill out the customer number and telephone number in Google Chrome, only the first digit keeps getting rewritten over and over. No matter how many numbers you type, you have filled in exactly one. And no, the designer was thorough. You can't fool this. Copy pasting may seem to work, but only as long as your cursor is in the field. With two numbers to fill like that……? Fail! Don't believe me, try this. Its an interesting exercise in coding unexpected effects. Which browser to use, you ask? Internet Explorer, of course. Why, even Firefox is good.
So you fire up your Firefox (because not even you are tolerant enough to use IE if you've evolved into the awareness of using Chrome… and discovering this problem). With much hesitation, you fill in things as pointed out in the form, waiting for your next disaster. Actually the form filling process is designed for disaster, but somehow, I've never had it give up on me if the connection is good. Otherwise…. you begin from the form again. Surprisingly, if my experience is anything to go by…. from this point on, you should be out of that site after paying your bill in under a minute. So, moral of the story…. spare yourself the misery and bookmark this one link that brings joy.
http://selfcare.mtnl.net.in/MumbaiSelfcare/Forms/Landline_billpayment.aspx
That said, while the site is garish and like an awkward teenager, its fast enough on good connections. More importantly, this is one tiny part of the site. There is a virtual library of information on telecom services (though nothing on getting a static IP with MTNL except an obscure tarrif thing that suggests it should cost about a thousand or so a year). There's triband, there are different places, tarriffs, advertising info, different kinds of telecom services including the two mobile networks – Dolphin and Garuda, digital TV… The information, tarriffs, what nots. But it is a website to explore at leisure. If you're in a burning hurry to pay your bill, use the bookmark.