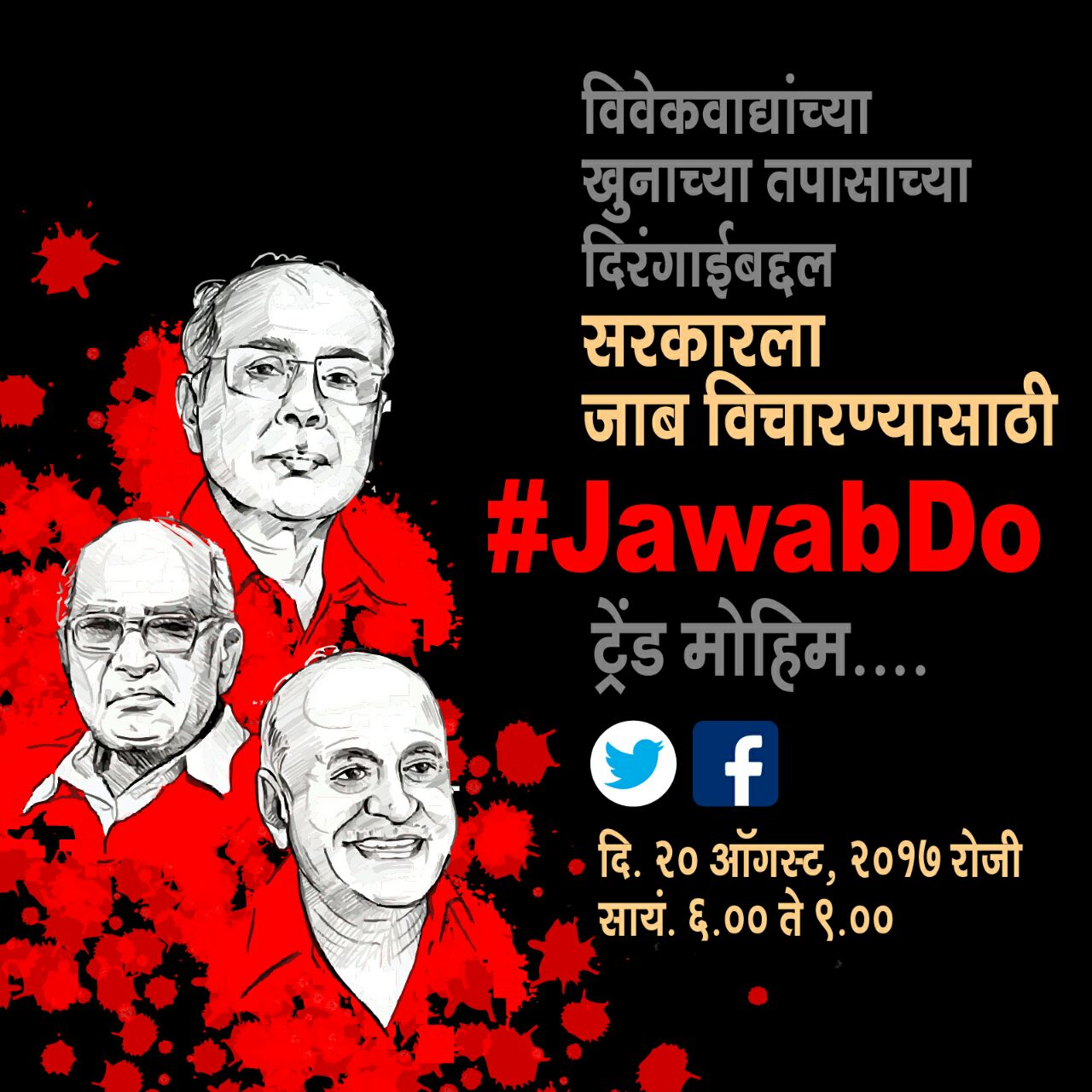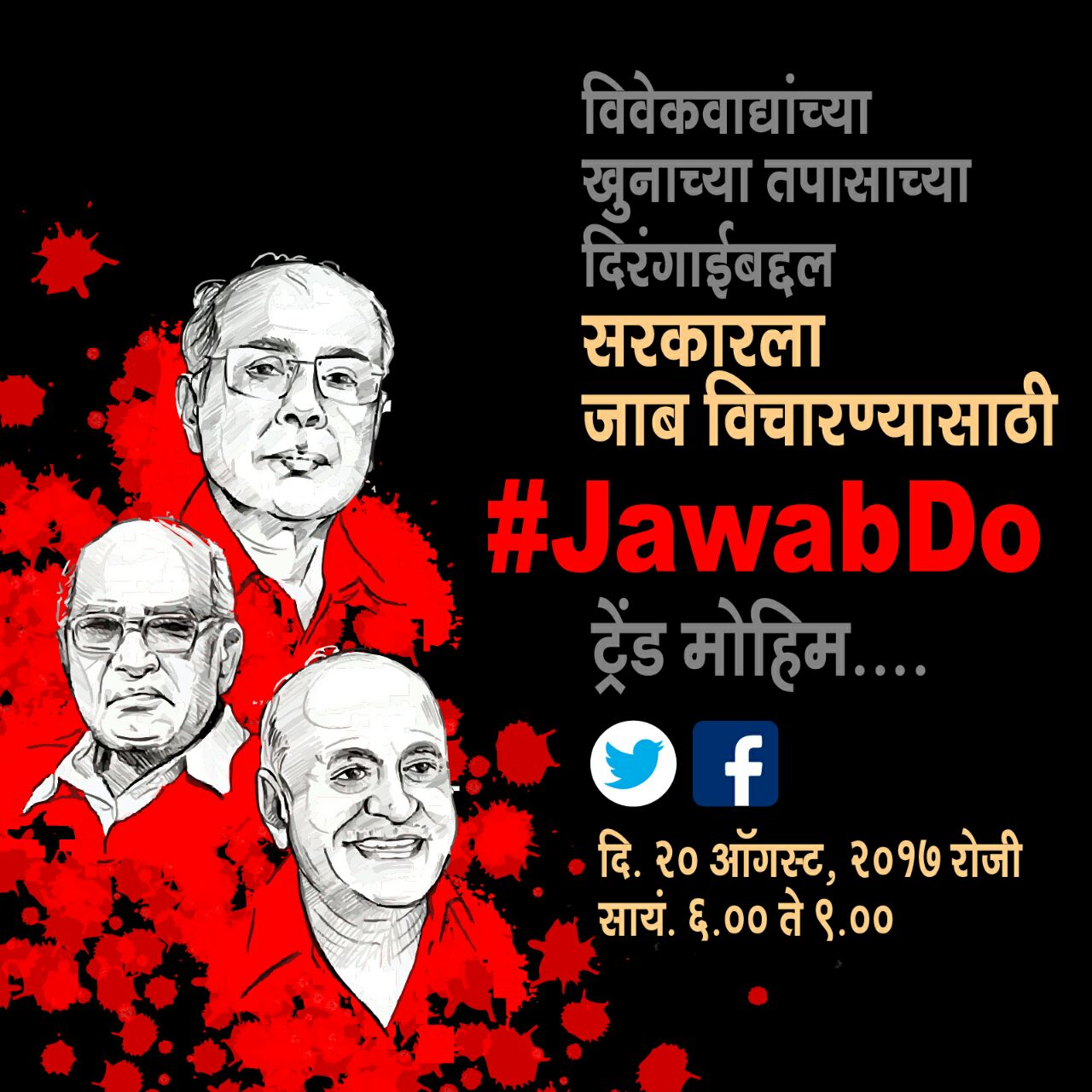 Lyrics of "Jawab Do"
जवाब दो (थीम सॉंग)
जवाब दो… जवाब दो… जवाब दो…
जवाब दो, जवाब दो, अब हमें जवाब दो
बित गये हैं चार साल, क्या किया, हिसाब दो ?
जवाब दो… जवाब दो… जवाब दो…
परंपरा के नाम पर… क्यों उन्मादों की धूल हैं ?
परंपरा के नाम पर, क्यों उन्मादों की धूल हैं ?
अमन की बात हम करे, ये क्या हमारी भूल हैं ?
जवाब दो… जवाब दो… जवाब दो…
समाज में सुधार को… रोकने की धून क्यों?
शांती के प्रयास को, मारने की होड क्यों?
शांती के प्रयास को, मारने की होड क्यों?
जवाब दो… जवाब दो… जवाब दो…
हत्याओं का सिलसिला… रोक लोगे कब बता ?
हत्याओं का सिलसिला, रोक लोगे कब बता?
हत्यारोंको सरगना, छुप गया, कहाँ बता?
जवाब दो… जवाब दो… जवाब दो…
जवाब दो, जवाब दो, अब हमें जवाब दो
बित गये हैं चार साल, क्या किया, हिसाब दो
जवाब दो… जवाब दो… जवाब दो…
जवाब दो… जवाब दो… जवाब दो…
जवाब दो
4th Anniversary of Narendra Dabholkar's brutal murder
Maharashtra is errupting in protest. It is the 4th anniversary of Narendra Dabholkar was brutally gunned down on the 20th of August, tomorrow. It is 2.5 years since Comrade Pansare was killed. It is 2 years since Professor M M Kalburgi was killed. While the identity of the murderers and the entities protecting them is well known, there has been no action taken by the government to bring them to justice.
Various progressive organizations Maharashtrawide are holding protests in different cities demanding answers. "Jawab Do"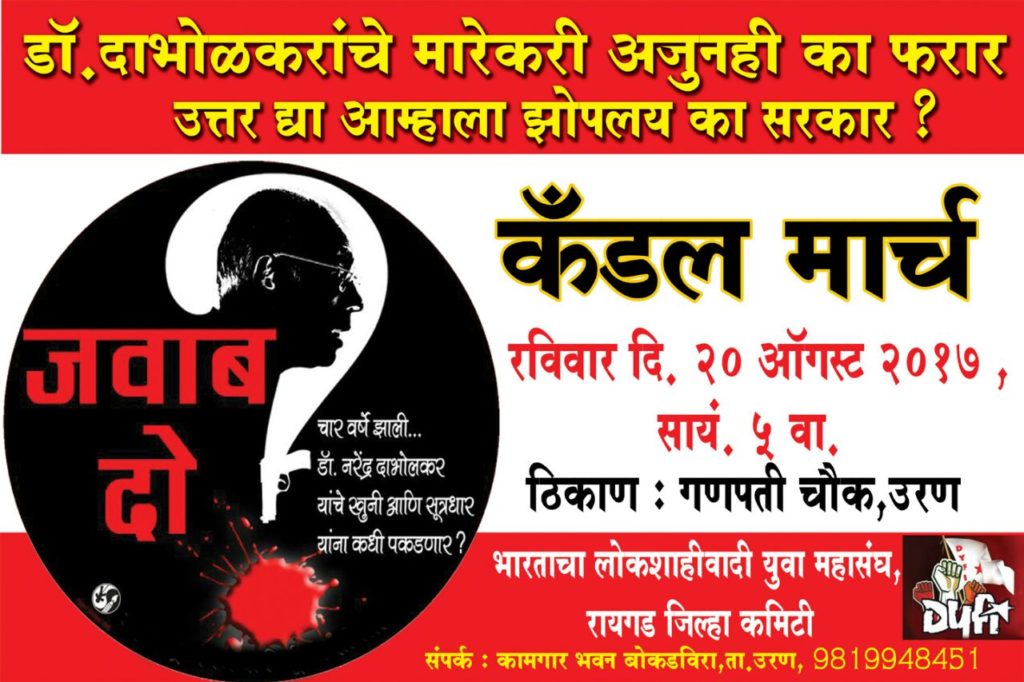 #JawabDo Campaign It has been 4 years since social Reformer, Dr. Narendra Dabholkar was killed. Why are the accused still absconding? When will they and those controlling them be arrested? On the 20th August, at 5pm, DYFI is organizing a candle march protest at Ganpati Chowk, Uran. We invite you all, young and old, workers […]
#JawabDo Campaign Social Reformer, Dr. Narendra Dabholkar was killed 4 years ago. Comrade Govind Pansare was killed 2.5 years ago, Dr. M M Kalburgi was killed 2 years ago by fanatics given to religious blind faith. Who the accused are, where they live, why they killed these rationalists is all known to the government, but […]
🔹Maharashtra Andhashraddha Nirmulan Samiti🔹 is organizing the "Jawab do" campaign Nirbhay Rally at Dadar on the 20th August 2017 at 3:00pm from Veer Kotwal Udyan to Chaityabhumi It has been 4 years since Dr. Narendra Dabholkar was brutally murdered and yet there has not been a proper investigation. When will the murderers of Dr. Narendra Dabholkar, Comrade […]
Vidyut has a keen interest in mass psychology and using it as a lens to understand contemporary politics, social inequality and other dynamics of power within the country. She is also into Linux and internet applications and servers and has sees technology as an important area India lacks security in.